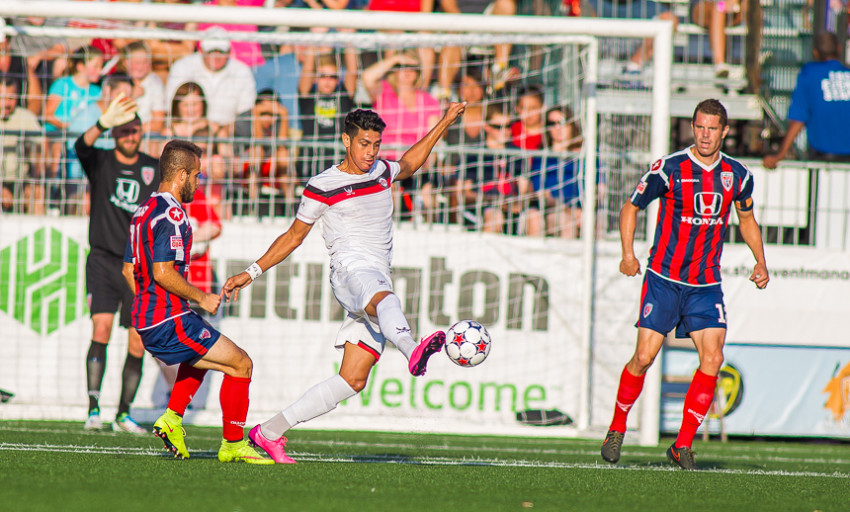 Recap: Newcomers Shine As Atlanta Grinds Out Win At Indy
Indy Eleven 0 – 1 Atlanta Silverbacks
Goals:
15′ – Pedro Ferreira Mendes (ATL)
Major Themes
– Atlanta played a 3-5-2 and controlled the speed of the game by asserting their physicality and maintaining strong defensive shape. After scoring the early goal, Atlanta bunkered down to disrupt Indy's attack more than trying to move forward. The slow pace disrupted Indy's efforts to build momentum.
– Indy were still able to make a very respectable showing in terms of moving forward.  Out of 24 total shots, Indy had 18. The second half produced many "almost" moments for the boys in Blue. Besides being unable to build momentum, the Eleven also lacked a sense of cohesion.
In Form:
– Steward Ceus (ATL) – The massive goalkeeper from Haiti showed once again that he's one of the NASL's better keepers. He made crucial saves showing both athleticism and quick reaction times.
– Jaime Chavez (ATL) – The second year Silverbacks forward had a great game. The only goal in the game came when Chavez brought the ball down just outside the box, evaded Indy's entire back line and made a stylish pass to Pedro Mendes who was making a run at goal. Chavez's ability to find a threatening pass showed several more times in the game.
– Zach Steinberger (IND) – Playing his first game just days after coming on loan from the Houton Dynamo, the midfielder showed why he was the 8th overall pick in the 2015 MLS Superdraft. Steinberger made fast, potent attacking runs and looked steady on the ball. Definitely one to watch for in the coming games.
– Dane Richards (IND) – Another MLS loanee, Richards played his third game for Indy. Pace was also his weapon of choice and he displayed some great ball control. He had a phenomenal chance in the 53rd minute after a great run. Unfortunately he his final touch was the weakest and the opportunity was squandered.
Liabilities:
– Lady Luck (IND) – On another day, one of the multiple Indy attacks would find their way into the back of the net. The Eleven kept pushing through late in the game, weathering physical play to get a shot or two. Somehow nothing stuck and the one goal deficit lasted through the end of the game.
– Red Cards and Injuries (IND) – Indy was missing Dylan Mares after a recent miniscus surgery. Erich Norales was also missing, serving the first of a 2 game suspension following a red card. The exclusions of two stalwarts showed in the more disjointed nature of Indy's game. Defenders Cory Miller and Greg Janicki had only played one previous game together this year. While they played respectively for the most part, their one joint lapse of concentration let a great pass from Jaime Chavez get to Pedro Mendes who slotted it home. In attack, there was good individual play from Richards, Steinberger and Smart but they didn't seem to know each other's style of play well. Unsurprising given how little they've played together.
– Fotis Bazakos (Referee) – The man in yellow had a mostly good game but showed himself quite stingy in awarding cards. On one occasion late in the game, Shaka Bengura came at a loose ball with a high boot and smashed into Cory Miller. While a foul was called, Bengura wasn't cautioned for the dangerous play.
You Won't See On The Highlights
– Atlanta's time wasting on subs – The Silverbacks waited late into game to make changes. On all three occasions, the player leaving the pitch managed to kill a bit of time while finding their way to the back line.
Lessons Learned
– Atlanta now sit 2nd in the Fall table. Their mid-season personnel changes have worked fantastically with Pedro scoring and both Burgos and Kimura playing well. They have their work cut out for them to make the Championship, but I wouldn't rule out the possibility entirely.
– Indy have the pieces to be a much stronger side than they're proving to be. Some better chemistry and more discipline in the attack would do them well.