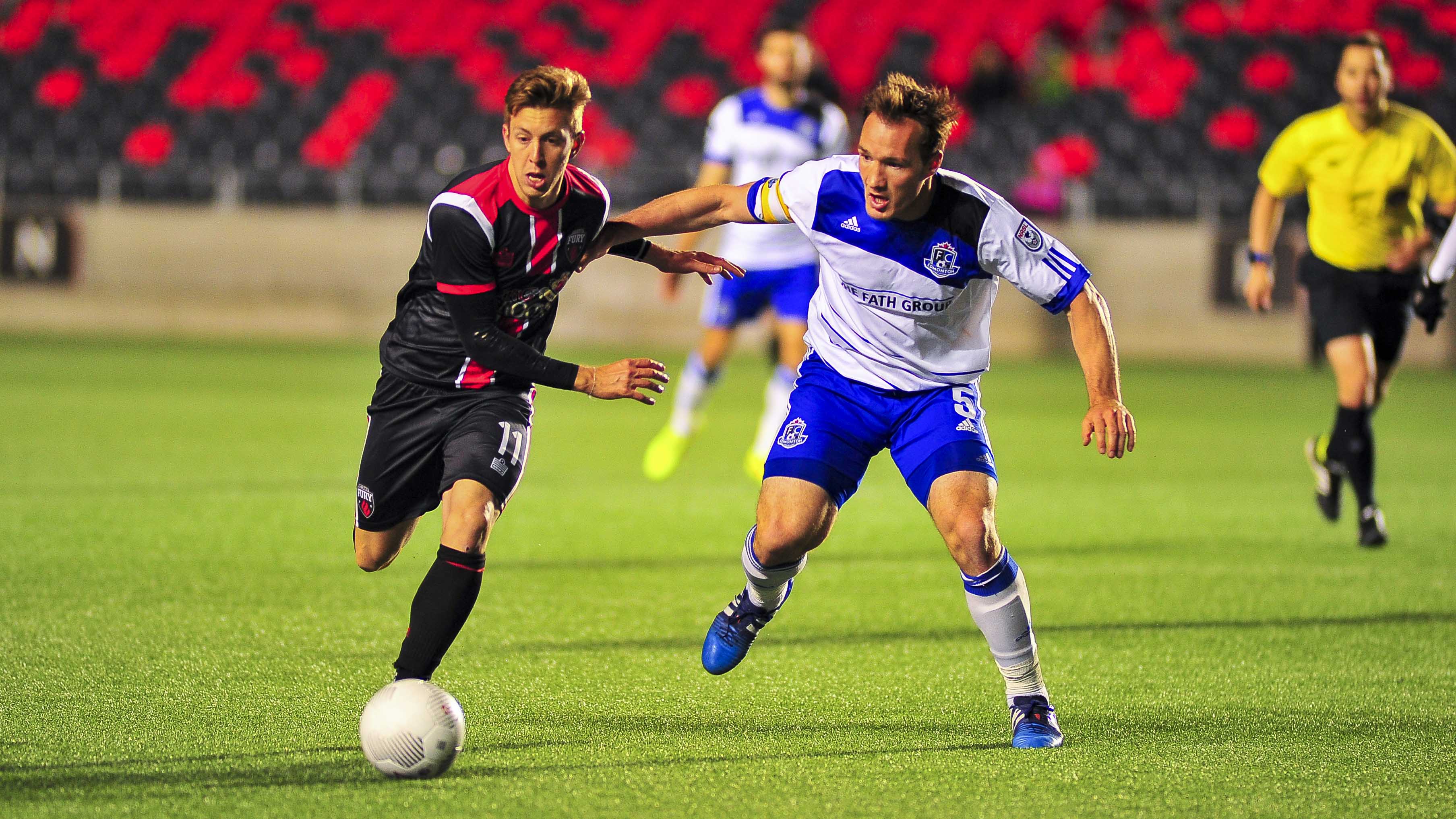 Preview: FC Edmonton and Ottawa Fury FC in Canadian Derby
FC Edmonton – Ottawa Fury FC
Major Themes:
– FC Edmonton came up 6-2 winners over Ottawa Fury in the two legged Voyageurs Cup first round earlier this year.
– Ottawa Fury are on a ten game unbeaten streak, including three wins last week against Indy , Atlanta and Carolina
– Both Canadian clubs are doing well this Fall Season and will be looking to continue their push up the standings (FCE) or keep their place at the top (OTT)
In the last game:
In the last match the teams drew 0-0 in a rather boring match, however their two matches prior to that both finished FC Edmonton 3-1 Ottawa Fury
Keep An Eye On:
– Lance Laing (FCE )returns to the line up for FC Edmonton after spending a few weeks with Jamaica in the Gold Cup.   His attacking presence on the pitch may be what FC Edmonton needs to defeat a stubborn Fury defense.
–  Dustin Corea (FCE) could make his FC Edmonton debut after recently joining the club.  Like Laing, this midfielder also recently featured in the Gold Cup, playing for El Salvador
– Richie Ryan (Ott) Ottawa have not lost a match with Richie Ryan in the line up, and with three goals in two matches last week he will certainly be someone to watch.   The Irishman controls much of the Fury play in the defensive midfield position, and has been a great mentor to young Canadian Mauro Eustaquio.
– Carl Haworth is coming off being named to the NASL Team Of The Week and earning the NASL Player Of The Week award thanks to two goals last week, against Atlanta and Carolina respectively.  Haworth has been playing on the wing, in the midfield and upfront this year, and looks as though he has found his finishing touch that Fury lacked in the Spring Season.
– Ottawa Fury back four is always something to keep an eye on, as they are one of the best in the league.  Alves' height/strength and Falvey's crunching tackles make the defense a joy to watch at times.
You won't notice:
– You won't notice a lack of Canadian pride among both clubs.   As the only two Canadian clubs in the NASL, they will be looking to make the Canadian Rivalry one to watch in the NASL.   Both clubs have Canadian coaches and a strong Canadian presence in the roster, and are proud to field Canadian players like Julian De Guzman, Boakai and Haworth.
You Probably Won't See:
You probably won't see a subtle, flowing match between these two.  Instead you'll see a match filled with crunching tackles, fouls and a battle for the ball, no matter what part of the pitch it is in.    The last match between these two finished 0-0, at a time when Ottawa was extremely strong defensively and offered nothing going forward.  They were conservative after two 3-1 losses to Edmonton earlier in the year, but will likely come out ready to fight for three points this time around.   Expect a physical match with lots of cards, meaning the referee will likely play a large role.