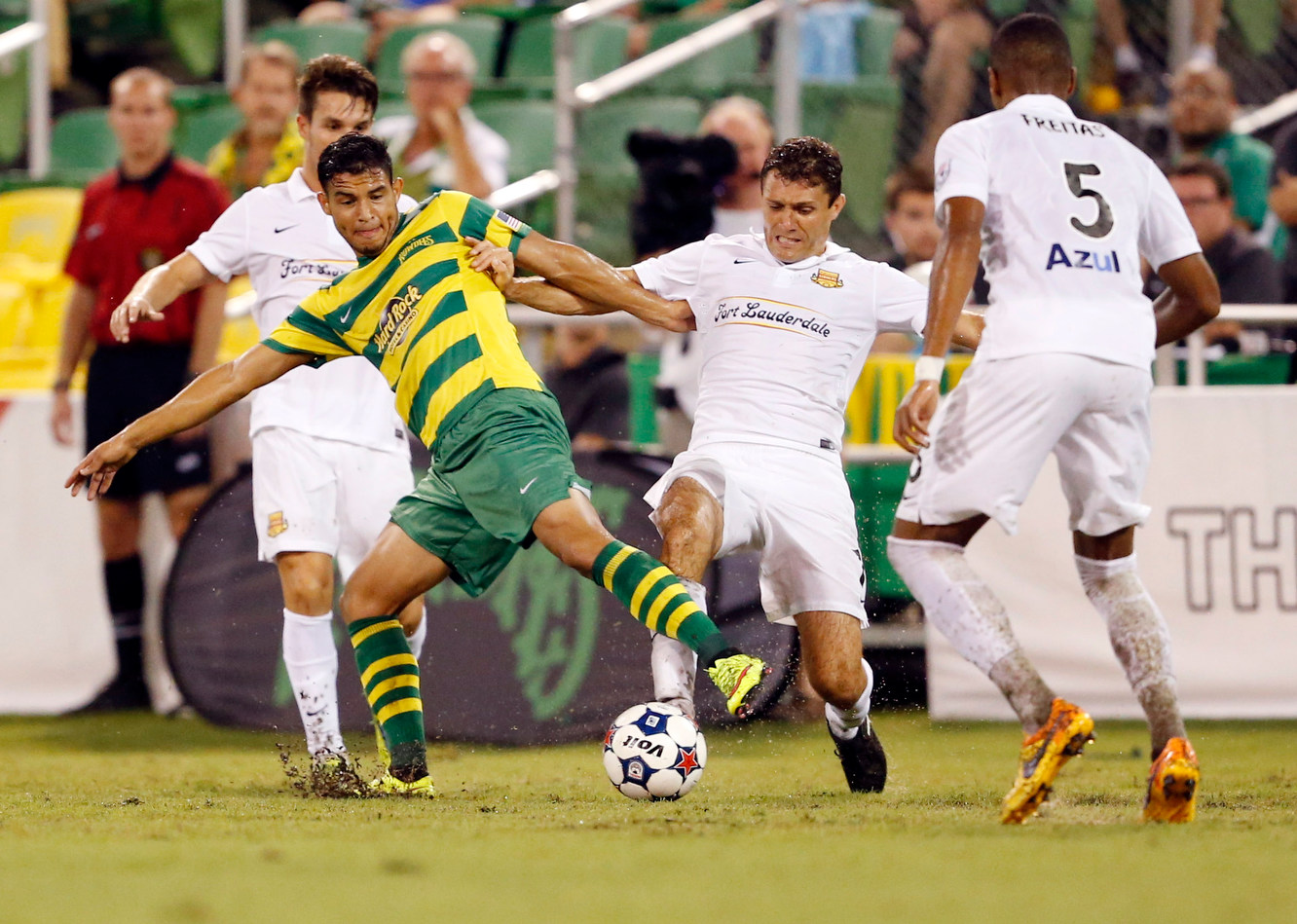 Recap: Strikers Upset Rowdies in Second Coastal Cup Meeting
Tampa Bay Rowdies 1 – 3 Ft. Lauderdale Strikers
Location: Al Lang Stadium, St. Petersburg, FL
Cautions: 25' – Karsten Smith (FTL), 29' James Marcelin (FTL), 50' Martin Nuñez (TBR)
Substitutions:
TBR – (D) Gale Agbossoumande for (D) Antonijevic 40', (F) Hernandez for (F) Hertzog 60', (M) Adu for (D) Darnell King 76'
FTL – (M) Nunes for (M) Gabriel 62', (F) Frimpong for (F) PC 71', (M) Ramirez for (M) Sanchez 84'
Goals:
16′ – PC – Assist by Marlon Freitas (FTL)
78' – Bruno Nunes – Assist by Evans Frimpong (FTL)
90+' – Maicon Santos – Assist by Freddy Adu (TBR)
90+' – Stafano Pinho (FTL)
Highlights:

Major Themes
– Sloppy field conditions made ball movement a little slower
– Rowdies dominated possession, but gave the ball away during key moments
– The Strikers played smart, controlled, if not uninspiring bunker ball that continues to flummox Rongen's 4-3-3
– Tampa Bay's inability to capitalize on set pieces, again
– Tampa Bay's lack of killer instinct once the ball is in the box
In Form:
– PC – Smart and aggressive play continues to take advantage of break aways and loose balls
– Freddy Adu – Despite only getting 15+ minutes in the second half, the skill level was evident as his first touch was a near perfect through ball in the air that Santos was unable to capitalize on. His next opportunity was exactly where it needed to be, and led to an aggressive goal by Santos. His double step over against two defenders was mesmerizing and impressive.
Liabilities:
– GK Kamil Čontofalský – No one saw this change coming, and despite Kamil's aggressiveness charging out the box, he did not have a good game, giving up several head scratchers
– Rowdies killer instinct – Or appropriately, a lack thereof. Their tendency to dive into the corners and cross into the middle to no one is infuriating. The lack of capitalization on scoring opportunities is the reason for much of the failure of the team. If they can correct it, this has the potential to be a high scoring team
– Ft. Lauderdale under Kronsteiner is a disciplined and intelligent team, compared to the mess it was during the spring season. Expect them to challenge and move up the table
You Won't See On The Highlights
– The feeling of frustration. The Rowdies have a potent offense and a system designed to score a lot of goals – but they're just not going in. Watching this team take too many settling touches instead of cracking off a one touch shot during scoring opportunities, is maddening. Trust Rongen to make a point of this going forward. – Unchanged from the previous week
– The Back 6 for Ft. Lauderdale was formidable, and stymied almost every encroachment by the Rowdies
– Freddy Adu has incredible field vision, but his team mates haven't quite figured out how to get the ball to him when he had acres of space, unmarked.
Lessons Learned
-The Rowdies need to go Cobra Kai and strike hard, strike fast in order to dictate the pace of the game. When they allow other teams to bunker down and play boring soccer, they tend to get sloppy and undisciplined with silly giveaways and poor defense on counters
– Letting Günter Kronsteiner walk away during the offseason was avoidable and cost the Strikers any chance of contending for the spring. Rehiring him makes Ft. Lauderdale ownership look like they're capable of learning from their mistakes
– The Rowdies have not scored on a set piece since defender Stefan Antonijevic in the 10th minute of the season opener