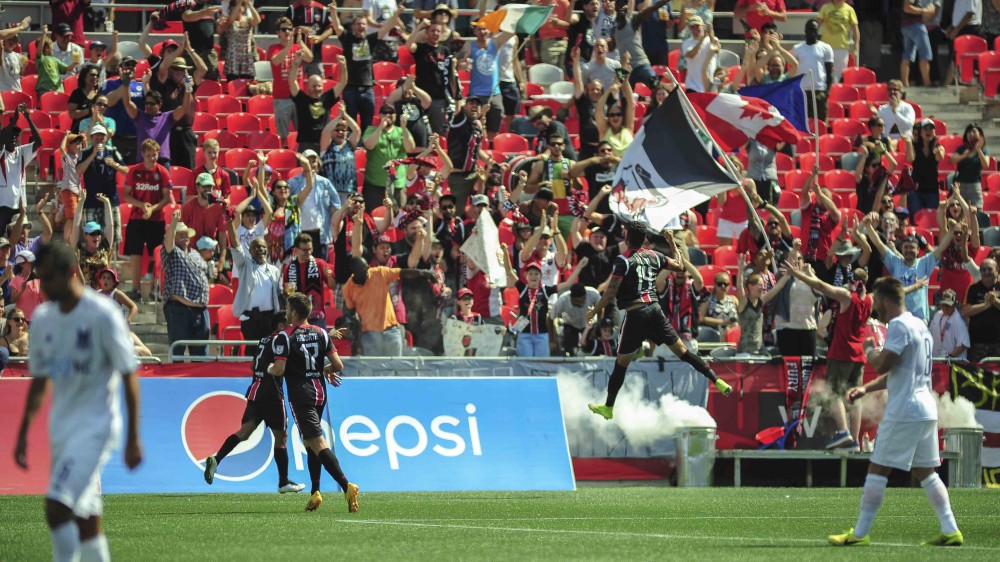 NASL Fall Season Pew-Pew-Pew-Power Rankings – Week 4
For what it's worth, this was a relatively sane week for NASL.  Indy Eleven tied New York, continuing their eternal dance of yin and yang.  Minnesota showed the high-powered offense we knew they were capable of.  Ottawa displayed what must now be considered the new norm in winning against a resilient Carolina side.  Edmonton did Edmonton stuff.  We are grateful to see the league sit on the couch for a minute and take a deep breath to compose itself before putting back on the tinfoil hat and warning us about aliens.  It's the NASL Fall Season Power Rankings – Week 4.
1. Ottawa Fury FC
This bump is probably overdue. Our own Stuart Mactaggart lamented the commentary that Ottawa, despite an impressive run, was being branded as "boring" or exclusively "defensive." These Power Rankings have helped to drive that narrative. But this fall Ottawa has scored in every single game and only once have they scored just a single goal. They are riding a three-game winning streak that has seen eight goals scored, have a ten-game unbeaten streak rolling, and even got it done with Tom Heinemann starting on the bench against Carolina. The only possible water to throw on this red-hot fire is that their three-game stretch has come all at home, and the Fury will be tested with a couple of consecutive weeks on the road coming up. But we are ready to believe this team can do anything, anywhere on the continent. Sorry for ever doubting, Stuart.
2. Carolina Railhawks
The Railhawks will have wanted that road point that escaped them during the lull in the time-space continuum that resulted in six minutes of stoppage time on Saturday. But a loss to the hottest team in the league is hardly cause to hit the alarm. Nacho Novo continues his form as the hottest striker in the league not named Omar Cummings, and the team continues to look competitive without star winger Tiyi Shipalane. Carolina has a chance to turn their up-and-down form into something more stable as they face a Rowdies side that has just wandered into the desert, then a Jacksonville side that has already been wandering there for a while now.
3. Minnesota United FC
Minnesota's win against San Antonio was more flattering than the scoreline suggests. None of San Antonio's goals came from the run of play, suggesting that the leaky defense for United may have been solved, in a way. But the league standings don't come with any pictures, and the team will need to correct the mental errors that put them in position to concede penalties. Scoring four goals a game will be unsustainable for this team, but it is hard to fault a team that makes four goals look so effortless. A matchup against the marooned Armada may give Minnesota another chance to flex their muscles, followed by a stiff test against a Cosmos side with a defense that is still tough to crack.
4. New York Cosmos
The Cosmos will be looking into the night sky, reflecting on itself this week. Who are we? Why are we here? Is there anyone else out there? Why does God allow so much suffering to continue? These will all be questions on their minds. New York has scored more than one goal exactly once in league play since May, even boasting an historic great like Raul and the delightfully in-form Walter Restrepo. The silver lining in the clouds overhead? They also have allowed more than one goal only once in league play since mid-May. The Spring Champions prove time and again that a game is never out of reach for them no matter how late in proceedings. It is time to start finding the back of the net and putting games out of reach for other teams.
5. Indy Eleven
A 1-1 tie against the Cosmos that was basically already chiseled into the standings before the game even began doesn't harm you or help you where the Power Rankings are concerned. The sting of last week's defeat against Ottawa will be fresh, and this team will feel the need to regain some momentum against a couple of the league's easier outs in the next two weeks. Still at issue for Indy: when will a main goal scoring threat emerge? This weekend Dylan Mares erupted from a seven-way tie for Indy's team lead in goals (he now has merely three), and goalless Charlie Rugg is the only nominal forward to start in more than eight games so far this year. Indy has been a different team since its midseason coaching shake up, but the feeling has to be that there is yet another gear the Eleven can kick things into.
6. Tampa Bay Rowdies
Goodness. Thomas Rongen will need to tweet some particularly aggressive memes at his team this week, as the Rowdies have gone on life support for three games. Against three of the league's relatively softer hitters (Ft. Lauderdale, Edmonton, and San Antonio) Tampa Bay has allowed seven goals in three games and scored only once. As Rongen himself suggested on the Unused Substitutes podcast, a reorganization in the midfield which focuses on attack at the expense of defense, along with a general over-eagerness of his players to get in attacking positions, may be to blame. There is typically not enough strong movement off the ball, not enough effective overlapping runs, and Freddy Adu (who surprised as a quick bright spot for the club in his debut) was left with acres of space and no service this weekend. Things get harder before they get easier with a road trip to WakeMed to face a Railhawks club that will be thirsty to erase the memory of the final whistle against Ottawa. But this is still the team with the talent that took them to the top of the combined table less than a month ago. They just need to snap out of it.
7. Ft. Lauderdale Strikers
Strikers fans' fists will be clenched in white-knuckled rage to see their club below their arch nemesis Rowdies in these rankings, and they may have fair cause for complaint. The reader may be forgiven for not even noticing how good Ft. Lauderdale have looked, raking in two wins and three draws in five games dating back to the Spring Season. Those results have come against some ostensibly tough teams, as well, including Minnesota, Carolina, and the aforementioned Tampa Bay. Pinho may be looking at changing his name to Pin-yes after his goalscoring form continued this week, and fellow Brazilian PC is finding his legs as well. But ultimately this is a team that is mediocre on defense and above-average on offense. One feels Tampa Bay is playing below their potential now, but Ft. Lauderdale may be playing right at their potential. Still, never lose faith when Gunter Kronsteiner grabs the wheel.
8. Atlanta Silverbacks
The Silverbacks are on the cusp of jumping to probably fifth on this list. They escaped a three-game road trip with four points, including a thumping statement win against Edmonton. Gone are the one-goal doldrums of the Spring, and the defense looks competent enough to give the team consistent chances. There is enough talent in strikers Jaime Chavez and Shaka Bangura to make this club among the best offenses in the league, especially ahead of its newly retooled midfield. Can we request to see them get back to starting alongside each other regularly?
9. FC Edmonton
Of course Edmonton lost 3-1 to Atlanta. It's Edmonton. It must be said, though, that the Eddies continue to play with something less than its choice XI. Lance Laing missing hurts. We would take Tomi Ameobi over Frank Jonke eight days a week (so would the scoreboard, it seems). 22-year-old midfielder Tomas Granitto has looked good in the fall but will have growing to do. The incredible injury bug that saw Edmonton bring only fifteen players on its three game road trip has taken a toll on the team. Still, the Eddies are second in the Fall Standings and only look to improve as its roster woes shake out. In more great news, Canadians can now watch Edmonton turn in weird result after weird result with live streaming. Not bad, eh?
10. Jacksonville Armada
Got the job done by not losing during the bye week. It must be said that the team's 1-0 rebound win over New York last week looks less impressive the more one ruminates on New York's recent form. But the result came at an important juncture for the club, and they now face Minnesota on Friday hoping to prove the win was the start of something new. It will be interesting to see what the lineup looks like against a Loons side that only two weeks ago handed the club one of its biggest shipwrecks of the year.
11. San Antonio Scorpions
San Antonio forgot the Alamo this week. As mentioned above, the 4-3 scoreline against Minnesota is flattering; two goals came from penalties and the team lost their cool with silly mistakes like punting the ball into outer space in frustration or muttering some Eric Hasslisms to the official. This club is far from beyond hope, though. Seven goals in three games, however they've come, is better than many teams higher on this page. But the Scorpions are one of the few teams looking up from below on both the Combined and Fall tables, and will need some Mario Bros.-level plumbing to fix the gushing septic tank that is their defense.
Disagree with our rankings?  Let us know in the comments.