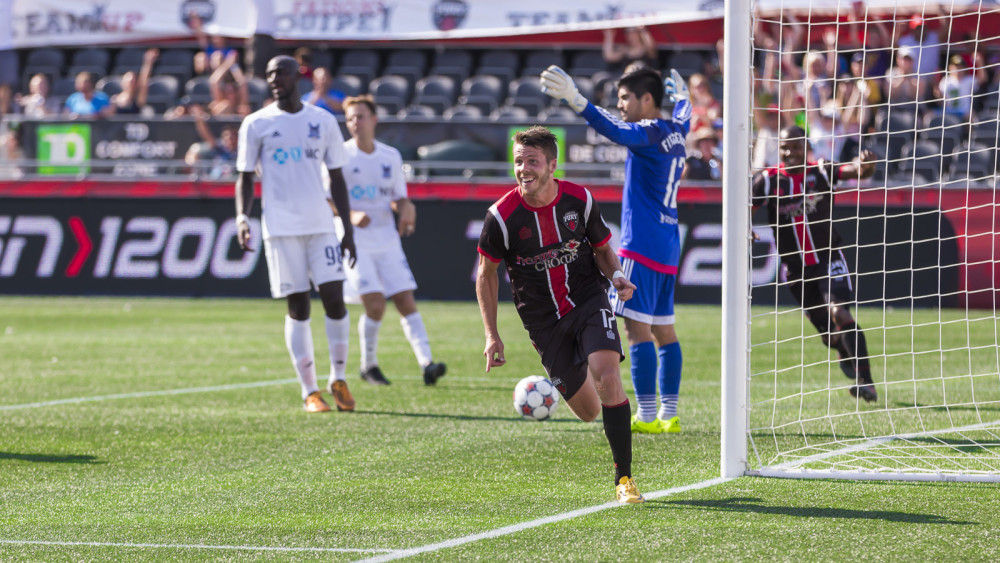 Recap: Fury go top after win over Railhawks
Ottawa Fury 2-1 Carolina Railhawks
Goals:
20' – Aly Hassan (OTT)
81' – Nacho Novo (CAR)
90+6' – Carl Haworth (OTT)
Major Themes
– Ottawa continue their strong form and extend their unbeaten streak to ten matches  The club has yet to lose a match when Richie Ryan is in the lineup, and are starting to score goals at all the right times
– Carolina looked determined, especially after going down a man, pushing for chances.  The stubborn Fury defense made it hard for Novo and company to score.  They drew level on the 81st minute but lost a heartbreaking last minute goal after Fury piled on the pressure.
In Form:
– Nacho Novo has scored three goals in his last two matches and nearly earned a point for the Railhawks had it not been for Haworth's goal.  Novo currently sits second in NASL scoring with 7 goals, just one behind the Scorpions Cummings.
– Carl Haworth notched his second goal in two games , earning himself NASL Player Of The Week.  He scored two crucial goals and was versatile, playing in the midfield and on the wing
Liabilities:
– It's hard to find any liabilities for Ottawa right now as they are unbeaten in 10 matches and won four of their last five.  They have been letting in more goals lately but have also been playing more attacking football and pushing men forward.
– Carolina came out sloppy in the first half but have very few liabilities as they played a tough match in high heat.  They could use more composure when chasing the ball as the double yellow for Thompson likely cost the Railhawks a point on the day.
You Won't See On The Highlights
– Nacho Novo was quite vocal throughout the day and was trying to get into the heads of some of the defenders and midfielders.  Colin Falvey said he shared some words with the centre back but was seen shaking hands in good sportsmanship after the match
Lessons Learned
– Fury are on fire and should not be taken lightly.  They are on a great run and will likely continue with their strong defensive displays and newfound attacking prowess.
– Railhawks showed a lot of fight even though they spent much of the match down a man.  They will certainly be competing for a top four finish this year and and spot in the post season playoffs.