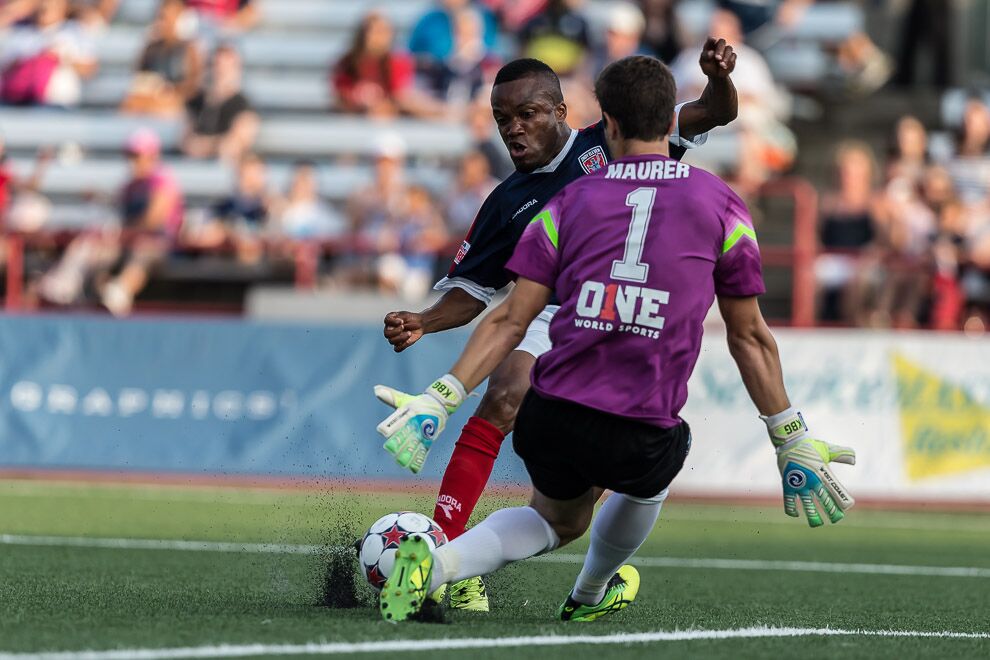 Recap: Jynx Lives; Indy & Cosmos Draw For 6th Time
Indy Eleven 1 – 1 New York Cosmos
Goals:
45' – Walter Restrepo (NYC)
45' – Dylan Mares (IND)
Major Themes:
Both defenses found themselves tested extensively. After a mostly ineffective match the week before, Dane Richards literally stepped up this week as he was pushed from the midfield into an attack partnership with Brian Brown, one that proved to be both dangerously fast and efficient. While the duo would not find the net, the Cosmos back line found itself under constant threat throughout the evening.
In the Indy final third, with starting centerback Corey Miller out on a suspension, the defenders found themselves unable to effectively stifle the Cosmos attack as chance after chance was created by the visiting side. The defense would be further challenged by the dismissal of Erick Norales in the second half. However, in typical Cosmos fashion, they simply failed to convert most of them.
The goalkeepers rose to the occasion after disappointing outings last week. Kristian Nicht was tested but held up well while Indy's dangerous opportunities were mostly turned aside by Jimmy Maurer.
The game marked the first NASL appearance of US youth national team player Haji Wright. His first match nearly saw him find a winner, but the goal was called back due to a foul on Marco Franco.
The match also had its chippy moments when Dragan Stojkov and Ayoze traded fouls and yellow cards within two minutes of each other in the first half, followed by a double red card in the second half. Norales (headbutt) and Sebastian Guenzatti (retaliatory slap) were both ejected. This was all followed by a red card Danny Szetela incurred after the match's end.
In Form:
Dane Richards/Brian Brown Strike Team (IND) – As a duo, they created plenty of dangerous chances and were just unlucky in not having one or two go in, including a Brown shot that beat Maurer, but kissed the crossbar. It'll be interesting to see if Indy decides to keep these two together for their next match.

Walter Restrepo (NYC) – For the second straight time against Indy, Restrepo found a goal against the 11, giving the Cosmos their first lead against them in 2015, as short-lived as it was. Aside from the goal, his touches on the ball were smart and his vision led to great opportunities.

Andres Flores (NYC) – As a second-half substitute, Flores reinvigorated the Cosmos attack with the late spark he has been known to provide this year, helping several chances develop.
Liabilities:
Danny Szetela (NYC) – A wasted opportunity in the first half further demonstrated Szetela's difficulty with putting shots on goal. Add that to the red card that he reportedly received AFTER the game's end. He now deprives his team of a starting player at a time when two or three more may be unavailable for the next match.
Sebastian Guenzatti (NYC) – Subbed on in the 61st minute, Guenzatti was on the pitch for all of four minutes before being ejected. Understandably upset after a Norales head but, he chose to demonstrate his displeasure by slapping Norales in the head, earning himself a red card and ending the opportunity for his team to play with an advantage for the final half hour.
You Won't See On The Highlights:
Indy's video screen. Damaged in a storm before the match, it did not appear in the game and is recovering from its injury. No word yet on the expected recovery time.
Szetela's red card. Only finding out about it on Twitter, the events that led to Szetela's tossing are a mystery to us all.
A win or a loss. Because it's Indy vs the Cosmos. Anyone who predicted anything other than a draw, myself included, is a fool.