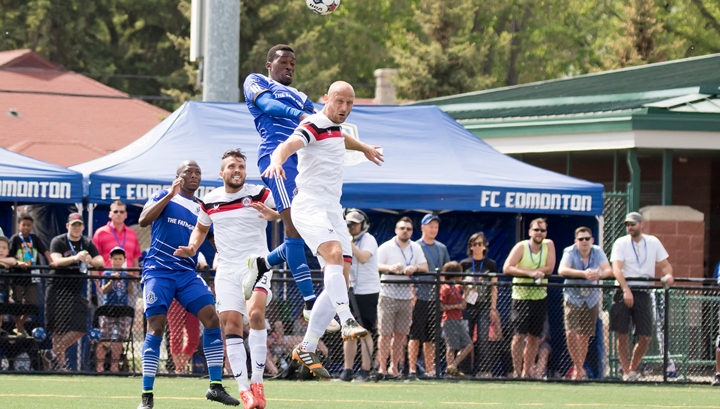 Recap: Silverbacks Earn Big Road Win Against Eddies
FC Edmonton 1 – 3 Atlanta Silverbacks
Goals:
49′ – Jaime Chávez (ATL)
66' – Jaime Chávez (ATL)
85' – Tomi Ameobi (FCE)
88' – Shaka Bangura (ATL)
Major Themes
-FC Edmonton entered this game undefeated after a strong start to the Fall Season, but they floundered in their first appearance back at Clarke Field in front of their home fans. Despite going up a man against Atlanta late in the second half, the Eddies couldn't capitalize.
-Steward Ceus, the Atlanta Silverbacks' starting keeper, returns from international duty with his home country of Haiti after the national team exited the Gold Cup tournament last weekend. Ceus made an immediate impact for the 'Backs, recording five saves against the Ottawa Fury in the midweek game.
-While the Eddies are bolstered by the returns of a healthy Frank Jonke (striker) and Eddie Edward (defender), the team's most potent offensive threat, Lance Laing, remains off the roster as he and the Reggae Boyz represent Jamaica in the Gold Cup final later today.
In Form:
Jaime Chávez! – Clearly the Man of the Match, Chávez capitalized on the Eddies' weak defense with great runs off the ball to put himself in a great position to score.
Steward Ceus – Barring the 85th minute goal from Ameobi, Ceus did a great job between the sticks for Atlanta. He had an especially great stuff against Edmonton striker, Frank Jonke, in what could potentially be a SOTW candidate.
Liabilities:
The Eddies' Defense – The backline, who showcased a decent performance on the three-game road trip, chose a pretty bad time to regress back to their inability to mark properly and defend overall. On Atlanta's second and third goals, the defense was caught particularly flatfooted. So much for protecting this house.
The Ref – The ref left his mark (and not in a good way) on the game with a questionable red card shown to Michal Mravec in the 72nd minute. While Mravec's foul (a non-malicious late tackle with possible studs up) certainly warranted a yellow, the red certainly seemed excessive. Nothing came of it, however, as FC Edmonton couldn't take advantage of being a man up.
Lessons Learned
-The Not-So-Beautiful Game. The first 45 minutes and early part of the second half were quite the ugly affair. Both sides couldn't string together any passing and gave away unnecessary balls. A byproduct of this sloppy play was a high foul count of 33.
-No Such Thing As Better Late Than Never. In line with the previous point, the Eddies played without urgency for the entire first half of the match up until the late red card. Shortly afterwards, Tomi Ameobi of FC Edmonton scored to make it a 1-2 but salvageable game. The goal was a direct result of the Eddies playing with more energy and pressing forward. However, when it takes you that long to get your head into the game, you're only setting yourself up for failure.