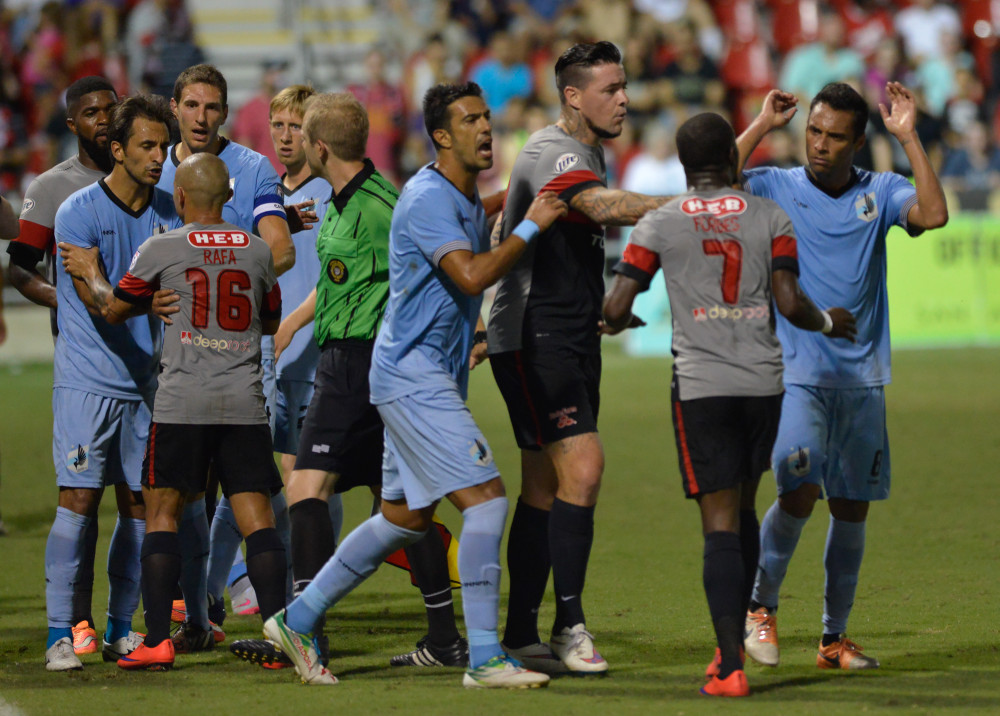 Recap: Minnesota Outlasts San Antonio In Thriller
San Antonio Scorpions 3 – 4 Minnesota United FC
Goals:
12′ – Christian Ramirez (MNU)
16′ – Adrian Cann (SAS)
22′ – Justin Davis (MNU)
34' – Rafael Castillo (SAS)
37' – Ibson (MNU)
48' – Kalif Alhassan (MNU)
86' – Rafael Castillo (SAS)
Major Themes
This was truly an end-to-end game. The first half included numerous chances by both teams, and any number of luckier bounces or better finishes and the already action-packed 3-2 scoreline at the half could have been wilder. Entering the season, the attack for each side was considered its relative strength; Saturday both teams showed what they can do when firing on all cylinders.
Minnesota's defensive approach worked, basically. The three goals by San Antonio suggest a weaker defensive performance by Minnesota than is fair. Two of the Scorpions' goals came from the penalty spot off of poor tackles by a forward and a midfielder. United often chose to commit more than one player to covering mercurial winger Billy Forbes, who is San Antonio's main chance creator, at the expense of opening space elsewhere. It proved successful enough. Cesar Elizondo was more involved than he might otherwise have been as a result of United's tactics, and often moved in from the right to more central positions to get involved. He had his chances at goal, too, and the Loons were lucky to have avoided all but one chance from the run of play.
This may, in fact, be a rivalry. Some fans are disdainful of having a manufactured rivalry marketed at them when that animosity isn't there for them, and that's fair. But just this year, two games have featured incredible goals, flaring tempers, referee decisions that affected the outcomes, and each came at critical junctures for each team. The Loons boast key players who once excelled for the Scorpions, but San Antonio holds the trophy United surely feels should be theirs to hoist. Is it a rivalry? At the very least, every fan should be circling their next matchup on their calendars.
In Form:
Kalif Alhassan (MNU) – It seems strange to think that there was a time when Alhassan was not an obvious first XI choice. The winger provided his usual box-to-box work ethic and clinical distribution, but added extra flair by taking on defenders in the box, supplying two heat-seeking assists, and a finesse goal that had Daryl Sattler shaking his head. There isn't much more Alhassan can do, is there?
Ibson (MNU) – A second game with a goal, and at least a third game in a row in which Ibson's quicker passing and 360 degree vision was on display. Ibson is putting the ball in the right spots before defenders even realize what just happened, most notably on the beautiful buildup to Justin Davis' goal. Minnesota is starting to get what it paid for with the Brazilian.
Liabilities:
San Antonio's defense. The Scorpions entered the game trailing the league in goals allowed in the Fall Season. That statistic wasn't improved by Saturday's fireworks. Credit Minnesota for being clinical throughout the game, but San Antonio provided a beautiful canvas to work with. It seems San Antonio's defensive problems are not simply due to a need for new tactics; the team may just not have talented enough players to keep pace with the league's better attacks.
Minnesota's composure. Two deserved penalties put this game within reach for San Antonio. This comes two weeks after the team gave two points back through a poor Christian Ramirez tackle in the box. Minnesota can't rely on scoring four goals each week to pull out wins. With better Scorpion finishing on Saturday, four goals wouldn't have even been enough.
You Won't See On The Highlights
This game could have had fifteen goals scored. Not until after Minnesota's fourth goal in the second half did the game settle into a groove. Rafael Castillo, Cesar Elizondo, and Kalif Alhassan notably had opportunities that either came close or absolutely should have gone in.

Tempers were hot. San Antonio's coach found himself with a trip to the locker room following an earlier warning to stay in his box then later some verbal pleasantries. Castillo, despite two goals from the spot, showed his frustration after an early miss with some jumping hysterics and later by reacting to a referee call by punting the ball into orbit above the field. Eric Hassli turned a yellow into a red with a comment to the official. Several scuffles broke as the game wound down. Juliano Vicentini earned a yellow after providing some helpful advice to the referee following the penalty he conceded. Perhaps it was the 95 degree weather. Perhaps there is more bad blood here than one might think.