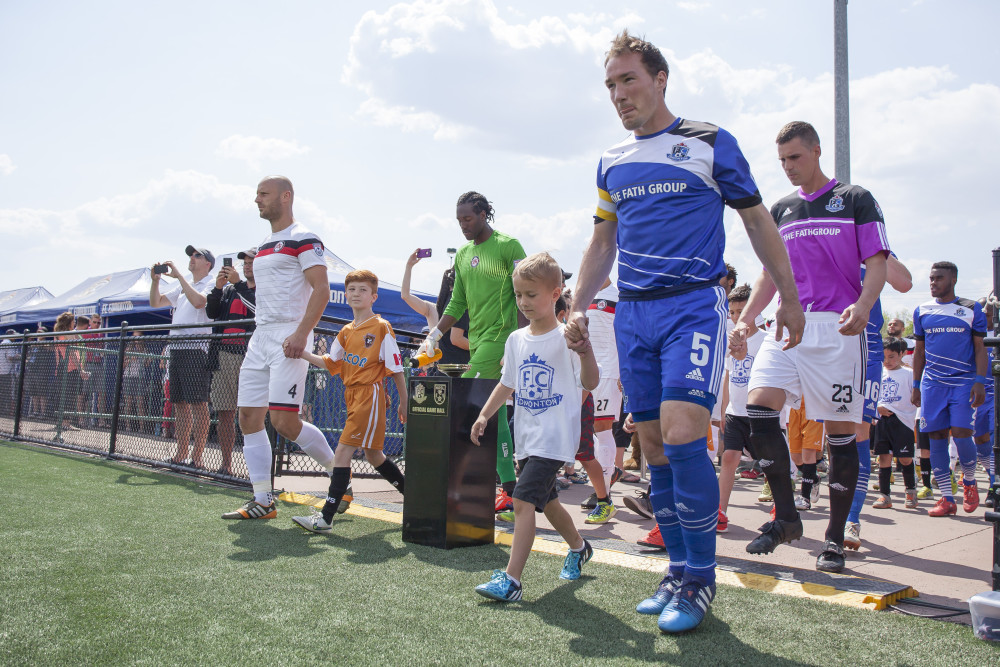 Preview: Eddies Look To Take First Place
FC Edmonton v Atlanta Silverbacks
Major Themes: 
It's weird that two Canadian teams are at the top of the table. Inevitably we have to ask, 'Do they belong there?' This weekend's matches will help determine this. Edmonton's success this Fall has been more than a bit due to luck. It's victory over Tampa Bay Rowdies was a gift (the lone goal was an own goal) as was its draw with Ft. Lauderdale Strikers (an own goal, again, let Edmonton salvage a point). Edmonton's one dominate performance, 4-0 against the San Antonio Scorpions, had more than a little to do with the Scorpions imploding (red cars three minutes apart to its starting goalkeeper and centerback) and Lance Laing not having left to join Jamaica for the Gold Cup. While Laing continues on with USMNT slaying Jamaica in the Gold Cup final, Edmonton are looking to leapfrog Ottawa for first place in the Fall table.
Atlanta is deploying a new-to-them 3-5-2 formation, which is awkward to watch and has gotten mixed results. I'm a firm believer that this Silverbacks team is better than its record. If only the club had begun the season employing this system. Right now, Atlanta is still working the kinks out. Against Ottawa mid-week, Atlanta looked lethargic at best. Huge swathes of the pitch were left open, and on Carl Haworth's goal, the Silverback's entire formation just broke down into a sort of rec league defense. The squad hasn't mastered this formation yet, but it's coming along and the grueling roadtrip the team is currently on (they'll have traveled more than 6000 miles before returning home on August 5th) will test their mettle.
Atlanta isn't going to make the playoffs through the combined standings, but the Fall is possibility. A win would move Atlanta into the top four in the Fall standings (even a draw would keep them in the conversation), putting them in a position to challenge for the second half title. Edmonton will be looking to quash those hopes so expect a hard-nosed match.
In the last game:
When they last met, six goals were scored. I doubt that will be replicated this weekend, but I highly doubt we'll see a bore draw.
Keep An Eye On:
Edmonton's midfield is experiencing a renaissance. Thiago de Freitas, Tomas Granitto, and Cristian Raudales have brought creativity and energy to the team. More than anything else, it's been this dynamism that has led to the vast improvement in the club's fortunes.
You Won't Notice:
The Atlanta defensive midfield is a spectre. It exists and exerts a strange force over a match but you can never quite see how, you can only feel its presence. Well, kinda. In its new system, when you don't notice players like Michal Mravec, Michael Reed, and Josh Hughes, then you know they're doing their job well. Last week against Ottawa, Mravec and Reed were able to keep nearly all action in the middle third of the pitch. It was dull, but it worked (at least for the first fifty minutes). Mravec especially has quietly become the engine for the midfield. When Altanta scores, it can usually be traced back to Mravec.
You Will See:
Clarke Field. Thanks to the World Cup, Edmonton has been away from its home turf of Clarke Field for nearly two months. When San Antonio came to visit to lose 4-0 earlier in the month, Edmonton had to host at Fort McMurray , a 'suburb' that's an hour flight or a five and half hour drive north of the city. I'm sure that FC Edmonton's supporters will be glad to have the boys back.