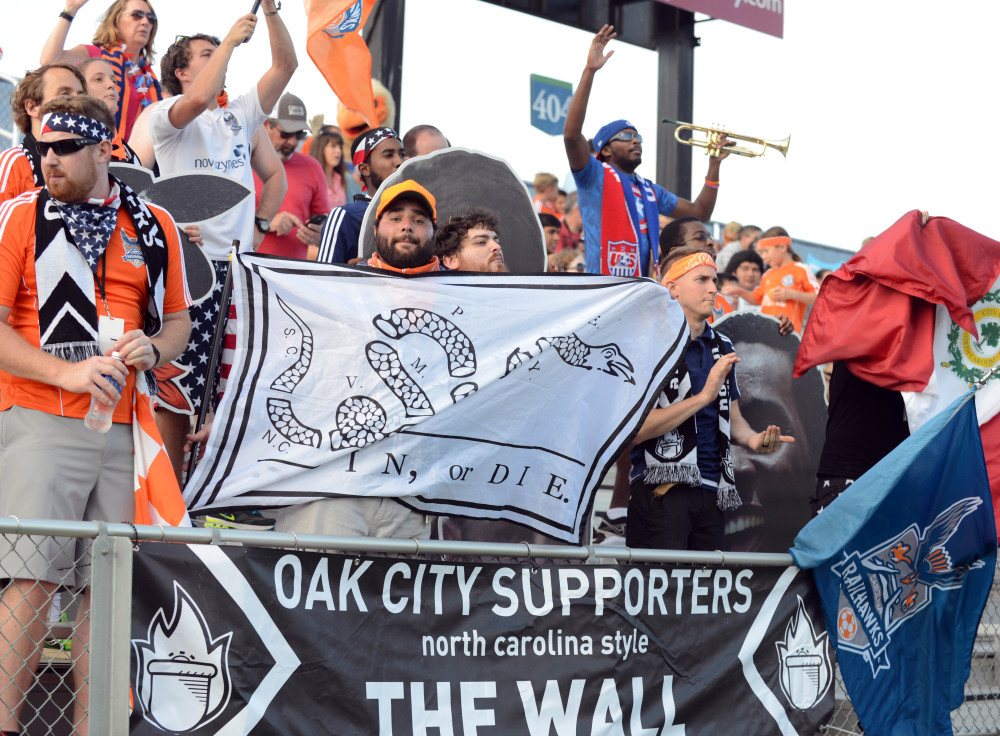 Endline: NASL Needs More Committed Fans
'Endline' is a weekly column in which David Martin surveys the NASL landscape for a topic of interest and fires a broadside of opinion. The content below reflects the opinion of the author alone and not that of Midfield Press or other individual staff.
If you have only just begun following NASL, you might take for granted some fairly busy stadiums. In the 2015 Spring Season, there was only one team that brought in fewer than 4,000 in average attendance. When the league began in 2011, there was only one team that brought in more than 4,000, a Montreal Impact team that was benefiting from an imminent MLS move and the increased interest that came with it. The fan bases are deepening, supporters groups are growing, and the diehards are dying harder for their club than ever before.
But ask many of these fans to name one of Atlanta's newest fall signings, and most would not be able to. Because most fans are fans of their own team, but don't follow the league itself very closely.
This is a tough audience to make this point to. People reading this right now already self-select as deeper fans of NASL than the typical attendee. The people I'm talking about are not slamming the refresh button on Midfield Press throughout the day, waiting with bated breath for just one more piece of juicy NASL analysis. Fandom spans all levels of commitment, from invested bloggers to flex pack holders to once-a-year Steve who brings his kids. All of those fans are welcome, and not all of them need to follow every storyline in the whole league. I am looking more at those regular attendees, regular watchers at home. The ones who can name their team's starting XI. Those fans are primed to follow the league in a robust way, yet too small a proportion seem to.
If you were able to answer my question above, then you might have been excited to see the homecoming of Junior Burgos, who was a strong presence for the Silverbacks in 2014 and has already contributed to multiple goals in the Fall Season. Or you might have been intrigued by the literal twin signing of Pedro and Paulo Mendes, the former of whom netted on Saturday. You might have been impressed that the Silverbacks, league-owned and back to the wall with newcomers Atlanta United heading to MLS, would invest in some effective reinforcements when it could simply hit autopilot until finding new ownership. You might have been astounded to learn that even with long-term feasibility in question, the club earned its second-highest ever average attendance during the 2015 Spring Season.
Want stories? NASL has a library of them.
No more o' Moura. The Great Wall Of Ottawa. Armada nets its first franchise goal in twelve seconds. Lance Laing pushing onto the Gold Cup finals, when he isn't slamming home free kick after free kick in league play. Shipalane collects defenders' broken ankles like comic books. The return of The Kronsteiner. Omar Cummings discovering the fountain of youth. The uncanny late game poise of the New York Cosmos when it seems luck has run out. Following this league is about more than just knowing about the comings and goings of your Raul's and your Ibarra's. Following this league is as rewarding as following any league.
Increased interest in the league as a whole would be a huge next step in its growth. Many who follow an NFL team know how the other teams are doing, know who their stars are, and know those teams' relative strengths and weaknesses. The same goes for the other big leagues of America to varying degrees. Of course it's something of an apples-to-oranges comparison; the average fan has ESPN hammering the top stories from those four leagues repeatedly each night, local newspapers pour on the coverage, even your NPR station will give you the updates in the morning. Add the fact that fantasy sports rule the universe, and it's hard not to know what's happening around the league.
NASL doesn't benefit from that ubiquity, so the gap is forgivable. But the league is stronger when its fans crave that next level of immersion. So how do we get there? A few thoughts.
First, Midfield Press tries (and I hope succeeds) in providing content that reaches a variety of palates, and works to balance analytically deeper articles like game recaps with more quickly clickable and readable content like power rankings and weekly predictions. The latter is fluffier in nature, to be sure, but it gives a casual fan or a follower of just one's own market a simple way to follow everything at once. NASL's website has only just begun to have more editorialized pieces and interactive content like polls relatively recently. This content is a step in the right direction, but the site mostly remains a home for dry official news and high-level match recaps and previews. Contrast this sites for other big leagues, including MLS, and you will see those other sites have a depth of interactive features, personalities you love or hate, and plenty (maybe too much) of the fluffy stuff you get with MLB's "Cut 4" or MLS' "Sideline" content. How much of that is too much? I don't know. But it gets attention, and that is no bad thing for NASL at this point.
Second, we want Fantasy NASL. It is a perfect way for otherwise-casual fans to have some skin in each game, learn more about players and stories from other teams and around the league, and makes the highs and lows of each match resonate that much more. I don't know if NASL has the resources for this; if they had, they might have already established this or would have spent it on something like a more robust statistics infrastructure. Maybe they are being cautious with the checkbook. Who knows? If they can't do it, let's crowdsource the thing, then. I want it now.
Finally, I implore the already deeply committed fans to talk about the league with those around them. You don't need to gush about Romuald Peiser to your grandfather who still believes soccer is just for kids, but talk about the league with the people you regularly see at the games. Ask them if they saw that one play or heard that one rumor. Like everything else in this league, the best growth comes from the fans in the stands rather than dropped in from on high. If the whole league is worth getting worked up about, then we have to be the ones talking about it.
The sky won't fall if all this isn't realized. NASL is in a good place right now and it keeps getting better. The games are played at a high quality, the league is competitive, the stories are compelling, and the refereeing always gives us something to yell about. It will be all that much better when everyone in the stands knows exactly what's at stake each weekend.