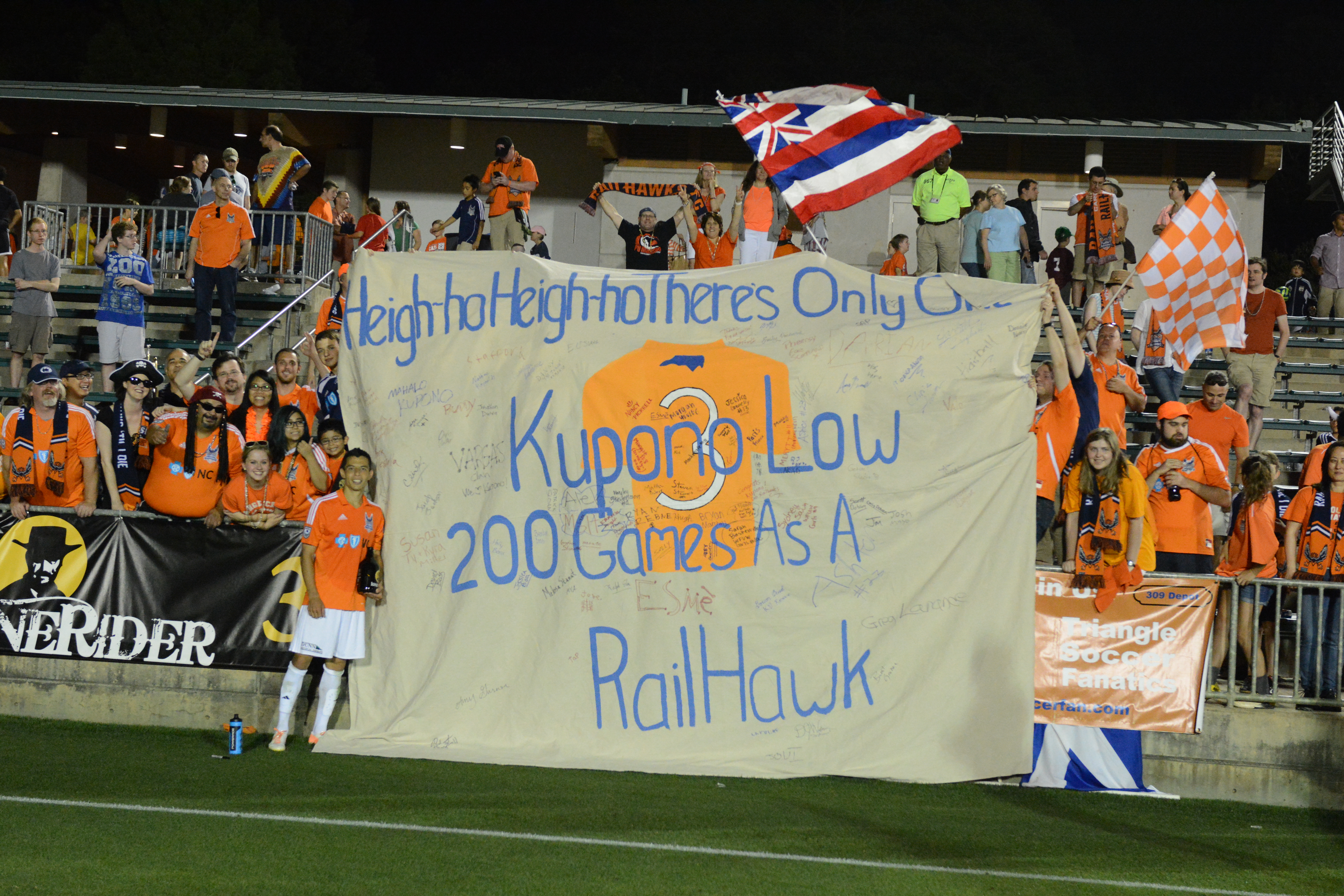 A Conversation with Mr. Railhawk: Kupono Low
The Carolina RailHawks played their first competitive game on April 21, 2007. Kupono Low started that game and scored Carolina's only goal in the 1-1 draw. Eight years and a couple hundred games later, Mr. RailHawk sat down with me to discuss his career and his unique perspective on the US Soccer scene.
Right off the bat, we started talking about the current season and trying to build to Carolina's first league championship.
"It's the ultimate goal at the beginning and end of every season," Low began. "We've come close a few times. We're usually finishing on top of the table somewhere."
Through eight years with Carolina and one each with the Syracuse Salty Dogs and the Virginia Beach Mariners, Low has somehow yet to win a second-division title. Well, in America anyway.
In 2005, Low helped historic Irish club Sligo Rovers win the Irish First Division and promotion back to the Premier Division. "It was a different experience in Ireland," Low said. "I'm kind of used to the Open Cup. I'm used to drawing a men's league team or an amateur team or a 3rd-division team in the Open Cup. But In Ireland, I didn't know really what to expect. Soccer is this passion there. Every league game is huge, every goal is celebrated like crazy. Every little detail meant something, and in that respect it helped my game out a lot."
Was that attention to detail not as present in the American game? Not necessarily, especially as, according to Low, quite a few of the teams he played against compared favorably with those Irish league teams.
"When I was a rookie [in Syracuse], I was playing with players who in my mind I was like 'man, these players are really really good.' But I came into the league and the Rochester Rhinos had such a huge history, not only winning the Open Cup but having good players. I came in and played in Syracuse with some of those Rochester players and they were phenomenal. And to be honest when I went over to Ireland and it was the first division, I thought maybe there are some teams I had just left playing in the states, like Montreal, and a team I was on like Syracuse and saying 'you know what? We could probably play in this Irish League and do fairly well.' That was the standard I was in, playing with and against good players. I don't know, I was on a good team and I was fortunate to be with good players and coaches that I could learn from."
So what turned up the intensity in Ireland? Part of it was, of course, the huge passion present that didn't as much exist in the States at the time. That said, Low 2004 left a team in Syracuse that had not only made the Conference Final but was also averaging over 6,000 fans a game. That wasn't just impressive ten years ago, that would have been impressive today, and certainly in the upper bounds of NASL figures this year.
It turns out the right league format can ratchet up that intensity.
"There was always a little more riding on the games in Ireland than here because you felt it. Winning promotion is a habit. You're surrounded by guys that just want to win and when you start winning and nailing all the details of how to be successful on a team, doing them right, doing them correctly all the time, it starts to become a habit. We earned promotion with like three games left. That was great experience, that promotion/relegation-type system was fun to be a part of."
"Would you like to see that here?" I asked him.
"Yeah, I'd love to see that here. I don't know how it could in terms of the separate leagues, but I'd love to see that here. It does put something on the line, every game means something."
The people in charge of soccer in America have always seemed to struggle with raising the stakes of regular season games. You watch in MLS game today between the New York Red Bulls and the New England Revolution and maybe it's great fun and one team wins 4-1. But the sense is that it doesn't really matter since both teams will probably make the playoffs anyway. MLS lucks out sometimes when a stacked conference adds real regular-season pressure to traditionally strong teams in real danger of missing the playoffs like Real Salt Lake. But otherwise the stakes can seem distant.
And in that respect, NASL's once-maligned, somewhat weird format actually ramps up the pressure.
"With the NASL and their short spring season, nine or ten games, you do get that feeling," Low said. "Every game means something. It's exciting and that's where that promotion/relegation feeling kicks in, that feeling I felt in Ireland that this is huge, we need to win this game to stay in the middle of the table or stay on top. It's fun."
Of course, NASL had a kink or two to work out with the format, which Low was quick to point out. "The reward at the end of the Spring Season that first year I think was a bit much, with hosting the championship. It was great for the organization and marketing, getting the whole fall season to market it."
"But you could kind of tell that in that fall season that Atlanta kind of coasted," I said.
"Yeah it's difficult for the manager or the team or the players themselves to stay involved. You're in the championship four months from now, you've got to stay fit, you've got to stay together as a team and by the end of the year you've got to be playing your best soccer. I think that hurt them." Personally, I'm glad it hurt them. I went to two consecutive Atlanta games at the end of that Spring season, hoping one of them would go Carolina's way. I was a very biased observer, but it seemed Atlanta was playing somewhat disgracefully. I didn't ask Low about that but I wish I had.
Of course, that was the year Carolina finished the year on top of the table on points but with nothing to show for it. But despite Low never having won an NASL championship, there might be a more attractive prize out there.
I asked him, "If you could have an Open Cup or an NASL title, which would you rather have?"
"It's tough to pick," he answered after a pause. "The Open Cup is a big tournament. You play a variety of teams and to win that is a big deal. It is a tournament so we might only win five games to win a tournament whereas obviously NASL is a long season. But the Open Cup, I'd probably like to have that. There's a huge reward at the end of that, the financial reward would be huge for the players and the organization."
Low and Carolina have gotten close a few times, reaching the semifinals in 2007 and the quarterfinals in both 2013 and 2014. But instead of celebrating quarterfinal appearances at WakeMed Soccer Park, they hang a banner for having beaten the LA Galaxy in three consecutive years. No game in that run was more impressive than last year's 1-0 extra time defeat of a Galaxy side that included Landon Donovan and Robbie Keane and everyone else. As the left back, Low drew the LD assignment.
"How would you try to defend Donovan?" I asked him.
"I just try to keep him in front of me, it's kind of my principle in my defending, as long as my guy is in front of me and not behind me, then I feel pretty confident I'll be able to get the ball from them. I probably take more pride in my 1-on-1 defending than I do anything else. When someone's lining me up to try to beat me 1-on-1, I take a lot more pride in that than I do in anything because if you get beat, it's difficult to recover and you put your team in a bad spot as a defender."
Low certainly did a fine job doing his part to keep Donovan and the Galaxy off the scoreboard that day. But what was a little surprising was learning that guys like Donovan aren't necessarily the most difficult to defend as a left back.
"The hardest thing to do is to defend someone literally running at you with the ball with speed and pace. Guys who might not be the best player in the league, they're the hardest to defend when they do it. Take a guy like Walter Restrepo in New York. Is he the best player in New York? Probably not. But he's difficult to defend because he's got so much pace, and that's literally what he does, he runs at you with the ball, tries to get behind you and he's good at it. Restrepo is probably the hardest guy to defend on my side as a left back so far in my career."
Bringing it back to the US Open Cup, I thought about those Galaxy and how the first two wins were basically against reserve sides. I asked if the RailHawks players noticed and/or got miffed about things like that.
"If anything," Low said, "it gives us confidence. It was one of those things where when teams bring their second team, we think we should win this. We have a lot of guys with MLS experience, they could very easily be on their second team, but they don't want to be on their second team, they want to be playing. So they come to our league."
That's an important point. Carolina starts a centerback in Futty Danso who played significant minutes for Portland a year ago. When Liam Ridgewell and Nat Borchers came in, he chose to start for Carolina instead of playing the 3rd centerback role. Austin da Luz came here from DC United when the drafting of Nick DeLeon created a logjam at the wing. I'm convinced that Tiyi Shipalane could be useful to many an MLS team. But would he start every week like he does here in Cary? I'd try to pick him up and start him every week if I ran the Philadelphia Union, but I don't run the Philadelphia Union.
Players on the fringes of MLS rosters often have to make this decision: Stay with the MLS team and hope you pick up a start here and there or come to NASL, start every week, and truly showcase your talents. Low, like many of his teammates, chose the latter.
"Any player will stay in one spot, you want to keep your job, you don't want to keep moving around city to city. You find a place where you enjoy it, you accept it there, you do well on the team, they want you back. I thought I did well my first year here, I signed another contract, I came back." We fans and observers can neglect the frequently transitive nature of professional sport. To stay in one place for the bulk of one's career is rare. But it's also the dream.
"I think there are a lot of players on club teams that, if they were continually getting re-signed by their team, they'd probably be in the same situation. I'm fortunate enough to play as long as I have and play at a high enough level that the new coaches that come in still keep me. The new General Managers and front office guys, they want me here."
It's clear that Low is the locker room leader. Colin Clarke gives the captain's armband to Connor Tobin or Daniel Scott every game, but according to Clarke, everyone still calls him "Cap." Part of that leadership includes keeping young players in line. I asked him about things a young player could do that would frustrate him today.
"Everyone has their thoughts and opinions on how the game should be played. Maybe they grew up playing it at their college and how that system worked. You come into the RailHawks and Colin says, 'this is how we play here.' It might not fit exactly what they're used to. So it's easy to not work as hard or give out excuses as to why they're not playing well. That's the biggest thing that coaches and veteran players will look at, because you want players at your side in a championship game, or any game for that matter, when things aren't going your way, at least you're working hard and getting things done. The whole team can't just sit there and not work and make excuses."
Thankfully, according to Low, the mix of youth and veteran strikes a good balance in Carolina, with the young players by and large buying in. But Low also noticed how much more experienced these young players are than even the players he came up with.
"The sport has grown so much in this country to where there's a pretty consistent amount of players in the academy systems that are either training now or will be training soon with professional teams with MLS or NASL or USL. Like with our academy kids, we have three or four signed to an amateur contract who we've suited in some of our league games and they're out there and they're training with us. And the level doesn't drop at all when they're out there. And these kids are 17, they're going to go to school and they're going to go to college. To have that experience as a young player is massive. That's something that we never had, we got this experience when we were 21. They're getting it at 17. We got that experience as a rookie professional, they're getting that experience in high school. The youth soccer out here is getting a lot better, not only in North Carolina but just in the States itself."
All soccer, not just youth soccer, has gotten better in North Carolina.
Lower-division soccer is tumultuous across the country, and North Carolina is no different. UNC, Duke, and Wake Forest all have fairly impressive soccer histories. So do, to a lesser extent, NC State and UNC Charlotte. But collegiate does not professional interest make. Charlotte, the state's largest city and home to two major sports teams, only got their first ambitious soccer club. Before the Railies materialized, the longest-running non-denominational pro soccer club somehow wound up in Wilmington.
Raleigh gave it a shot themselves in the 90s at about the time the Charlotte Eagles, the Charleston Battery, the Rochester Rhinos, and the Minnesota Thunder were giving it a go. But that team wasn't very successful on the field or at the gate and folded in the early 2000s.
Low himself has played the final season in the existence of two teams in the Syracuse Salty Dogs and the Virginia Beach Mariners. I wondered what made this Carolina organization different.
"Since 2007 leading up to now, there have always been front office changes, general managers, presidents, everyone, I've seen everyone leave. The people who come in take it another level higher. It's always a little bit better. It's continuously gotten a little bit better every year. Curt's done a phenomenal job with the resources and everything he's had."
You don't see that often in professional sports, with every new guy coming in just being a little better than who they replaced. But that has to happen for soccer to work in the 2nd division in North Carolina.