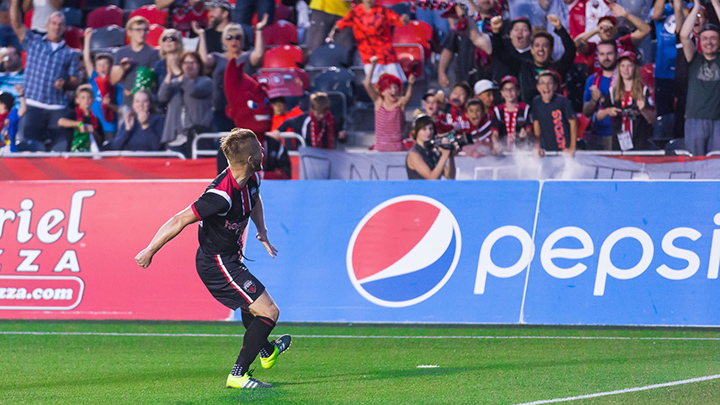 Recap: Fury Continue Strong Form Vs Atlanta
Ottawa Fury FC 2-1 Atlanta Silverbacks
Goals:
56′ – Carl Haworth (OTT)
62′ – Junior Burgos (ATL)
73′ – Richie Ryan (OTT)
[youtube http://www.youtube.com/watch?v=rTw8evFJY0s?version=3&rel=1&fs=1&showsearch=0&showinfo=1&iv_load_policy=1&wmode=transparent]
Major Themes:
Fury are on a nine game unbeaten streak, which has seen NASL records set, and the win over Atlanta puts them top of the Fall Standings and just a point off first in the combined standings.  Richie Ryan and Tom Heinemann have both scored three goals so far this Fall Season, helping Fury earn an important ten points from their first four matches. Although they struggled to score during the Spring Season the club has found its stride and scored 9 goals so far this Fall.
Atlanta played a very physical game from the start, with Kimura earning a yellow card just four minutes into the match.  They were able to play the ball around when Ottawa gave them time with the ball and sat back, but they failed to test Peiser or the Fury defense enough to deserve points.   Their only goal game through a penalty kick, although it appeared that was drawn through a fairly soft foul.
In Form:
For Atlanta, their keeper Steward Ceus was on form for the match, using his height to intercept several Fury crosses and shots. On several occasions he was the difference between Tom Heinemann or Oliver getting their heads on a dangerous cross, and he nearly saved Richie Ryan's penalty after diving the correct way and getting a finger on the ball.
Richie Ryan has undeniably been an important addition to the Fury squad this Fall Season, having missed much of the Spring Season through injury.  Ryan has score three goals in the last two matches and Ottawa are undefeated when the Irishman is in the line up, with a record of 5-1-0.  His control through the midfield and importance from set pieces makes him an extremely important part of the Fury squad, and he has certainly shown that in recent matches.
Liabilities:
Atlanta's liabilities came from their physical style of play and lack of composure.  Kimura earning a yellow card so early in the game meant that he needed to be careful for the remaining 86 minutes.  Mensing picked up a yellow card for protesting a penalty call and was lucky not to receive a second yellow for knocking the ball out of Ryan's hand as he walked off in a huff.  They delivered several crunching tackles and gave Ottawa several scoring chances from set pieces, and given Fury's recent form, that is a dangerous game to play.
Being undefeated in nine, it is hard to find liabilities, however the club does need to see more production from its forward line, with Haworth becoming just the second Fury forward to score in the NASL this year.   Midfielders Richie Ryan and Nicki Paterson both scored goals from set pieces while Alves and Trafford have contributed from the back, however Fury's top line has still yet to find its finishing touch, apart from Heinemann.
You Won't See On The Highlights
The referee made several inconsistent and questionable calls on the day, most of which would not make the highlights.  Although the calls, or lack there of, were spread out evenly among both teams, it did disrupt play and cause players from both clubs to become infuriated.   Both clubs will feel the penalties called against them were unfair and unjust, but in the end it evened out.
Lessons Learned
Ottawa are hot, red hot.  Despite claims of them being boring to watch or playing defensive football, the club is letting their points (and unbeaten run) do its speaking for them, rather than the manner in which they win points.  They have started to find goals, and along with the leagues best defense, there is no reason Fury can't continue to be a top club in the NASL standings.
Atlanta still have a lot of work to do if they wish to continue their push off the bottom of the NASL standings.   They have made some roster changes recently, and it may take more time, and more matches at home, for those signings to properly click.  The club is league run, and its future unknown, so for now many will just cherish being able to see the Silverbacks play regardless of results.