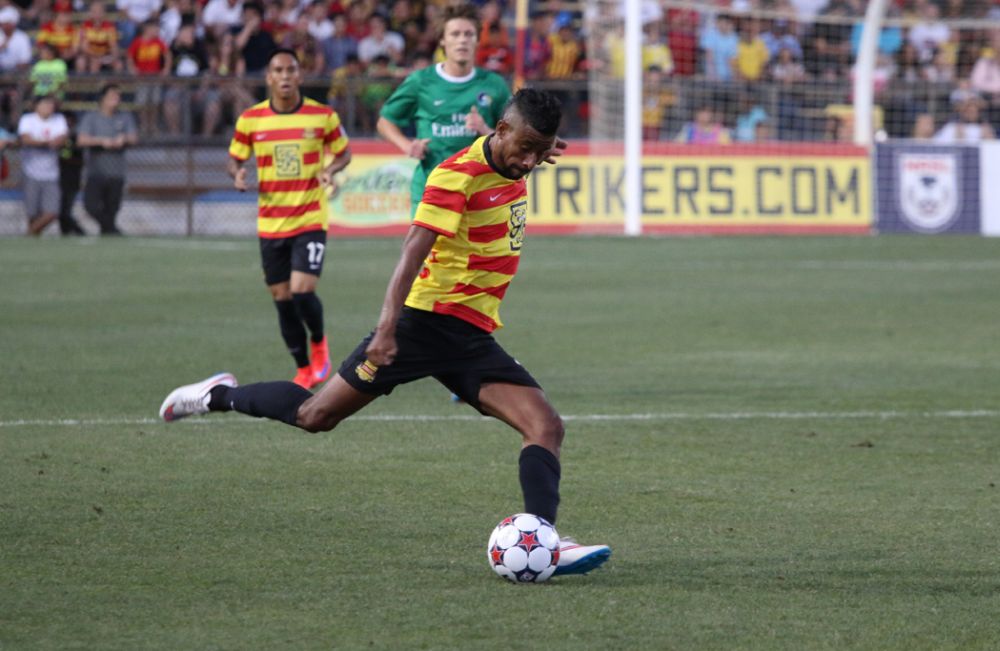 5 Players Who Were Hyped Then Flopped
Every Thursday, Midfield Press presents five new players for your consideration.  This week, we look at new signings who were pumped up only to fall short of expectations.
Jonny Steele, Midfielder, Minnesota United FC
Ex-MLS player Jonny Steele came to Minnesota United amidst much fanfare. The journeyman, though not a fixture in the US 1st division, had done well enough with the New York Red Bulls to get the attention of Northern Ireland coach Michael O'Neill. He was well-known to NASL fans from his stints with several D2 squads (particularly the Carolina Railhawks) and some whispered concerns about his inability to stay with a single team and his effect on the locker room. Steele himself talked about being unhappy in Australia (where he'd spent the last year) and wanting to "get back to enjoying football." Things began well enough with Jonny starting in midfield, and the team even chose him as one of three marquee players for whom they would sell pre-printed jerseys (even before customization was available). Unfortunately the honeymoon ended quickly. Steele found himself on the bench for game number five and got off it only once in league play. A couple of cryptic tweets and a very uninspiring US Open Cup performance later, Steele found himself parting ways with Minnesota.
Léo Moura, Midfielder, Ft. Lauderdale Strikers
Ft. Lauderdale so believed in Léo Moura's abilities that the club moved him from his long-time role at right fullback into a more advanced position on the right flank, hoping he could be something like a #10 from the wing.  The plan just never bore fruit.  Moura was far short of abysmal during his time, but the Strikers sputtered to an 8th place finish in the spring and Moura seemed to always have a foot out the door during his time with the club.  By the end of the Spring Season he was gone, ostensibly on mutual terms but with talk of concerns over the state of NASL bubbling up on Twitter.  He finished his tenure with only two goals and a single assist.
Bright Dike, Forward, San Antonio Scorpions
Bright Dike has never been one to hold down steady starting minutes, partly due to serious recurring injuries.  But his physical potential is undeniable.  When San Antonio latched onto Dike on loan from Toronto so the player could see more first team minutes, it seemed to be a perfect move for San Antonio.  A player of Dike's caliber, finally fit, linking up with support from someone like Billy Forbes might have been lethal.  Instead, Dike saw only one start and a handful of cameos before being recalled once to Toronto for a friendly and then permanently in late June.  The Scorpions will likely shed no tears; they have found another monster in front of goal with MLS experience that suits them fine.
Richard Garcia, Winger, Minnesota United FC
The kookaburra! The 2nd World Cup player to sign with an NASL team (after Kleberson) and an ex-English Premier League player at that! Australian Richard Garcia's signing was a marketing coup for Minnesota United FC in 2014. It was announced Garcia would be on loan with Minnesota through the end of the Spring season and United fans were excited to see what this Australian phenom would bring to their squad. Then they waited. And waited. And waited. Due in part to issues with his work visa, it took a solid 19 days for Garcia to arrive in Minnesota and by then only 2 games remained in his loan period. Garcia ended up playing only 25 minutes and his loan was not renewed.
Kléberson, Midfielder, Indy Eleven
Is Kléberson truly a bust?  That depends on how you define it.  Signed at the beginning of the 2014 year, Kléberson's pedigree was touted made 20 appearances (most of them starts) and netted eight goals; not an incredible haul, but not dreadful either.  Indy opened its inaugural Spring Season with a meager four points, but stabilized to finish respectably in the fall.  However in 2015, the Brazilian suffered a hamstring injury early on which gave way to an achilles injury when he returned to training.  Kléberson hasn't played a single minute for Indy in 2015.  So is the player a bust?  Let's at least say that 20 appearances and eight goals would be a disappointing achievement for two years spent at a NASL club by someone who cracked Brazil's world cup squad.
Have a player you think we overlooked?  Tell us in the comments.
Featured
,
MNU
,
SAS
,
IND
,
FTL
,
nasl
,
5 Players
,
Leo Moura
,
Richard Garcia
,
Kleberson
,
Jonny Steele
,
Bright Dike