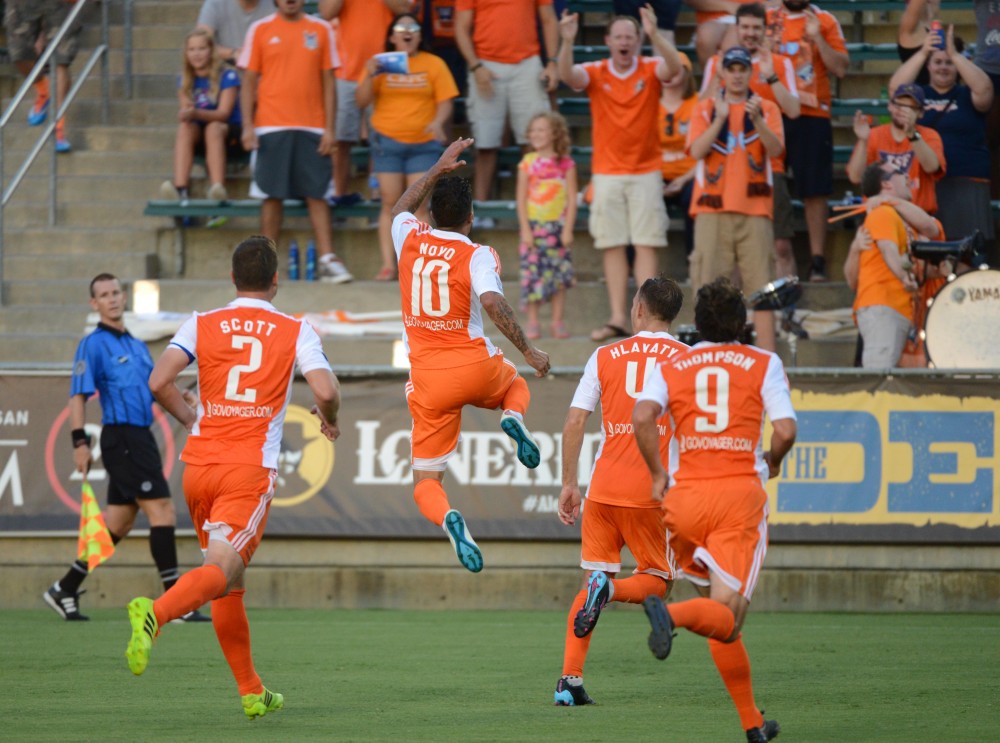 Recap: RailHawks Stave Off Rally to Win Barbecue Bowl
Carolina 3-2 San Antonio
A game missing two top centerbacks featured five goals, as we look at the superlatives from Carolina's 3-2 home win over San Antonio:
Goals:
Neil Hlavaty (CAR) 22'
Nacho Novo (CAR) 24'
Cesar Elizondo (SAS) 35'
Novo 67' (PK)
Rafael Castillo 75' (PK)
Most Missed Defender
It's never been a great sign this season for the RailHawks when Daniel Scott's name is checked in the "S" column. However, Scott played admirably, snuffing out many attacks at or around the top of the box and stoppering more expected goals than he was responsible for.
The game's second goal truly revealed who was missing their centerback as Nacho Novo had an unacceptable three goalmouth opportunities to hammer home a corner, capitalizing on the third.
It was San Antonio's second of many games without Julius James and they've now allowed multiple goals in both. Rusin was once a stalwart centerback in this league, marshalling the RailHawks to a Regular Season Title once. But that was four years ago.
Is he the answer in 2015? Will Adrian Cann make more of his opportunities? Will the Scorpions nick a rental centerback in the transfer window? If the answer to all of these is no, the Scorpions may have to outscore teams for the rest of the year.
Most Compelling Matchup
With Omar Cummings and Futty Danso out, the San Antonio attack vs Carolina defense angle didn't really materialize as hoped. But one specific matchup proved sufficiently exciting all game: San Antonio winger Billy Forbes vs Carolina right back Wes Knight.
Even though he has yet to miss a single minute this season, Knight is one of the least written-about players on the RailHawks, mostly because few outright beat him to score a goal. That didn't happen last night either, but Forbes certainly showed what can happen when one of the league's most dynamic wingers takes multiple runs at one of the league's most solid outside backs.
Knight had the early advantage, winning the ball on two of the first three engagements, with the third being pushed far enough for Scott to knock it behind for a corner. The fourth time was, in a sense, the charm for Forbes as he shielded the ball from Knight near the corner. Knight fouled Forbes, resulting in a free kick that would score San Antonio's first goal.
Hardest Goals to Defend (aka Most Spectacular)
Cesar Elizondo's goal may not get much Goal Of The Week consideration, headers from free kicks rarely do, but the play was perfectly executed and thus extraordinarily difficult to defend. Rafael Castillo's free kick was perfect and Elizondo's run and header were simply unstoppable.
What are you supposed to do as a defender when Elizondo makes a curling run away from the goal? Run through him, incurring a penalty? Anticipate his run toward the ball, only for Elizondo to double back and be wide open at the near post? The only thing they really could have done was not concede the free kick.
Meanwhile, thanks to another lovely Kupono Low through ball, Novo found himself slightly open in space to set up the first goal. But when you're defending Novo in space near the corner of the box, you're expecting him to do one of two things: shoot or dribble towards the middle.
He did neither of those, instead delivering an inch-perfect cross to Neil Hlavaty on the back post, whose defender did everything expected in tracking Hlavaty's run. It just so happened that the ball curled around the defender so Hlavaty could one-time volley it into the bottom corner of the net.
Most Surprising Assignment
Lineup pages on both the NASL site and individual NASL team sites are not the most reliable. So you would have been forgiven if you'd seen Simone Bracalello listed on the wing and thinking that he might have actually played forward.
But not only did Bracalello play out on the wing in Tiyi Shipalane's position, he played quite well! Once the Railies realized San Antonio was sending two out of three attacks up the left flank, he dropped back and was able to dispossess and find release valves. It was an encouraging performance for if ever Ship has to miss more games.
Least Controversial Penalties
Both 2nd-half goals came from the spot and both calls were pretty obvious. Elizondo plowed into Novo to earn his former team a spot kick and Low returned the favor by clearly taking down Giuseppe Gentile.
Best Barbecue
Two hours before kickoff, the RailHawks hosted their annual pig-picking barbecue festival. Two hours after kickoff, the RailHawks held off a furious Scorpions surge at the death, including a wonderful free-kick catch by Akira Fitzgerald, to defend my right to say that North Carolina barbecue is definitively superior to Texas barbecue.
Highlights
[youtube http://www.youtube.com/watch?v=kAtlPMqHXF4]