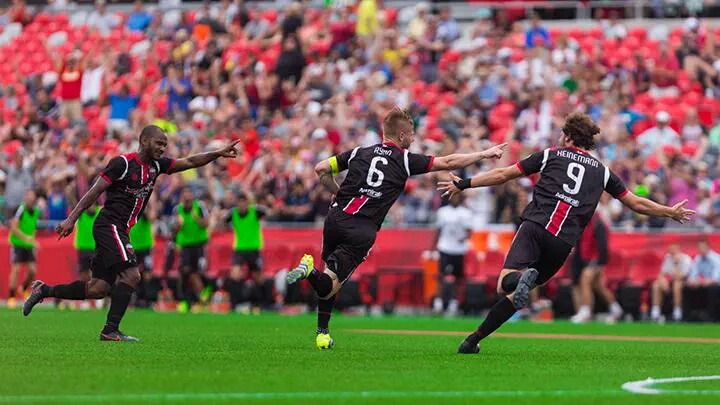 Recap: Fury FC Soar With Four Scored Against Indy
Ottawa Fury FC 4-2 Indy Eleven
Goals:
13' Rafael Alves (OTT)
33' Don Smart (IND)
35' Richie Ryan (OTT)
56' Tom Heinemann  (OTT)
65' Richie Ryan (OTT)
90' Judson McKinney (IND)
Major Themes
– Ottawa Fury finally found their scoring form after scoring just five goals all Spring Season.  Tom Heinemann scored his third goal in three games for Ottawa, while Richie Ryan scored two stunning free kicks.
– Don Smart scored a well placed goal from outside the box, however Eleven's back four looked suspect at times, conceding free kicks in dangerous positions that led to three Fury goals on the day
– Miller was sent off late for Indy following a second yellow card,  while Pineda had a poorly placed penalty was turned away by Peiser.
In Form:
– Don Smart had a relatively strong match for Indy Eleven on a day where they struggled to control the match through the second half.  His goal was well placed and is only one of three to get past Fury keeper Peiser in eight games.
– Tom Heinemann scored his third goal in three games this Fall Season, while Richie Ryan, who missed the majority of the Spring Season with injury, has been vital in Fury's recent form with two goals on the day.
Liabilities:
– Fury are still struggling to find goals from their forward line from players other than Heinemann, as the American striker is the only Fury forward to score this year. They are also struggling to score goals from open play, with four of their last five goals coming from set pieces.
– Indy's defense looked very unorganized and liable at several occasions, while Nicht allowed four goals, including two direct free kicks. They play a very physical game however that ended up proving costly as fouls led to the set piece goals.
You Won't See On The Highlights
– Temperatures soared into the 100's as Ottawa was hit with both severe thunderstorm and tornado warnings, luckily the weather kept off for the match.
– Oliver returned for Ottawa Fury after breaking his nose last week in Minnesota, and had a bicycle kick blocked moments after coming on as a late sub
Lessons Learned
– Ottawa Fury can score, despite what their last few matches of the Spring Season suggested. They are extremely organized at the back and are very tough to break down, especially at home.
– Indy Eleven can play dangerous football but are weak at times at the back.  They have a strong midfield and despite losing on the day they are still a dangerous team hunting for a playoff spot.