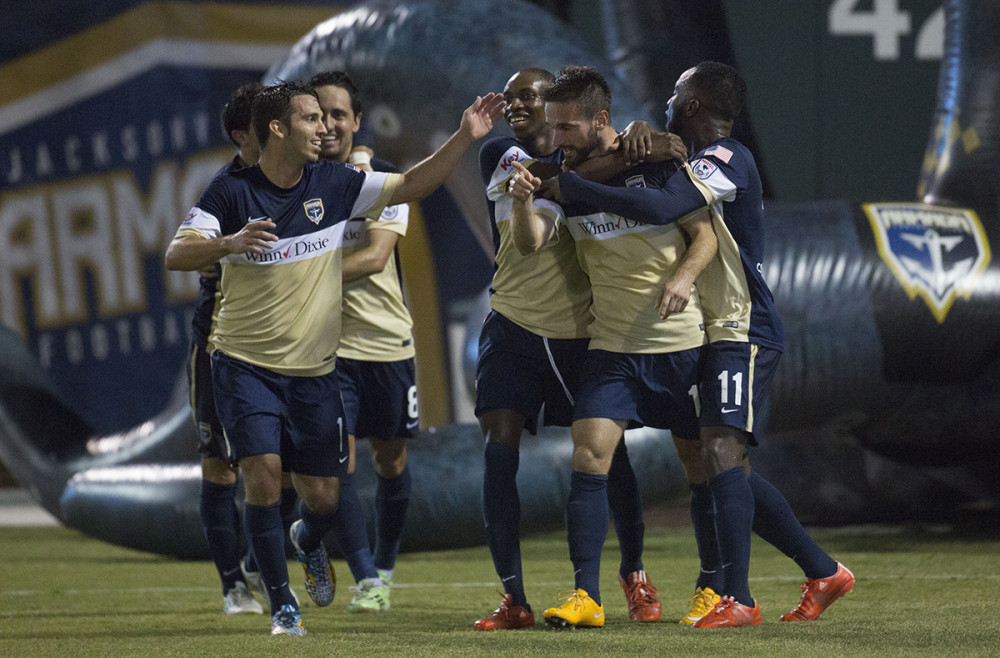 Recap: Armada Find Safe Harbor At Home
Jacksonville Armada 1-0 New York Cosmos
Goals:
54′ – Tommy Krizanovic (JAX)
Major Themes:
-Home Field Advantage: Before kickoff against the Cosmos, the Armada had played five home matches and won three of them, with a loss and a draw in the other two. While the sample size is a bit lacking, looking at the team's away results – Jacksonville is yet to win on the road – shows that the team performs better at Community First Park. A win against the Cosmos pushes the Armada to 4-1-1 at home, and the team might be able to move up the table if they can replicate these results on the road.
-The Cosmos controlled the match. New York created more pressure, and were the more attractive side on the evening. The loss was their first loss in the league this year and should only be seen as an unlucky setback for the Spring Champions.
In Form:
– Tommy Krizanovic: The Armada forward has come into a solid run of form in his last few games. With Alhassane Keita suspended and Marcos Flores injured, Tommy got the start for his hometown club. He had a goal disallowed in his match against Atlanta, but his goal against the Cosmos was all good and it sealed the win in his first start for the Armada.
– David Sierra: David allowed four goals in last Wednesday's match, so he is not really "In form" but his performance against the Cosmos merits a mention here. He bounced back in tremendous fashion, shutting out the Cosmos with seven saves. Whether the consecutive starts are indicative of an injury to Miguel Gallardo or a more long-term replacement remains to be seen, but Sierra will need to play more like Saturday Sierra than Wednesday Sierra to have any prospect of keeping the job.
Liabilities:
– Jimmy Maurer: Maurer is a good goalkeeper, but was caught out of position on the lone Armada goal. He was flustered in goal for solid portions of the match as well, and errant shots are the only reason the Armada score was not higher.
Lessons Learned
– The Armada have a talented roster. They have shown that they can play with the best teams in the league, recent 4-0 result in Minnesota aside. Jacksonville will not be challenging for any sort of playoff run, but should be stepping up the table if they can continue to get solid results.
– New York should still be considered the favorites to win the championship. Their recent run of league results do not paint a picture of a league-winning side, but they are locked into the playoffs by virtue of their Spring Championship, and it is difficult to imagine that the results will continue as they have been.