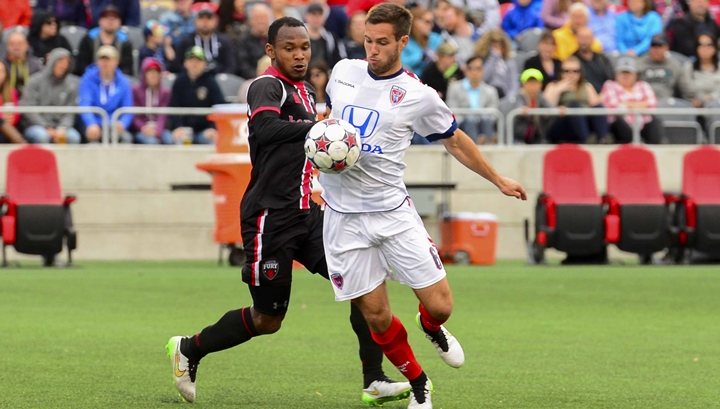 Preview: The Clash of the Undefeateds
Ottawa Fury vs. Indy Elevent
Major Themes:
The Fall half of the season is still in its infancy, but this Sunday's match between the Ottawa Fury and Indy Eleven is a marquee game. A win by either team would shoot it to the top of the Fall standings as well as insert it into the top four in the combined table. Ottawa hasn't lost a match since May 2nd (and hasn't lost at home since April 25th) due mostly to the league record setting shutout streak by its goalkeeper Romuald Peiser. Indy is no slouch either, having not lost a game since May 23rd, which was against Ottawa.
The Last Time They Met:
Keep An Eye On:
The battle between Ottawa centerback Rafael Alves and Indy forward Wojciech Wojcik is going to be one of the game's best match-ups. Wojcik is a powerful target forward and Alves is, arguably, the strongest defender in the league. Wojcik's counterpart on the Fury, forward Tom 'Teen Wolf' Heinemann will be looking to extend his scoring streak to three games.
You might notice:
Ottawa Fury forward Oliver Minatel suffered a boot to the face last weekend against Minnesota United that left him bloodied and swollen. This week Oliver returns to play wearing an impressive face-mask as his nose continues to heal.
You Probably Might See:
Ottawa midfielder Julian De Guzman, who was with the Canadian national team as it struggled through the Gold Cup, maybe available. If he's fit, De Guzman will be a welcome presence in central midfield where the Fury has been in need of a field marshal. Indy's new signing, winger Dane Richards, might make his NASL debut as well and if so will definitely harry the Fury's defense with his speed, service, and attacking prowess.