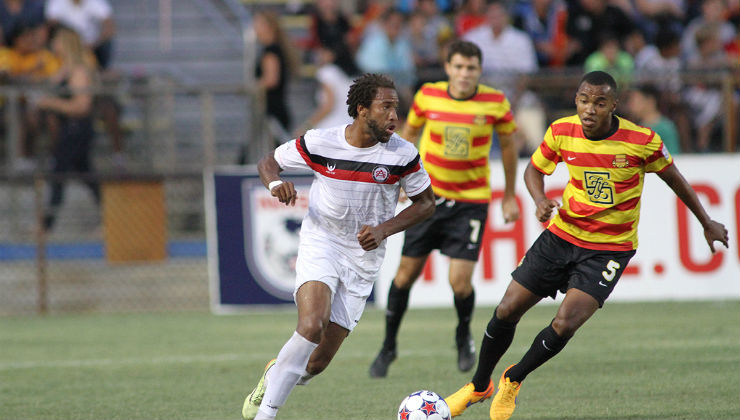 Preview: Atlanta Kicks Off a Four Game Roadtrip
 Ft. Lauderdale Strikers vs. Atlanta Silverbacks
Major Themes:
Saturday against Ft. Lauderdale Strikers, the Atlanta Silverbacks start a 6,000 mile road trip. The travel will be grueling (southern Florida, to Ottawa, to Edmonton, and to Indianapolis before returning to home). But if Atlanta is able to get three points at the start, then it will climb out of the cellar of the combine table while jumping up into the top of the Fall standings. The Strikers are in need of points in order to continue to just barely keep its head above water. With the exception of forward Stefano Pinho and midfielder PC (Victor Pagliari Giro), Ft. Lauderdale is an underwhelming side playing rather desperate soccer whereas Altanta is a team that's only improving.
The last time Atlanta and Ft. Lauderdale faced each other the result was a mind-numbing 0-0 draw. Draws are something with which the Strikers are all too familiar.  In their opening match of the Fall, the Strikers got a boost from Mother Nature (a lightning and rain delay) that allowed it to pull even with the Carolina Railhawks. Last week the Strikers gifted a draw to FC Edmonton thanks to goalkeeper Josh Ford's late own goal, which was really more of a brilliant strike by Edmonton's Sadi Jalali.
The Last Time They Met:
Keep An Eye On:
Over the break between the Spring and Fall portions of the season, Atlanta completely retooled and improved (most notably former MLS veteran fullback Kosuke Kimura). The team is just now starting to show its quality. Manager Gary Smith is deploying a new formation (3-5-2), and in that formation new faces like Josh Hughes and Michal Mravec have a chance to shine.
You won't notice:
Goals. You won't notice goals. Even though Atlanta's offense is turning the corner, neither team is a multiple goal threat. Don't get me wrong, things could get really crazy and end up a 3-3 affair ,but I doubt.
You Won't See:
Atlanta goalkeeper Steward Ceus will still be with the Haitian national team as it faces Jamaica in the Gold Cup quarterfinals the same night.