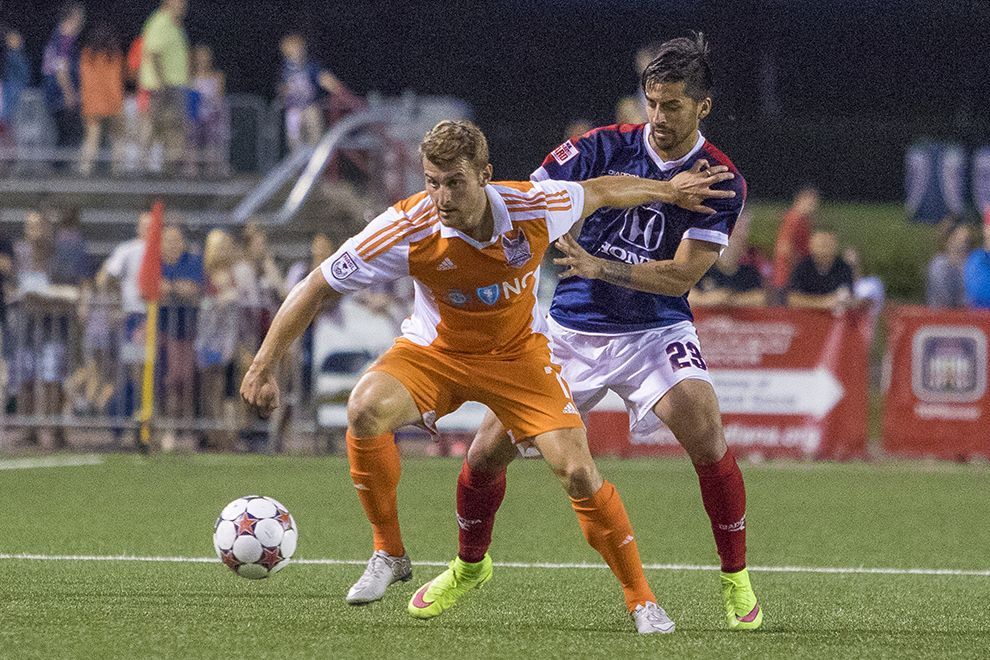 NASL Fall Season Power Rankings – Week 2
Just another week of NASL doing NASL.  Top of the table Tampa Bay were stung by bottom feeders San Antonio, in-form Carolina went draw-loss on the week, and FC Edmonton continued to show that predicting its scores is like picking lottery numbers.  There are only three things we know for certain after this week: Ottawa is good for a low-scoring draw any day, Minnesota gives away leads like charity, and New York is good enough to not lose on its bye week.  It's the NASL Fall Season Power Rankings – Week 2.
1. New York Cosmos
Not losing was good enough to keep the Cosmos on top this week, with Tampa Bay and Carolina both losing.  As mentioned last week, however, the Cosmos will want to start turning in some convincing performances after its latest run of ties.  This week is a prime opportunity, facing lowly newcomers Jacksonville on the road.  If New York can get out in front early and have Armada chasing the game, the Cosmos should be able to earn the win.
2. Tampa Bay Rowdies
Most Power Rankings tend to blend some variation of past, present, and future into its considerations.  Our Power Rankings are no different.  Tampa Bay were shelled on Saturday, and to a team which has utterly failed to meet expectations thus far this year.  But one game does not make a trend.  The Rowdies had a great run of form leading up to this weekend that cannot be denied, and it has all the pieces in place to suggest it can continue to do the same moving forward.  If the team adds Freddy Adu and he somehow finds the form that has evaded him for so long, this will be a very dangerous team.  Thomas Rongen may be the man who can get it done.
3. Carolina Railhawks
Not what Carolina wanted out of a busy week.  The Railhawks followed up their dominance against Minnesota last week with a midweek draw to a Ft. Lauderdale team undergoing a major transformation, and a Saturday loss to surging Indy Eleven.  Carolina has a first XI to envy with players like Nacho Novo and Tiyi Shipalane able to give Carolina a chance any weekend.  But it is their depth that may be their weakness, and busy weeks like this last one put that depth to the test.  We feel Carolina is still in the driver's seat, and a home game against the Scorpions will provide a good chance to turn things around.
4. Indy Eleven

We were wrong about Indy.  The best thing we can do is admit our fault and right our wrong.  Indy's 2-1 win against a strong Carolina team, coming from behind no less, showed that they are for real.  Indy is now unbeaten in five games, besting its streak to open the Spring Season.  Importantly, Indy's current run includes games against New York, Tampa Bay, and Carolina.  If Indy continues to perform against even the best teams in the league, and if they get the best from new signing Dane Richards from New York Red Bulls, they can be dangerous down the stretch.
5. Ottawa Fury FC

Points matter.  In a league of parity, where so few points separate The Championship places from the bottom of the table, knowing how to gut out results is key, however that gets done.  If you are Ottawa, that means parking the bus.  The team's record shutout streak was ended this week (at an absurd 648 minutes), but the Fury still found a way to grind a point out of a Minnesota team that completely outplayed them.  Ottawa is unbeaten in seven, but has only scored four goals in that time.  As long as they keep pulling a point or three from each result they will keep climbing the rankings, regardless of the artistry on display.
6. FC Edmonton

Here's a rundown of FC Edmonton's last three results: a 1-1 draw, a 4-0 win, and a 3-0 loss.  These are anything but random results: they are precisely the results one should expect from Edmonton.  Edmonton is still the team that allowed the most goals of any club in the spring, but they also are the team boasting clear MVP candidate Lance Laing that will hang three or four on the best teams in the league.  The Eddies will hope to continue their run of no goals allowed from the run of play this fall as they take on San Antonio in Wednesday's midweek matchup.
7. Minnesota United FC

The goodwill has run out.  In our weekly predictions, we expressed confidence in Minnesota despite a very poor fall opener against Carolina.  Instead, Minnesota gave up a late lead to settle for a home draw.  This marked the fifth time in twelve league games that Minnesota gave back points by relinquishing a goal in the 75th minute or later (sixth if you include the team's Open Cup loss).  The one thing that must be said about United is that it takes a strong team to consistently put itself in position to win (the club has held the lead at some point in all but three games this year), and newly announced signing Yago from Brazil may give United that little extra they need to start closing games.
8. Ft. Lauderdale Strikers
Ft. Lauderdale has opened the Fall Season with two draws.  And that's ok.  The Strikers are a team in transition as they bring in a new (old) coach and adjust to life without Leo Moura.  Raking in points where they can get them will be fine for now.  The biggest question for the club at the moment is where the goals are going to come from.  After Stefano Pinho with five goals, their only other player with more than one goal this year is Jose Angulo with three.  Pinho is terrific, but the club needs to be more multidimensional.
9. San Antonio Scorpions
Was Saturday a bump in the road, or was it a fork in the road?  The Power Rankings suggest just a bump.  The Scorpions' 3-0 against Tampa Bay was a great all around performance and Omar Cummings was sensational.  Matt Cardone filled in at goal for his first-ever start and was fantastic.  With a goalscorer like Cummings and creators like Billy Forbes and Rafael Castillo, the club has the talent make a push.  But with two goals in its prior five games, including a 4-0 shellacking by FC Edmonton last week, we are hedging our bets until potential starts to look like reality.
10. Atlanta Silverbacks FC
Out of the cellar.  Last week we wrote critically that Atlanta's only meaningful move had been to sign Kosuke Kimura to right back to replace outgoing Kyle Miller.  This week the team moved to add forward Pedro Mendes, his brother Paulo Mendes in midfield, and Mohamed Issahaku at defender, as well as the re-addition of 2014 Silverback Junior Burgos.  Atlanta knows what they get in Burgos, and Kimura's quality and experience will be a boon.  How the other new signings will fit remains to be seen.  But with a 1-0 win against Jacksonville already behind them, we do know that Atlanta are not content to watch the Fall Season from the sidelines.
11. Jacksonville Armada
If you lose against the worst, you become the worst.  Our biggest drop of the week comes from Jacksonville, who were stifled in a 1-0 loss to Atlanta.  Jacksonville has not won a game since May 9th, a run which has included a 4-0 loss to Carolina and now back-to-back defeats against the two teams most reluctant to move forward in NASL.  Alhassane Keita is a great talent, Jemal Johnson can give you some pace and creativity on the ball.  But Jacksonville need to outscore you to beat you; they allow way too many crooked numbers on defense.
Disagree with our rankings?  Let us know in the comments.