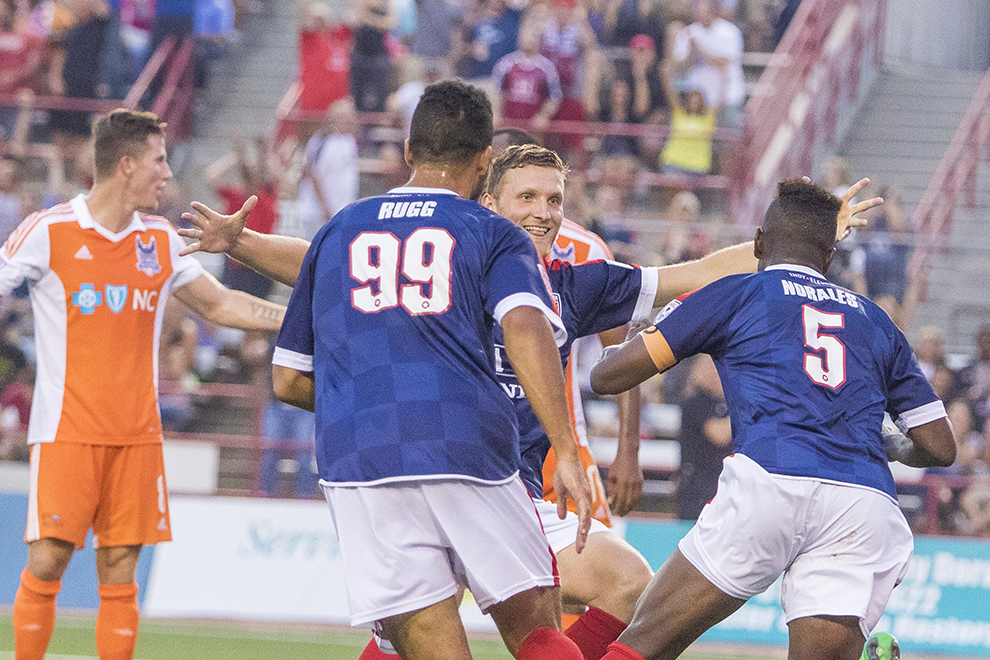 Recap: Indy Pressure Too Much for RailHawks
Indy Eleven 2 – 1 Carolina Railhawks
Goals
54′ – Wojciech Wojcik (IND)
42′ – Austin da Luz (CAR)
56′  – Erick Norales (IND)
Most Valuable Player
Wojciech Wojcik earned his payoff equalizing goal and my man of the match nod. Connor Tobin and Austin da Luz would have vied for the honor had da Luz's 80th minute effort dipped another half-inch. But it was a deserved win for Indy, who smartly took advantage of a missing link in the sometimes impenetrable Carolina back six by pressing high early and often. Wojcik enacted that struggle, and his fruits almost came to bear a great deal earlier when he forced a nervy moment between Akira Fitzgerald and his defenders that led to a wide open Charlie Rugg opportunity. Tobin came out of nowhere to snuff it out, but it would be a harbinger.
Most Mildly Interesting Happenstance
For the second consecutive game between these two teams, there were two high-impact first-half subs. In the first game, that was simply because the RailHawks had to use both of them, delaying the introduction of Tiyi Shipalane in the second half by at least ten minutes.
Shipalane was involved again, this time in a much more worrying scenario where he had to be subbed off early. A few minutes later, Indy fans had to worry about an equally impactful early departure when Brad Ring had to be subbed off. One could say the two canceled each other out, but the lack of more than one consistent release valve was particularly to the RailHawks.
Biggest Defensive Liability
I said in my Railies Fall Preview that Daniel Scott, who was usurped by Futty Danso halfway through the Spring Season, would make a pretty decent spot-starter. With Danso in Africa for family reasons, Scott was called in and given the captain's armband. The result was not particularly great.
Now, he was only culpable for maybe a half of an actual goal. But Indy had some spectacular misses (and Akira Fitzgerald had one or two spectacular saves) that were the result of defensive breakdowns stemming from the right centerback position. The ball that slipped behind Carolina's line and should have been put away had it not somehow gone between Victor Pineda's legs happened in part due to Scott's ball-watching and slow recovery, a theme of the Spring that led to his benching.
Most Interesting Post-Game Quote
Tim Regan was suspended from patrolling the sideline but not from participating in the post-game, and he feels like the press-box experience gave him a unique experience: "The bird's eye view tonight was great because I didn't have to think as much. I could see everything quite easily, but I couldn't feel out all of the moments on the field. Down on the field it's real and up top it's somewhat fake in a sense that it's like moving chess pieces, but they don't move like that."
It would be fascinating to follow up on what exactly Regan means when he says that players "don't move like moving chess pieces," but presumably he's talking about all the passing sequences and combinations you can see up top by virtue of not having your vision restricted by opposing defenders or the limitations of human eyes themselves.
He went on to say that "A different view was good though going into halftime because I had a calmer and clearer view as opposed to the emotion down on the field," which segues me nicely into my final superlative:
Most Annoying Announcers
There are probably a few more annoying announcers in the world than the Indy Eleven duo. Ramses Sandoval, the UniMas MLS guy, comes to mind in terms of general irritation. The White Sox play-by-play guy probably wins out on excessive homerism.
I'll grant the Indy announcers this: They weren't consistently ref-bashing, which is a standard hallmark of homer announcing and in my opinion one of the lazier and least interesting commentating angles. But the Indy Eleven guys are up there as they cheer that self-assured "Yesssss" when they score.
My biggest problem with homer announcers is they can actually actively hurt a fanbase's understanding of their team and the game itself. I understand that commentators want the team they watch and interact with every game to win, that's only natural. But their job is to improve the game-watching experience by adding narrative and informational backdrop that the viewer at home may not have thought or known about.
When instead you impartially tilt the commentary and opinion throughout a production, you end up cheapening the experience, creating an undeserved aura of expectation around the home side such that if they don't win, the viewer walks away wondering what happened. That is the opposite of what should happen after a sports broadcast.