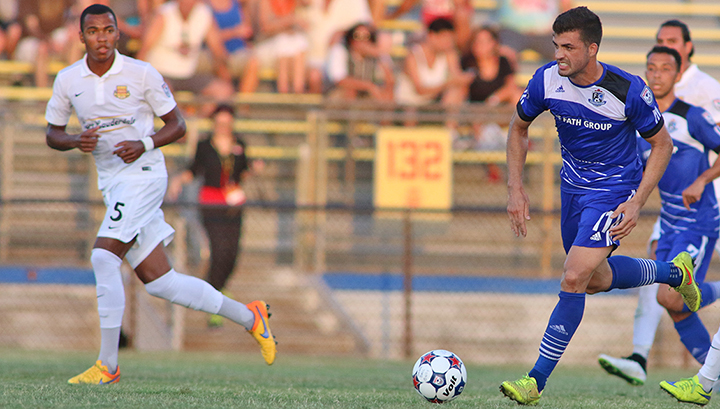 Recap: Late Game Heroics Give Eddies A Point
FC Edmonton 1 – 1 Fort Lauderdale Strikers
Goals:
68′ – Walter Ramirez (FTL)
86′ – Sadi Jalali (FCE)
Major Themes
-Both teams came out looking to take advantage of each other's weak defense on the counter. As a result, there was little aggression from both sides, and the game felt more like two boxers trying to feel each other out.
-The game had numerous fouls (29 total), resulting in many free kicks in dangerous areas. However, neither team could capitalize on their opportunities.
-Jalali, considered to be the sharp end of the stick in the Eddies' attack for this game, had a very quiet first half. He made up for it, however, with a lucky strike off the post that bounced off of Fort Lauderdale keeper, Ford, and into the back of the net.
In Form:
Nobody! – This match was a sloppy affair on both sides. Neither team could build up a meaningful attack due to errant passes and giveaways in the final third. One would think with a slower-paced, more controlled game this wouldn't be the case. Wrong!
Liabilities:
Matt VanOekel – After a standout game against San Antonio, VanOekel made a bad judgment call. Rather than continue to corral Strikers winger, Shawn Chin, into a bad angle at goal, the keeper went to ground and tripped up Chin by the ankle. This resulted in Walter Ramirez's penalty conversion from the spot in the 68' after putting it just out of VanOekel's reach.
Fort Lauderdale's Backline – Jalali's late-game equalizer was a direct result of the defense's inability to properly clear the ball and properly mark the FC Edmonton forward as he came surging in with the late run for the strike. Silver lining, this was one of the few crucial mistakes the defense made during the game. But since Günter's return to the helm, the backline has made significant improvement in keeping shape and discipline.
Lessons Learned
-You Create Your Own Luck. I concede the fact that Jalali's equalizer was pretty lucky to bounce off the left post, off Ford's back, and into the net. BUT, by all intents and purposes, Jalali created that luck with the effort put forth from his late run, capitalizing on the errant clearance by the Striker's defense, and taking that shot from distance. For not showing up in the first half at all, that was a good way to leave your mark on the game.
-Slow and Steady Sucks. I don't like these non-aggressive, chess match, games. There, I said it.