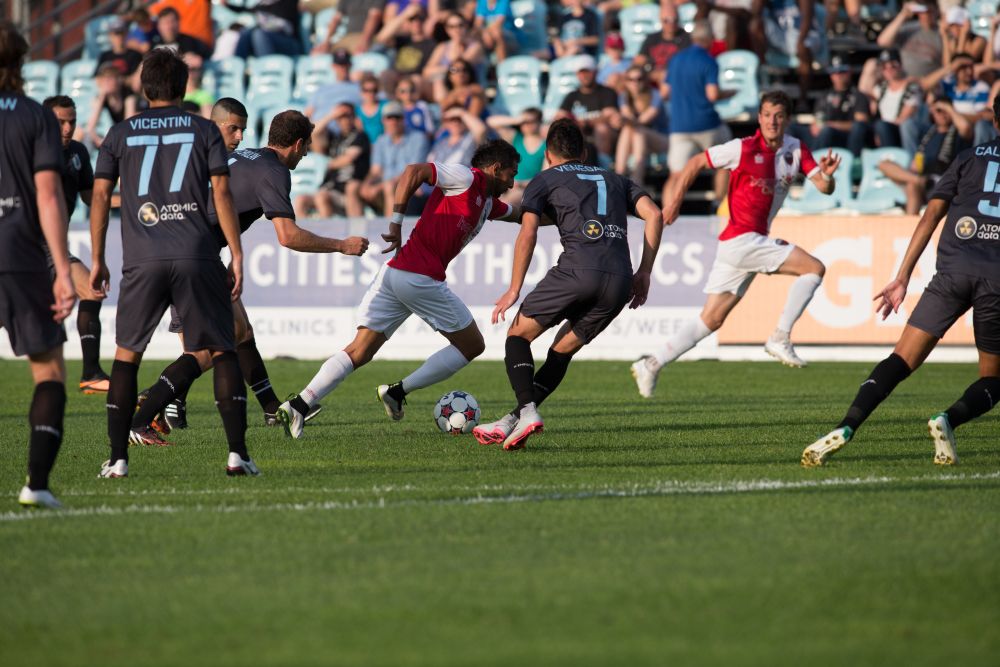 Recap: Ottawa Infuriates Minnesota With Late Equalizer
Minnesota United FC 1 – 1 Ottawa Fury FC
Goals:
32′ – Christian Ramirez (MNU)
75′ – Tom Heinemann (OTT)
Major Themes
Minnesota dominated possession for sixty minutes.  The team created excellent chances, most often down the left side with fullback Justin Davis getting forward and linking with wide midfielder Kalif Alhassan.  On a better day finishing the Loons certainly would have netted three goals, but a combination of occasionally suspect finishing, a stout Ottawa defense, and a little bad luck left the team holding only a single goal at the whistle.
Ottawa's record for longest streak without allowing a goal came to an end at 648 minutes.  Credit still belongs to Ottawa's defense, however, as they remained unlockable for much of the game.  The backline played extremely well-organized, while the midfield tended to put immediate pressure on the ball by shifting most midfield personnel over to the side with the ball when the opponents came on the attack.
Another lead let slip by Minnesota.  This game marked the sixth time in 2015 that United handed back points after owning a lead, and the fifth time they have done so on or after the 75th minute.  United surely need to score two or more goals to have a reasonable chance at collecting three points; they have only earned two shutouts in twelve tries this season.
In Form:
Kalif Alhassan (MNU) – Midfield Press insisted that Alhassan needed more minutes this fall, and he has earned the start in both of United's fall games thus far.  His performance has been vindicating.  Alhassan was easily the man of the match, distributing quickly and creatively, rarely conceding possession, and even tracking back to defend well when needed.  The midfielder was everywhere on Saturday.
Ryan Richter (OTT) – The right fullback had his hands full all night as most of the Minnesota attack came on his side.  Ultimately he handled it well and the only United goal came from the opposite field.  Richter also surprised as one of the few bright spots in the Ottawa attack, making as many dangerous runs as wide midfielder Andrew Wiedeman and delivering a pinpoint cross on Ottawa's best chance at a goal from play.  Great 90 minutes from Richter.
Sammy N'Djock (MNU) – Minnesota goalkeeper N'Djock was tested infrequently against Ottawa, but he played well when needed.  He made two strong saves in the opening minutes, a leaping save on an Ottawa free kick early in the second half, and a great aggressive clearance on a dangerous through ball which highlighted his skills as a sweeper keeper.  Overall it was great to see the keeper avoid the mental mistakes that have plagued him this year and simply play some good soccer.
Liabilities:
Paulo Jr. (OTT) – If Ottawa pressed forward, it was typically down the right side.  Paulo, who patrolled the left as a wide midfielder, was nowhere to be found on the night.  If he felt that he were not getting adequate service or was too isolated from play, Paulo needed to roam over to the right side to support moves forward when they did happen.  Even without the ball, the midfielder has the chance to pull defenders out of position by making threatening runs.  We didn't see enough of that from Paulo.
Aaron Pitchkolan (MNU) – Like Paulo Jr., Pitchkolan was a ghost.  The midfielder is typically positioned by default in a more defensive position, from which he moves forward to attacking areas.  Against Ottawa, he was moved further forward to begin with to help connect with Mendes and Venegas.  Instead, Venegas did most of the movement down the length of the right side, and Pitchkolan only made a couple of meaningful runs to support that right side attack.  He didn't make any grievous mistakes; he just disappeared.
You Won't See On The Highlights
Minnesota midfielder Ibson has struggled this season to make threatening passes, often holding the ball too long and conceding possession in doing so.  It was more of the same from Ibson for about 30 minutes, at which point the passes came more quickly and did more to pick apart Ottawa's defense.  United will be closer to fulfilling its full potential if the later Ibson shows up for the rest of the fall.
Ottawa's right centerback Rafael Alves somehow evaded a yellow card despite persistent infringement in the second half Saturday.  The defender put Pitchkolan on his back during a contested header, and a few minutes later had Ramirez on the turf after a sloppy standing tackle.  Hats off to Alves for contributing to a good defensive performance, and doing what it took to pressure United.
Lessons Learned
Ottawa puts in a herculean effort on defense while doing little to get forward?  Minnesota gives up points by allowing a late goal?  We learned nothing.  These teams are precisely what we thought they were.