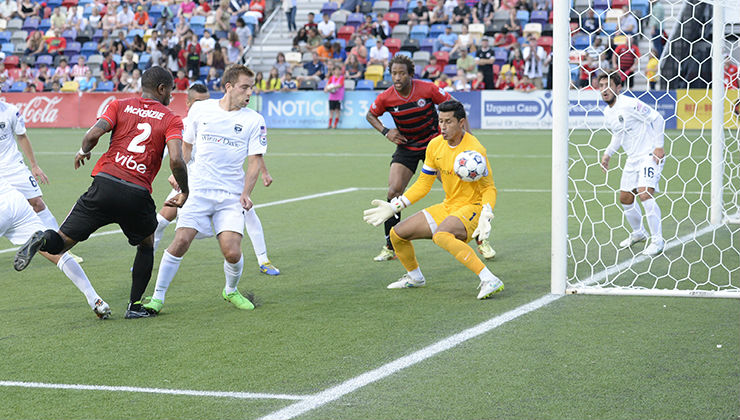 Preview: Armada Look to Poach Silverbacks
Jacksonville Armada – Atlanta Silverbacks
Major Themes:
– This is a match between two struggling clubs. The Armada have gone seven straight matches without a victory in all competitions, beginning with a draw against the Silverbacks on May 16th. The Silverbacks have gone eight matches without a victory in league play, and have won one of the last ten when the Open Cup is added in to the results. Both clubs will be looking to right the ship, as the Silverbacks set their sights on getting out of the league's cellar and the Armada look to avoid joining them.
– The last meeting between the teams was a turning point for both club's seasons. The draw was the beginning of Jacksonville's current winless streak, and it was the last game in which Atlanta really showed any sort of bite. Alhassane Keita was injured in the final minutes of the match, as well, which was a main factor in the Armada's current slide.
In Their Last Meeting:
[youtube http://www.youtube.com/watch?v=hAA7O8w0sZU]
– The Silverbacks jumped out and scored less than a minute into the match, but didn't threaten much for the rest of the game.
Keep An Eye On:
– Atlanta's New Players: The Silverbacks have added a handful of talented players in the last week or so, and the question becomes how quickly these players can integrate into the squad. The Mendes twins have returned to Atlanta and will boost Atlanta's attack tremendously. Kimura will solidify the defense, although the situation with former starting right back Kyle Miller is a strange one.
– The Armada Attack: The Armada have been mostly impotent since Alhassane Keita's injury during the last trip to Atlanta. He returned to action last week against Ottawa, but the Armada were stonewalled and lacked any sort of threat towards the goal. A return to form by Keita should be the catalyst the team needs to start banging in goals again, but with three matches in eight days and Minnesota and New York looming, Manager Guillermo Hoyos might see that his minutes are limited today.
You Won't Notice:
– Bochy Hoyos: The head coach's son scored the winner in the Armada's last win (against Indy Eleven), but has been largely invisible during the team's recent run of results.
You Probably Won't See:
– A lot of goals: Neither team has been scoring with any sort of ease since the early parts of the spring. While the Silverbacks have added talented players this week, there's no reason to expect that they will make an instant impact.
– Attractive Football: The last meeting between the Armada and Silverbacks was a fairly dull match. Both goals in the 1-1 draw were scored in the first fifteen minutes, and the rest of the match was played mostly in the middle of the park. It would take an optimist to say that there will be any sort of end-to-end action in this one.