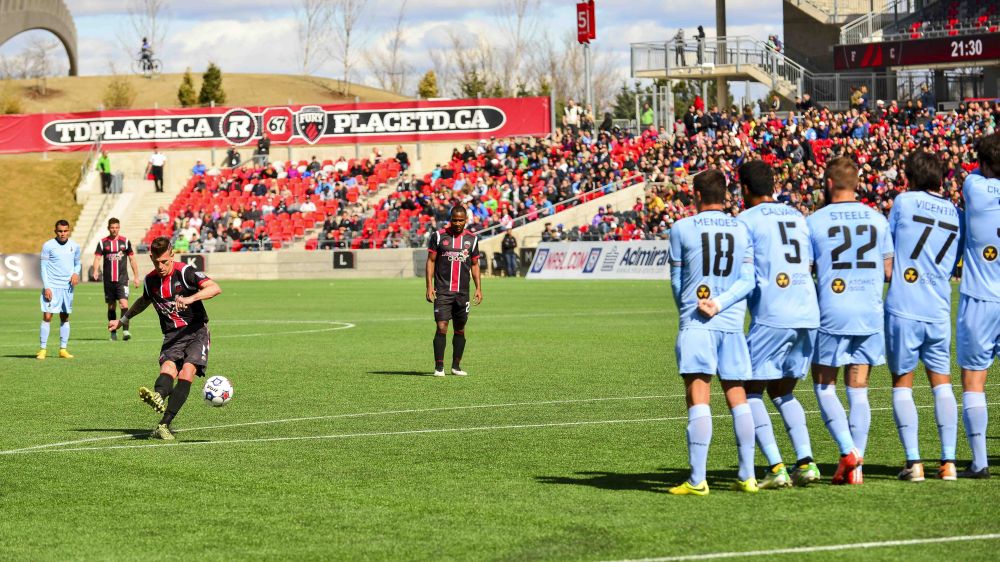 Preview: On Fire Fury Travel To Lagging Loons
Minnesota United v Ottawa Fury FC
Major Themes:
Minnesota United are looking to bounce back from a disappointing loss to Carolina last weekend, and keep themselves in the race for first place in the combine standings.   A win for Minnesota will be vital in their push for the top, however breaking down the Ottawa Fury defense is never easy.
Ottawa Fury are of course coming into the game with a record 616 minutes without conceding a goal, and will likely rely on their strong defense to earn points on the road.   Fury likely wont come out of the gates attacking, however they will be dangerous on the counter-attack, using the wings to their advantage.   Fury will be without Canadian international De Guzman, who is representing Canada in the Gold Cup, however they will have the returning services of Brazilian winger Oliver.
In the last game:
Keep An Eye On:
-Justin Davis & Kevin Venegas – Ordinarily the two fullbacks for Minnesota but Venegas was moved to midfield in their last game to great effect. Both are fast, love bombing down the wing and make great passes.
-Richie Ryan – will command much of the game through the midfield for Ottawa, while Alves and Falvey always form a partnership worth watching in the central defense.
You won't notice:
– Andrew Wiedeman may become the odd striker out as Tom Heinemann will likely get the start and Aly Hassan become available for selection.  Wiedeman started last weekend against Armada but he was unable to score for the Canadian club.
– United's Defense – Inconsistent all year, Minnesota's leaky defense has a tendency to be in the right place at the wrong times.
You Probably Won't See:
– A High Scoring Game – Unless Fury are pushed to change tactics or go behind early.  United will likely control much of the match but struggle to create many chances, while Ottawa will work the counter attack and hope to use their speed to beat the United defense.   With the NASL standings being a close as they are, each point becomes extremely important and I imagine neither team will be willing to throw it all forward unless they absolutely have to.
– An Empty Stadium – It's the Schwann's USA Cup week in Minnesota where the National Sports Center plays host to the largest youth soccer tournament in the western hemisphere. The crowd should sound a little shriller with all the youth teams in attendance.