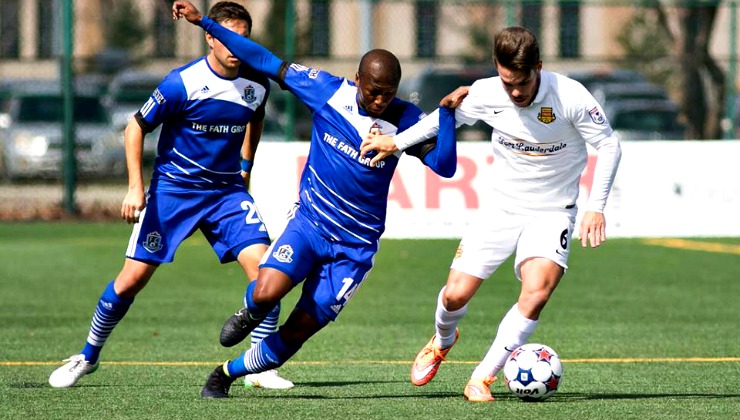 Preview: Eddies Look To Continue Strong Start
Fort Lauderdale Strikers –  FC Edmonton
Major Themes:
-Eddies look to continue momentum from a 4-0 win against San Antonio on the road to earn first back-to-back wins of 2015.
-Combination of injuries and international duty cause concerns with depth for FC Edmonton.
-Returning head coach Günter Kronsteiner aims to bring back some magic from his prior coaching stint with the Strikers during the 2013-2014 season, leading the team to the NASL Soccer Bowl Finals before falling short against San Antonio.
In the last game:
https://youtu.be/KEqUxWapMP0
Keep An Eye On:
– FC Edmonton's midfield – Acknowledging no expected changes in tactics from San Antonio, can the Eddies' midfield successfully utilize its high pressure strategy against the Strikers' 4-4-2 formation?
– Sadi Jalali – After strong play against San Antonio in Week 1, expect Coach Miller to rely on Jalali to spearhead the FC Edmonton attack as the lone striker up top.
– Jose Angulo – Coming off a one-game suspension, expect the forward to come out of the gates firing on all cylinders.
– PC – Leo Moura might be gone but the Strikers' true dynamo in 2015 has been PC.
– Matt Van Oekel – Edmonton's netminder has had a bungle filled Spring. Minnesota fans will know he's capable of spectacular saves as well. Which Van Oekel shows up, viewers will enjoy the show.
You won't notice:
– Lance Laing – Week 1's NASL Player of the Week and the current 2015 NASL scoring leader is out on international duty for Jamaica in the Gold Cup.
– FC Edmonton's Defense – The Eddies' have what is considered the worst defense in the league.
– James Marcelin – Similar to Laing for the Eddies', Marcelin is off on international duty for Haiti in the Gold Cup.
You Probably Will See:
– A high scoring game – FC Edmonton currently boasts the best offense and worst defense. Expect Fort Lauderdale to take advantage.