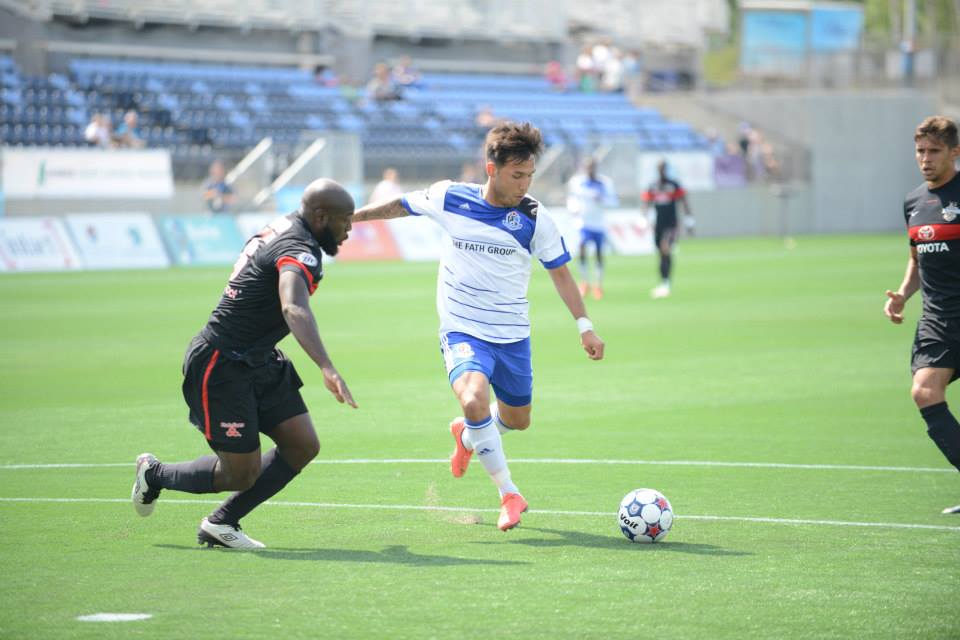 Recap: Eddies Eviscerate Exasperated Scorpions
FC Edmonton 4 – 0 San Antonio Scorpions
Goals:
2′ – Sadi Jalali (FCE)
68′ – Lance Laing (FCE)
74′ – Hanson Boakai (FCE)
83' – Lance Laing (FCE)
Major Themes
-FC Edmonton Academy products, Sadi Jalali and Hanson Boakai, key in Eddies' win.
-High pressure from the Eddies in the midfield limits Scorpions' attack.
-Tempers flaring earns San Antonio red cards which then turn into goals for Edmonton.
In Form:
Lance Laing – Showed why he will be sorely missed as he reports for international duty with Jamaica in the Gold Cup. Laing buried a penalty from the spot and scored off of a phenomenal free kick for the final goal of the match. His exploits earned him NASL player of the week.
Sadi Jalali – Dished the perfect pass setting up Laing in drawing the early penalty and calmly converted from the spot for the only goal of the first half. Also made intelligent runs off the ball.
Matt VanOekel – The keeper had two crucial blocked shots to give San Antonio the proverbial donut. A refreshing change from his form in the Spring season.
Liabilities:
The Scorpions' Tempers – First Nana Attakora gets sent off after pushing a linesman. Then Sattler boots a ball into Lance Laing after the penalty. Two entirely avoidable incidents. This isn't the first time the Scorpions have melted down either. Surprising to see Julius James wasn't involved.
FC Edmonton's Backline – When the Scorpions did manage to fight their way through the Eddies' high pressure into the final third, the defense continued with the same struggles in the Spring Season.
San Antonio's Defense – The Scorpions' defense proved unable to withstand the Eddies' high pressure offense, resulting in two unnecessary penalties as the defenders found themselves scrambling to prevent further damage.
Lessons Learned
-The best defense is a great offense? While it is only the first game of the Fall Season, the Eddie's full field press is already proving instrumental in keeping opponents' attack at bay.
-Play until the whistle. Boakai's goal at the 74th minute is a testament to this fact as he opts for the highlight finish rather than waiting for the referee's whistle.
-Invest. Jalali and Boakai, recently promoted from FC Edmonton Academy, paid big dividends in this match. The future of any NASL team is contingent on a strong academy, as FC Edmonton has shown. Other teams may want to take note.