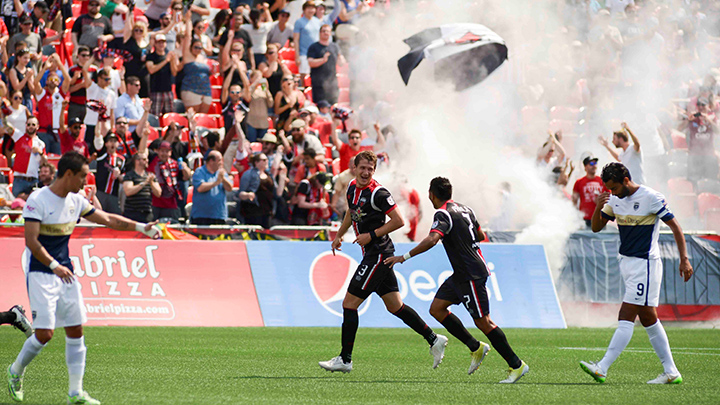 Recap: Ottawa Fury Sink Armada
Ottawa Fury FC 2-0 Jacksonville Armada FC
Goals:
13′ – Mason Trafford (OTT)
86′ – Tom Heinemann (OTT)
Major Themes
Ottawa Fury were finally able to break their struggling goalless streak and defeat Jacksonville Armada 2-0 with goals through Mason Trafford and Tom Heinemann.  Trafford played nearly every minute of last year but lost his starting spot to Colin Falvey this year, he began playing at left back near the end of the Spring Season and his winning goal will certainly help make up for some disappointment at losing his centre back position during the off-season.  Tom Heinemann scoring will also be a big boost for the club as the American forward struggled during the Spring Season and missed several games through injury.
Jacksonville struggled to get into the match after Ottawa went up 1-0, and their struggling form at the end of the Spring Season seems to have followed them into the fall.  There were times when Armada looked dangerous, including a dangerous attack when Hoyos played a through ball for Johnston who, in turn, was able to put in a perfect cross into the box.  Castrillón was able to get his head on the ball and had Peiser caught flat footed, however defender Alves was able to head it off the line.
Form:
Peiser and the back four of Trafford, Falvey, Alves and Richter have extended their League-record for not conceding a goal to 616 minutes.   Having Richie Ryan back in the squad certainly helped keep Fury organized despite having a few key players out on international duty or injured.
Jemal Johnson had a great game for Armada, recording five shots and creating several chances.   It isn't easy breaking down the Ottawa defence but Johnson certainly pushed them to their limit.  Jacksonville were caught on the counter attack and need to be better organized defensively, however going forward they seem strong, just lacking the finishing touch.  Armada were able to control a lot of possession in the second half as Ottawa sat back, and they looked confident on the ball and moving it foward.
Liabilities:
Armada's defense was two easily caught off guard on several occasions and were lucky that Ottawa didn't put away more of their chances.  They also seem to lack a counter-part on the right side to accompany Johnson going down the left, making their attacks someone predictable.
Fury still lack a finishing touch, despite scoring two goals.  It is a great start but they will need to prove they can continue with the scoring touch, as there were several great chances missed and Fury could have gone up 3 or 4-0 had they taken those chances.
You Won't See On The Highlights
Richie Ryan's return won't make any highlight reel's, but his confidence on the ball and presence on the pitch certainly helped spur Fury forward.  He is a quiet but important part to the Ottawa lineup and the club are 3-0 this year when the Irishman has played.
Lessons Learned
Ottawa are comfortable sitting back and working on the counter attack, relying on their extremely strong defense.  They are extremely fast down the wings and strong through the middle, making them dangerous when they are on their game.
Armada will need to find their scoring ways and find some wins if they are to keep their post-season hopes alive. They work the ball along the ground extremely well but lack the aerial presence needed. The expansion club had a great start to the Spring Season and will look for a quick turn around in their next match.