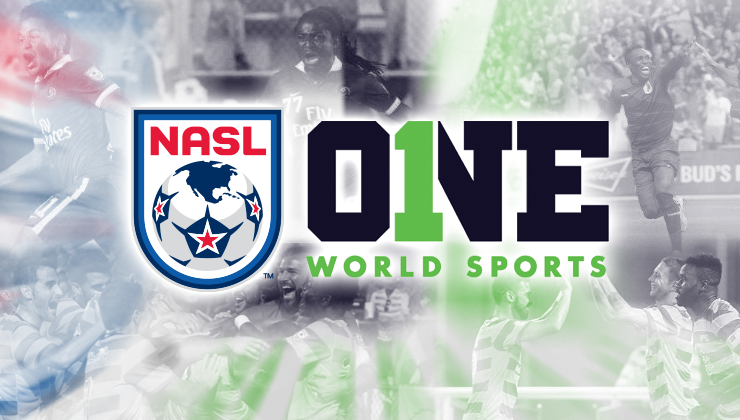 NASL Announce ONE World Sports TV Deal
The NASL announced Monday morning that it has struck a long term deal with ONE World Sports to air the league's Wednesday evening games.  Over the course of the 2015 Fall Season, ONE World Sports will air 14 NASL matches between July 8th and October 21st.   They will also hold a Tuesday evening NASL Highlight show, which will be a half hour feature with highlights from the previous week. The two programs, will be entitled NASL Wednesday Night Soccer on ONE World Sports and NASL This Week.
ONE World Sport is already the exclusive provider of New York Cosmos, and offer games on multiple platforms and is available to over 30 million subscribers.  NASL staffer Jack Bell clarified that games broadcast on One World Sports will be blacked out on ESPN3 where they would have otherwise be available (barring Cosmos home games):
@Crocketteers @naslofficial @NASLBPeterson Yes

— JackBell (@JackBell) July 6, 2015
Much like the ESPN3 deal that was announced prior to the start of the Spring Season, this new TV deal does not provide Canadian NASL fans with options to follow the league through a broadcaster.  Neither ESPN3 or ONE World Sport are available in Canada, meaning that fans of FC Edmonton and Ottawa Fury FC cannot watch matches between American clubs and often have trouble watching their own teams away matches.
The NASL is certainly looking to grow its brand and reach a broader audience and this ONE World Sport deal will surly help introduce the NASL to many new fans, with Commissioner Bill Peterson saying  it is a "significant step in our development as a top-tier sports enterprise."  ONE World Sport Executive Vice President and Programming & Production Joel Feld told NASL.com that there has been great interest in the league since the station began airing Cosmos matches two years ago.
The NASL Matches to air on Wednesday nights are:
July 8th – Carolina RailHawks vs. Fort Lauderdale Strikers
July 5th – Minnesota United FC vs. Jacksonville Armada FC
July 22nd – Ottawa Fury FC vs. Atlanta Silverbacks
August 5th – New York Cosmos vs. Minnesota United FC
August 12th – Jacksonville Armada FC vs. Carolina RailHawks
August 19th – Indy Eleven vs. Tampa Bay Rowdies
August 26th – Ottawa Fury FC vs. New York Cosmos
September 2nd – Minnesota United FC vs. Indy Eleven
September 9th – San Antonio Scorpions vs. Carolina RailHawks
September 16th – Fort Lauderdale Strikers vs. Jacksonville Armada FC
September 30th – Tampa Bay Rowdies vs. Indy Eleven
October 7th – Atlanta Silverbacks vs. New York Cosmos
October 14th –  Carolina RailHawks vs. FC Edmonton
October 21st – Jacksonville Armada FC vs. Ottawa Fury FC