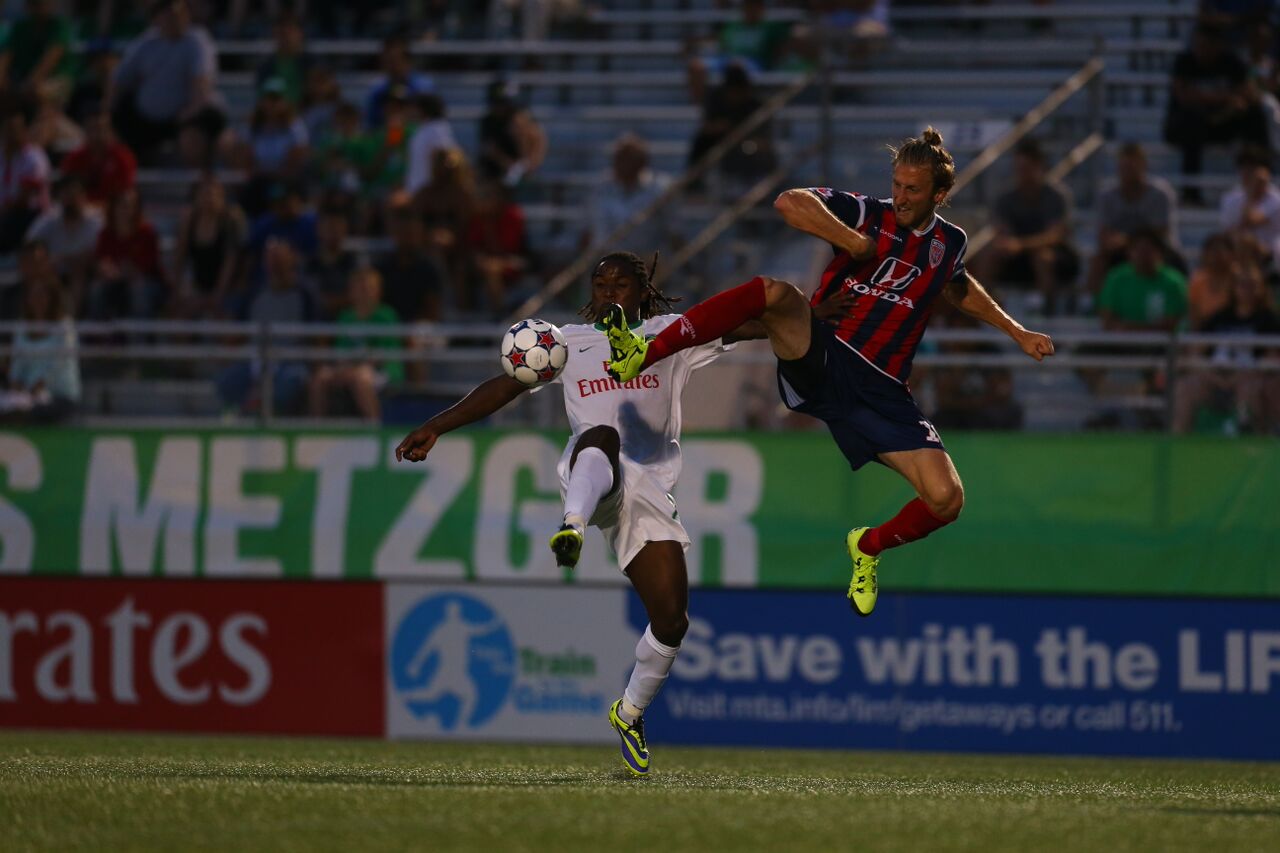 Recap: Cosmos Jinxed; Draw Indy Yet Again
New York Cosmos 1 – 1 Indy Eleven
Goals:
26' – Wojciech Wojcik (IND)
78' – Walter Restrepo (NYC)
Disciplinary:
67' – Sebastian Guenzatti (NYC) – Yellow
72' – Danny Szetela (NYC) –Yellow
77' – Dragan Stojkov (IND) – Yellow
85' – Brad Ring (IND) – Yellow
90' – Cory Miller (IND) – Yellow
Major Themes:
– Indy continue to thwart the Cosmos from winning a match against them and pressed well against the  Cosmos, but finding issues with finishing
– Cosmos had the majority of possession, nearly 60%, but Indy created more dangerous chances
– New York fielded a heavily modified line-up that featured five players who do not usually start
– New York changed formation to a 4-4-2. With Raul not starting, their typical 4-2-3-1 becomes ineffective without a strong center attacking mid, as displayed in their Open Cup match against Red Bull
In Form:
– Walter Restrepo (NYC) entered in the second half. Previously had issues with holding the ball for too long, allowing defenses time to re-group. Did well to stop that and scored an equalizer
– Sebastian Guenzatti (NYC) has struggled to find minutes with ineffective performances. He looked solid in this match and contributed well to the attack
– Jimmy Maurer (NYC) has been a wall for the Cosmos and keeps them in the game when the back line falters
– Duke Lacroix (IND) kept the Cosmos back line on their toes. Despite a few opportunities he should have converted, he has great vision, an excellent first touch, and great pace. He should continue to develop nicely for Indy
Liabilities:
– Marcos Senna (NYC) played his second match since return from injury and it showed. He looked visibly frustrated and the pressure resulted in several giveaways in the midfield.
– Mads Stokkelien (NYC) rarely gets playing time anymore, replaced by Lucky Mkosana. Though he has the vision for the game, he does not have the touch, often singlehandedly strangling the Cosmos attack.
You Won't See On The Highlights:
– Jimmy Maurer (NYC) making an inexplicable run deep into midfield towards the end of the first half.
Lessons Learned:
– When Raul is not available, nobody has proven to be effective as a CAM and the Cosmos are more effective in a 4-4-2 format than the 4-2-3-1 that helped them win the spring. With true CBs available, the back line can weather most storms, but may need to look at speedier options down the road to combat fast offenses.
– Indy's attack is looking far more dangerous with Duke Lacroix in it than most other options, but only as far as creating opportunities. A defensive mistake was what gave them their goal, but other dangerous chances often fizzled out in the final third. The inability to finish consistently continues to plague them and will cost them points.
– In the Shuart Stadium Beer Garden, from the father of Indy keeper Kristian Nicht himself, I learned that the correct pronunciation of their last name is "Nee-sht".