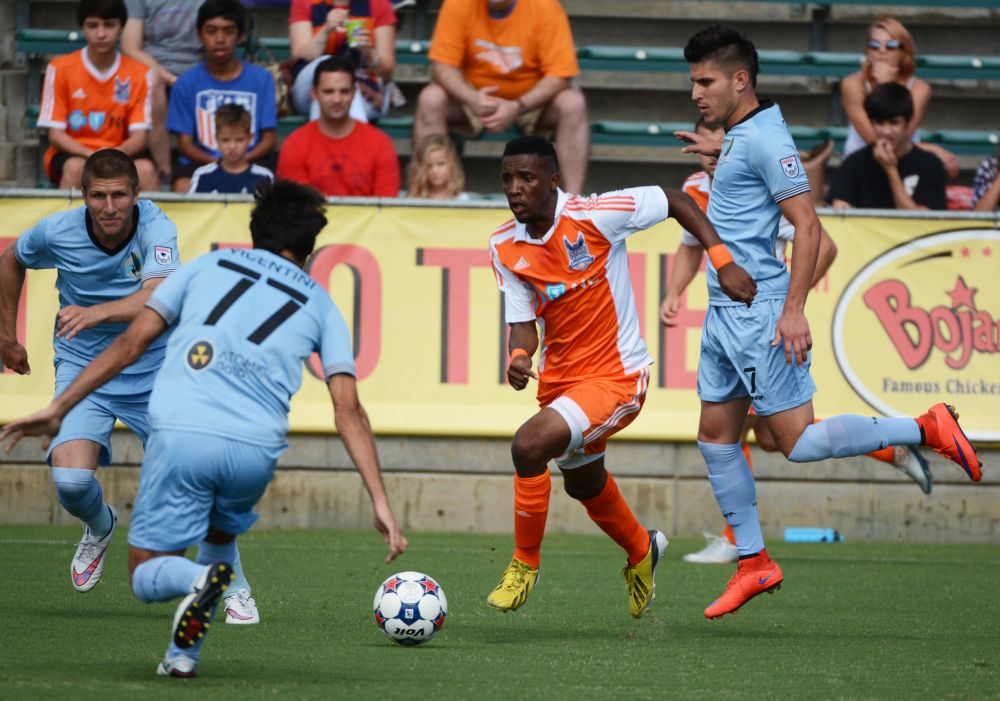 Recap: Railhawks Feed on United's Defense
The Carolina Railhawks made a stunning statement to start their Fall season by defeating Minnesota United by two goals.
Most Vindicating
During pregame, I was telling anyone who would listen that Austin da Luz's return was going to be exciting.  I felt good about that after a play in the 36th minute. The RailHawks were on a counter and Kupono Low was overlapping. Most NASL wing midfielders would have played the overlap and it would have been considered a fine ball.
However, the focus of Carolina's offense generally is to get Tiyi Shipalane the ball in space. So da Luz took a couple of touches inside before switching the ball to Wes Knight, who played it to Shipalane with room to operate and the Minnesota defense out of position. The result was a corner kick.
"I like to think I bring a little composure, to help the team keep possession is kind of my job out there," he said after the game. That patience and resolve paid off when da Luz passed up several good opportunities to shoot only to find the perfect moment to score Carolina's third goal.
Most Encouraging
Carolina's attack going forward opens up if da Luz and Low can keep threatening down the left side. The RailHawks' 2nd goal was created because Low caught Minnesota's defense napping, but Shipalane was so wide open on the back end because the majority of the first-half attention was spent pounding the left side, tilting the defense.
If the phrase "Shipalane was so wide open" happens to you, you're doing something wrong defensively, and Minnesota has some shape issues to work out. But Low and da Luz were determined to make the defense focus on them, even if it came at the expense of Low being caught out of position to defend the cross on Minnesota's goal.
Most Disappointing
When the other team's holding midfielder gets sent off in the 60th minute, you should be able to muster more than two mediocre shots on goal. And yet, the Loons just couldn't create anything through the middle. Credit Connor Tobin and Futty Danso for snuffing out many attacks at the top of the box, and Neil Hlavaty did fine stepping into the holding role.
But for being up a man and down two goals, Minnesota's attack was unusually listless, resorting often to crosses that Tobin and Danso had no trouble clearing. All three of Minnesota's subs were geared toward injecting new ideas, according to Lagos. None of it worked though, and Loons fans are allowed to fret over this lack of creativity from anyone who doesn't, like Kevin Venegas, have a song dedicated to him.
Weirdest Moment
It took referee Robert Sibiga about a minute to send off Wells Thompson. It seemed like he had forgotten he had booked Thompson in the first half, which was curious because whether or not you give someone a yellow card should not depend on whether you've already given him one. But if the second yellow was for persistent infringement, then it's possible that the reason Sibiga gave Thompson a yellow in the first place was because he was remembering all the fouls Thompson doled out in the first half without remembering that he had already booked Thompson for those. That is not what you want from your center referee.
Least Surprising Post-Game Quote
"I thought some of the referee's decisions were a little bit soft," Colin Clarke said after a game in which the above happened.
Most Surprising Post-Game Quote
Manny Lagos blamed himself for Minnesota's lack of preparation after the loss, but that wasn't particularly surprising. Coaches do that all the time.
However, when asked which area of the game disappointed him the most, Lagos cited that the team struggled to deal with the heat. He said it hurt the team's ability to stay compact and that it affected Kalif Alhassan so much that he had to be subbed off.
As a native North Carolinian, I did not feel like it was particularly hot out there. The rain over the last few days took most of the punishing heat from last week with it. Minnesota have July away dates in Jacksonville and San Antonio and an August game in Tampa Bay. If Minnesota is going to struggle with mild heat, those games could turn out just as poor. However, some teams are destined to be less than game-fit out of a month-long break, and losing two important players doesn't help.