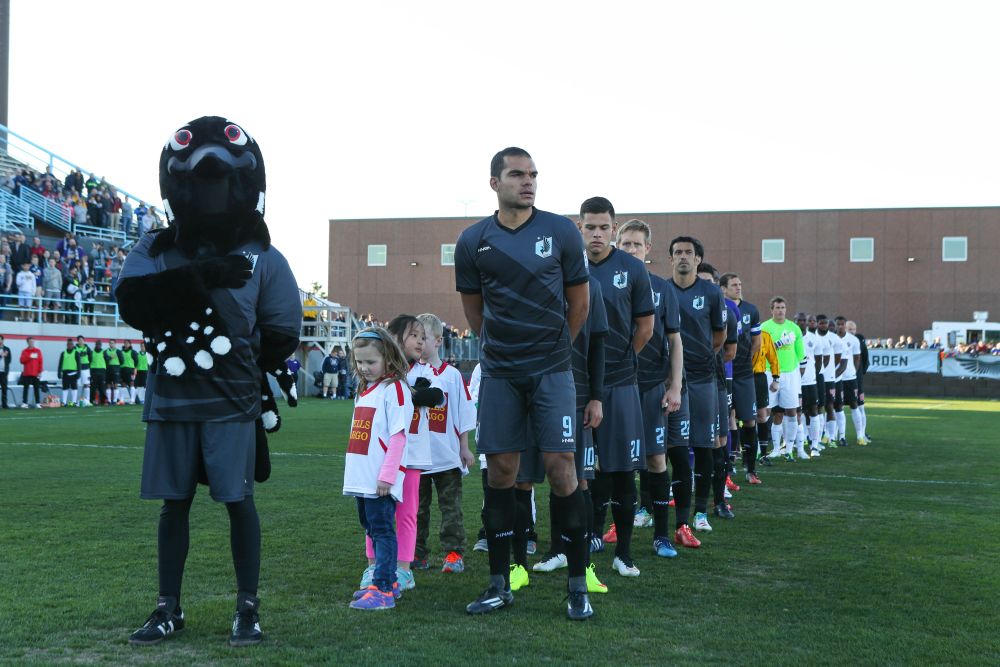 Looking Forward – Minnesota United FC
T.S. Eliot's poem "The Waste Land" opens with the classic line "April is the cruellest month." Loons fans have the poem memorized. A lousy opening four games had United playing from behind in the league standings the whole spring, and after a three-game winning streak put the team back in contention, United put more than a few points back in the bucket by giving up goals after the 75th minute on four consecutive occasions to close the season. The club finished the opening set with a painful loss in the final game of its most celebrated player, and in the confounding Ft. Lauderdale Strikers the Loons were shown fear in a handful of dust.
The Loons need better for the fall. It is difficult to write a fall preview that extends beyond simply referring to my spring review and saying "don't do that." So let me instead dive more deeply into tactics, the big stories, and promise you that if you have not been to Minnesota before, trust me, it's beautiful in the fall.
What lineup will United likely field this fall?
Great question. United toyed early in the spring with several different assemblages of strikers and midfielders before settling on what probably is considered to be coach Manny Lagos' favorite XI. They lined up roughly as so:
However, with Miguel Ibarra gone, the goalkeeper position in flux, and an inability to close out games, some re-evaluation will be necessary. How do you replace Ibarra, a talent so rare he was able to reach U.S. soccer's biggest stage while toiling in the second division? The answer is simple: you don't. Replace your tactics, not your player.
To answer the challenges of missing Ibarra, utilizing depth on the bench, and United's penchant for letting games slip away, I propose the following lineup:
Let us work from the back and move forward, starting with N'Djock in goal. N'Djock is not the incredible goalkeeping presence it was hoped he would be. However, the major mental mistakes of the Cameroonian that appeared early in the season have been replaced by smaller issues such as communication with the back line. N'Djock has tempered his style, played more conservatively, and made some impressive saves along the way. Couple this with a mediocre showing by Mitch Hildebrandt, and there is no reason N'Djock shouldn't be manning the pipes. He needs, however, to become a commander of his back line, confident and clear in communication, to excel in the spot.
One of the more important changes I would like to see is to have captain Aaron Pitchkolan playing in a more defensive position, as a true defensive midfielder shielding his back line. There are a few reasons for this. First, United's outside backs, Kevin Venagas and Justin Davis, have a tendency to get up the field and support the offense (Venegas more than Davis). This limits the manpower on defense, especially if Pitchkolan is also pushing forward as he often did in the spring. All this forward movement leaves the team susceptible to counters or, at the very least, leaves them gassed after 70 minutes if they need to fall back to a defensive position quickly throughout the game. Add to that the United midfield's lack of success with a high press and play defense in a forward position, and one can see how the team can be exploited on a lucky bounce or a quick counter.
Holding Pitchkolan back in a defensive position keeps things grounded on defense and allows the center backs to play more widely in the case of a fullback making an overlapping run. It also ensures we have a player through whom distribution can come, and Pitchkolan would become the pace setter for buildup. For what it's worth, it is also a role Pitchkolan excels at.
This lineup also features Greg Jordan in a starting role, assuming he returns from a torn meniscus healthy and ready to contribute. Jordan has the ability to boss the midfield and win back the ball in an attacking position. He is an imperfect player, and clinical delivery would likely be a weakness. However, the connection between Daniel Mendes or Ibson and their attackers has been similarly middling this year, so I believe Jordan as a regular starter is a net gain.
The final significant change is the addition of Ramirez at the top of the midfield. Make no mistake, Ramirez is an out and out striker. But with Pablo Campos earning a respectable goal haul and Ramirez simply never gelling with the new midfield, Ramirez has limited opportunities to make an impact. That said, how can Ramirez gel with a midfield that is new, ever-changing, and without the proper minutes to do so? Positioning Ramirez in an attacking midfield role, and sending him forward on incisive runs as Pablo plays the target man and controls distribution from the top, could enable both Ramirez and Campos to complement each other's styles while staying at home in their own strength. Campos is not going to make those darting runs as successfully, but an easy layoff to a running Ramirez or the choice to turn and shoot would have opposing goalkeepers quaking.
Finally, Alhassan has been United's most consistent midfielder outside of Ibarra. He is not United's best midfielder, but when he is on the field his distribution is consistent, his work rate is high, and his experience playing top flight soccer shows. It may be negative to return to the same well of stating "why not Alhassan if Mendes or Ibson aren't working". I am a negative person.
In closing, I want to clarify that I do not think Mendes or Ibson are pathetic by any means. Ibson spent significant time with an injury in the spring, and neither has looked awful. But United are in a position to want better than "not awful," and Jordan and Alhassan have had a habit of making their presences known when they are on the field. I would like to see Lagos start with this formation, and if it isn't working, he has two great midfielders on the bench.
United Will Succeed If:
My lineup recommendations belie an important point: United is not that bad. That the team gave back four consecutive leads in the dying embers suggests that the team is good enough to have put itself in winning positions, consistently. United will succeed simply if they can close games. I believe this will take more timely substitutions (fresh legs at 60′, not 75′), more emphasis on conditioning in training, and the choice to fall back into more defensive tactics at the close of games rather than applying greater pressure to put games away. Typically I would favor the "nail in the coffin" method, but United just haven't found that hammer this year.
What does success look like? A Fall Season title, and nothing less.
United Will Fail If:
There is no replacing Miguel Ibarra. If United plays with tactics unchanged, they will be the worse for it. I want to see the team move speed to the middle of the field, spend more time with the ball at their feet rather than sending inswingers from the wings, and move Aaron Pitchkolan to a more defensive position to create less of a liability when fullbacks make overlapping runs. Most of my suggestions for the formation, and these suggestions as well, are about controlling play and not letting one poor moment be the teams ruin. In short, if they continue to apply an identical strategy in the fall without the attacking winger that made much of their success possible, it will not be better than the mediocre result achieved when that player was around.
Prediction For The Fall:
Second place finish. This is a good team, and second place is a good finish. The Cosmos are the league's best team, but also benefited from a fair share of luck and some unsustainable rates of clutch moments. The Rowdies are talented but inconsistent. The Railhawks punched well above their weight with their spring finish. The road is paved for a strong Loons finish. But they, too, are an imperfect team, lacking the killer instinct to emerge as a sure contender. I look for the Cosmos to close the deal on the Fall, the shield, and to be on the front foot in the Championship. United need to focus on making the playoffs and hoping for two strong performances when they get there.