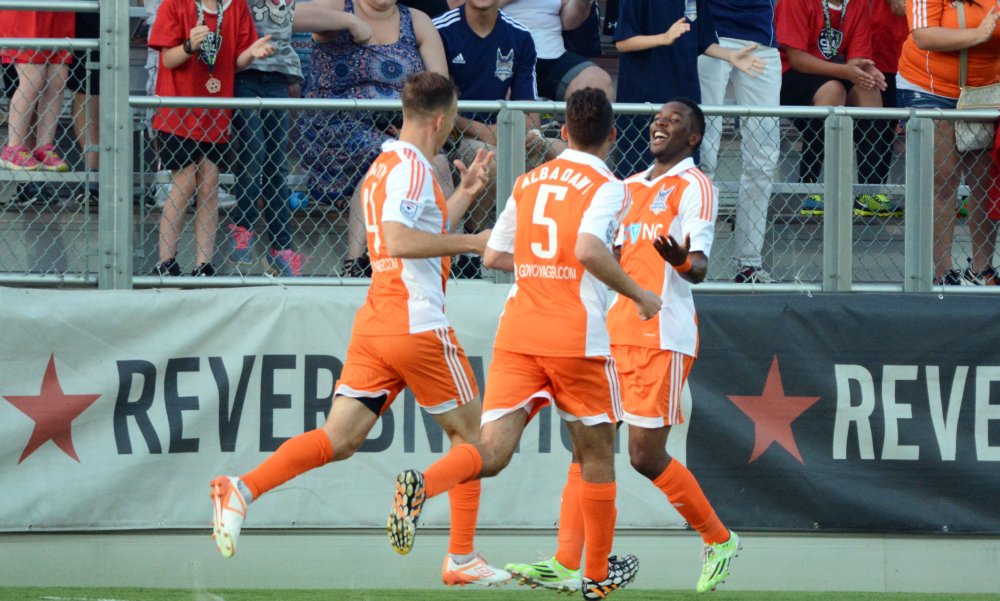 RailHawks Fall Season Preview
Ten games is a small sample size. After ten MLS games, people were questioning whether teams like Sporting Kansas City or LA Galaxy were true contenders. A few games later, everyone's on board again.
Both teams had a 3-2-5 record after ten games, which is exactly where the RailHawks sit right now. So while judging what Spring results mean for future Fall performance is a somewhat dubious proposition, it's worth a try. And at the very least, these ten NASL games were far more important than any MLS ten-game regular season stretch.
Scoring Goals
Tiyi Shipalane is the best. The RailHawks score about forty percent of the time he runs down the right flank, gets to the endline, and passes it to the top of the six. Unfortunately, the rest of the chance creation is inconsistent at best.
Aside from Albadawi, the midfield is pretty good at keeping possession. And I'm pretty sure Nach named this website after watching a RailHawks home game (basically, we persistently pester the opposing backline at home, and a little bit on the road).
But the center of midfield lacks a creator. Albadawi was supposed to be that guy but he ended up stifling more RailHawks attacks than he created. There's some promise in Leo Osaki, who displayed some real chemistry with Mark Anderson, but his best creating move in the Spring Season was falling down in the box against Jacksonville. Neil Hlavaty seems to be in tune with Shipalane, having put home a couple of those Shipalane end-line passes, but he does his best work as a box-to-box mid.
Blake Wagner, who was brought in to spell Kupono Low, has been surprisingly effective as a wing back, even doing well spot starting in Mark Anderson's intended left midfield position. But that's still on the wing.
This isn't necessarily a huge problem in an NASL where creative metronomes are at a premium. Not everyone can field Marcos Senna. And even some MLS teams, like DC United, fare pretty well without something close to a 10.
Shipalane getting the ball on the right flank is Carolina's best and most effective offense right now. That's not a problem. What is a problem is that the second best and most effective offense is unclear, leaving teams to key in on Shipalane. This sometimes doesn't matter: The Cosmos consistently double-teamed him and he found a way to create two goals anyway.
If the defensive nucleus that limited opponents to one goal in the season's final three games stays healthy, that might be enough to make the playoffs. But RailHawks fans would feel more comfortable if someone like an Austin da Luz regained his health and could start the season in Albadawi's spot, since it's unlikely that someone significant will be picked up before the transfer window closes.
Preventing Goals
Akira Fitzgerald started the last three games of the Spring Season while under contract for NYCFC. He was then waived by NYCFC a few days ago, which actually decreased his chances of staying in Cary for the fall season. Another MLS team could claim him off waivers, the result of which we won't know until the end of Monday. But in all likelihood, Fitzgerald clears MLS waivers and will be free to sign with Carolina for the fall season.
If that happens, the RailHawks immediately have one of the best goalies in the league. If that doesn't happen, it's a unclear who mans the net on Independence Day. The RailHawks list three goalkeepers on their website: Fitzgerald, Brian Sylvestre, who's currently starting for the Philly Union, and veteran Hunter Gilstrap, who was just loaned to the Charlotte Independence.
One would assume/hope that Gilstrap could be recalled if necessary, and that wouldn't be a bad outcome. Over seven starts, Gilstrap was a terrific shot-stopper, even if he struggled a tad in distribution. But in a league where six points separate the 3rd-place RailHawks from last-place Atlanta, the small upgrade from Gilstrap to Fitzgerald, who only allowed one goal in his three starts, could be significant.
Helping Fitzgerald finish the season was a Kupono Low-Connor Tobin-Futty Danso-Wes Knight quartet. It'd be surprising to see a change in the group that allowed only one goal in the Spring Season's final 270 minutes. Daniel Scott, who marshalled a couple games for the RailHawks, will be disappointed to be left out, but it's probably for the best. His ball-watching lapses are best left on the bench. That said, Scott will be among the better spot-starters/CB subs in the league.
Credit to Colin Clarke, not only did he pull Scott in favor of Danso, he also withdrew a 2nd striker to start holding midfielder Wells Thompson, who teamed with Hlavaty to effectively clog Zone 14. It was a move designed to shut down the dynamic Cosmos, but he stuck with it to great effect to finish the season. Finally, longtime RailHawk Kupono Low was his steady himself, perhaps most impressively shutting down the left flank with Tobin against the Cosmos.
Ownership Concern
Most of the NASL spent the month-long break between seasons signing players and playing friendlies against European and Mexican competition. The RailHawks didn't really do any of that, quite possibly because their ownership group has spent this whole time being investigated and indicted by the Department of Justice over the FIFA scandal.
Publicly, players will say right now that they're not focused on that. President Curt Johnson has iterated that line a couple of times himself and it's honest and believable.
But if the search for a new owner and the saga to unseat the current ones (there are reports that since NASL doesn't actually have legal recourse to kick out the Traffic group, they might force NASL's hand and stick around) drags on, it's not unprecedented that we could see a situation like the 2011 Minnesota Stars, who played on and even won a championship despite fears the team would fold by year's end.
Of course, Minnesota United turned it around in short order. But it's a little too optimistic to think that kind of lightning will strike twice.
Outlook
The final four games of the Spring Season saw Carolina's most impressive performance of the season (that 2-2 draw against the Cosmos), two wins in Florida, and a home draw against the Woosnam holders. If that form continues, Carolina is easily in the discussion for the 2-seed come playoff time.
Leaguewide, the Spring Season directive was clear: Win at home, draw on the road. The RailHawks were no different, choosing to sit back and counter, an approach that earned them a point they didn't deserve in Indy, and held them back from earning the three points they deserved in Edmonton.
Hopefully, a shift in season format will see a slight shift in away tactics. In particular, it'd be great if the Railies come out and press opposing backlines more, resulting in more chances for opportunists like Shipalane and Nacho Novo to do their thing.
The Railies have the talent and the depth to compete well into the Fall Season, but I fear they lack the resources to sneak into the playoffs.
Final Standing Prediction: 5th, behind New York, Minnesota, Tampa Bay, and San Antonio