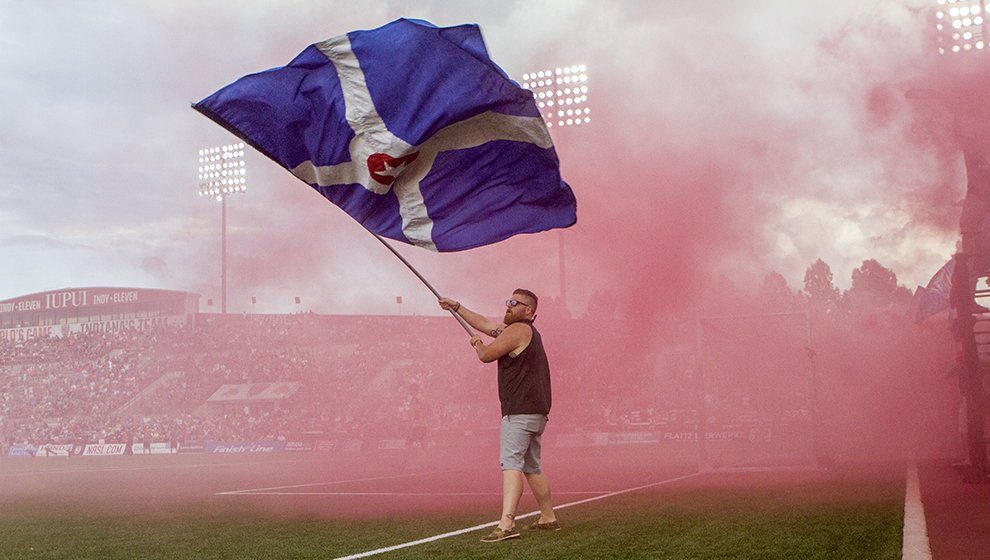 Looking Forward: Indy Eleven
Since joining the NASL, Indy Eleven has been arguably the most enthusiastic organization in the league. However, results on the pitch haven't really matched that energy. Unlike last season, Indianapolis have turned things around managing to crawl out of the cellar and turn into a respectable upper mid-table side. The question now becomes, will Indy be able to solidify this position and perhaps rise or sink back down the standings.
Indianapolis have always been even keel, just barely scoring more than they let in. Given that the overall quality of competition has improved in the league, it says something that Indy have been able to keep pace. Teams that were once adept at doing so have been faltering (Ft. Lauderdale and Atlanta) and several have yet to catch a break (Ottawa and Edmonton). Indy has impressed by not flinching when its big-name signing, Brazilian midfielder Kleberson, went out for the season with injury.
Kleberson was the only saving grace for Indy last season, but his absence this year hasn't been an issue. This is for two reasons. First, the goals that Kleberson scored last year were almost entirely from the penalty spot. Not cheap goals by any means but certainly not generative goals. Unless you're Wayne Rooney feeling unloved or the entire Chicago Fire, those penalties would have been converted whether or not Kleberson had been there. The second, and more important reason, is that Indy's central midfield has stepped up.
Between Dylan Mares (two goals and four assists) and Sergio Pena (who's Week 3 goal is a contender for goal of the year), Kleberson is not being missed.
[youtube http://www.youtube.com/watch?v=ZRDhR19penI&w=560&h=315]
That's not to say that Indy doesn't have issues. Wide play for the team has been spotty at best. A combination of wingers and forwards have been churned through the wide attacking positions on both the left and the right. Platoons have developed. Out right Don Smart, even though he has proven his worth, splits time with Dragan Stojkov, who has been underwhelming to say the least. Out left, Osman Melgares has been about as productive as Stojkov, meaning that forward Charlie Rugg and Brian Brown are often slotted in with middling results. Even central midfielder Victor Pineda has been pushed out wide right and left. It's something that interim manager Tim Regan needs to resolve and soon.
This wide play issue is spillover from the lack of production by the forwards (Rugg, Brown, Duke LaCroix, and Wojciech Wojcik). They have combined for only three goals between them whereas the proper midfielders mentioned above have combined for seven. That is unacceptable. It is especially unacceptable given Indy's defense has found its footing and has been the most valuable third on the pitch. Rightback Marco Franco has owned his position and the combination of Kyle Hyland and young loanee Jaime Frias at leftback has been exceptionally productive. Centerback Erick Norales has made the NASL Team of the Week four times and has developed a good partnership with Greg Janicki, a top league defender who came to Indy from the San Antonio Scorpions over the offseason. This has led to a tight defense that typically will only allow one goal, and it will have to be impressive. Only Minnesota United have been able to score more than a goal against Indy (Tampa Bay Rowdies scored two but one of those was an own goal) and although keeping a cleansheet has been an issue, it can't be said that the defense isn't doing its part.
Simple fact is, the Indy Eleven strikers are letting the team down. If Brown and Rugg can sort themselves out, by which I mean become more clinical in their finishing and catch a bit of luck with their service, then Indy will experience a goal bloom. However, I can't help but think an upgrade from Wojcik is needed. Also, the faith put in midfielder Brad Ring as a starter is misplaced; he takes up a space that could be filled by a more productive player.
There is nothing flashy about this team but that's not to say it's uninspiring. The battle for the fourth and final playoff spot will be a hotly contested affair. Right now, I see it has a three-way fight between Indy, Carolina Railhawks, and Jacksonville Armada. The opening month of the Fall will be tough for Indy as they face New York Cosmos, Carolina, Ottawa, and then New York again. If Indy come out aggressive earning partial or full points against New York and Carolina, then it will be well position to pull away from the others.
Fall Prediction: Fourth.
Indy won't win the Fall, but they have a real shot at making the playoffs. While it's a bit of crap shoot what team will snag the last playoff spot, I have to give Indy the inside track.