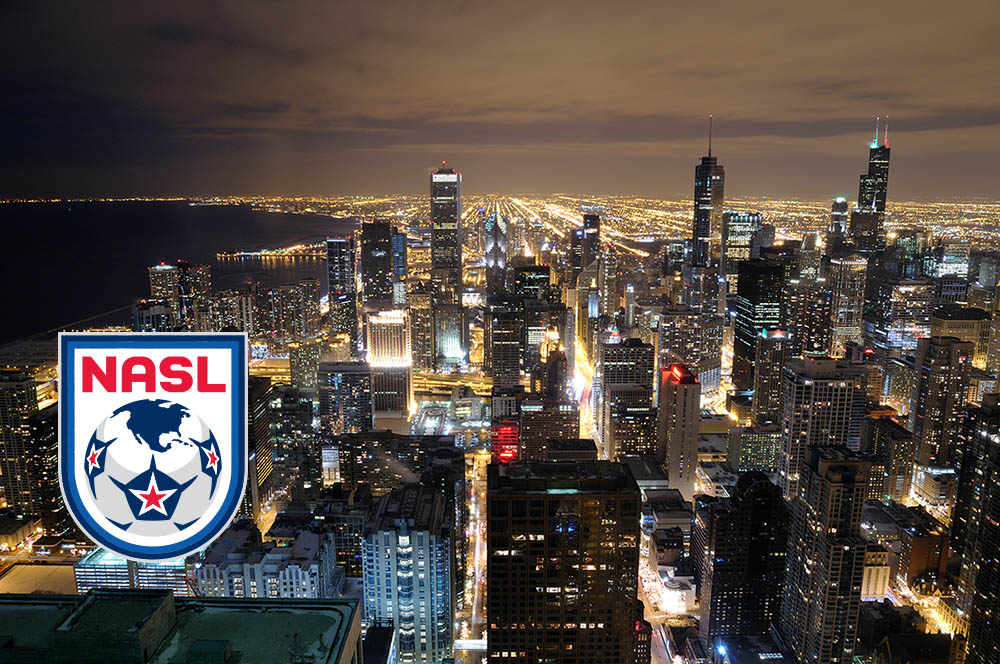 Chicago – A Blueprint for Expansion
The Windy City can support a 2nd pro team. If it's done right.
As a former Chicago resident, I've long championed the idea of placing a second professional soccer franchise in the city. Chi-town is third in terms of both population and media market size behind New York and LA; Both of those cities have multiple franchises playing or planned. But to successfully launch a team in a market with an existing MLS franchise (the Chicago Fire), the NASL must deliver a precise mix of stadium, heritage and homage to the city.
The Embers In Bridgeview
Even the most passionate Chicago Fire supporter will tell you that it was folly for that team to locate itself in Bridgeview, IL. At the best of times Toyota Park is a two hour round trip on public transportation from the city proper and Chicago traffic means that driving won't save you a whole lot of time. The trek needed to support the Fire in person is tedious if you're in the city.
While 20,000 fans routinely streamed into downtown Chicago's Grant Park to watch the USA play in the 2014 World Cup (just one of many locations showing matches), the Fire's average attendance since 2010 has ranged between only 14.5K – 16.5K. The Fire do not have a big name designated player a la Thierry Henry and their recent competitive record also leaves something to be desired with only one (short-lived) playoff appearance since 2010. So the situation in Chicago resembles nothing so much as New York in 2013: A single pro soccer franchise, playing far from the city, reveling in mediocrity and riding on the coattails of its history.
Location, Location, Location
To succeed in Chicago, a NASL franchise would have to convince 5,000 – 15,000 Chicagoans that they offer something the city's MLS franchise, the Chicago Fire, does not. And just like in NYCFC did in New York, the NASL has a very convenient argument to make in terms of both location and city identity.
The most important and operationally vital advantage any NASL franchise will need in Chicago is a stadium located on the North Side of the city proper and close to an 'L' line. I would go so far as saying that without such a stadium, it's simply not worth creating a 2nd team in the Windy City. The Fire's first division status and history negate any advantage offered by a location outside the north side.
The north side also holds a reputation for being a socially trendy, interesting part of the city. Thus it attracts a large population of 20-35 year olds with disposable income and a cosmopolitan outlook (51% of its residents hold a bachelor's degree or higher), i.e. the bread and butter for a successful soccer franchise. The north side also outdoes the west side in key stats like average income, average household net worth, median home sale price and several measures of consumer spending.
A stadium located south of the Ravenswood neighborhood, east of the Chicago River and north of the Loop would find itself in the heart of the city and close to a massive population of fans who are too far from Toyoto Park. It's also hard to find a place in this grid that is out of reach of Chicago's phenomenal elevated railway (the 'L') and given the lack of parking in the city, this a major factor to consider.
Chicago property prices will likely mean a stadium shared with a High School or College team. Playing on grass will be a tough get; Turf is for more likely. Alcohol probably won't be sold in the facility and revenue from food/beverage sales will be lower than if the team has its own stadium (or even non-existent). The shared stadium situation may even affect sponsorships.
What's in a name
Chicago is a city steeped in history and proud of its whimsical traditions like keeping ketchup off Hot Dogs. Chicagoans love to be part of the 'in crowd' and revel in their city's culture; For example you'll find the city's flag proudly displayed everywhere you go (the author has a Chicago flag mural in his apartment). For a team to be successful in Chicago, it must ingratiate itself into city tradition and the NASL has a fantastic pre-packaged opportunity in this area.
The Chicago Sting played in the old NASL for 13 years between 1975-1988 and left enough of a mark that the Sun Times still faithfully covers their news. They were one of only two clubs to have won the old NASL championship twice and the only one who's name doesn't end in "osmos". Older soccer fans in Chicago hold the Sting close to their hearts and have complicated feelings when it comes to the Fire. There is even a supporter organized Sting Trust lobbying to #BringTheSting.
In today's NASL, Tampa Bay has brought in several old NASL Rowdies into their organization and embraced their mid-20th century history. Even Minnesota United who have one of the strongest new brands in US Soccer have tried to capture some the magic that a link to the old NASL brings. By bringing back the Sting, the NASL would give older Chicagoans a name they can recognize and newer fans a link to a storied tradition of success. This cultural component is essential in convincing people to buy into supporting the club and does not come with a eurocentric club brand.
Respect for the Fire
One counter-intuitive point is that the NASL must show some degree of respect for the Chicago Fire. They have been carrying the torch of pro soccer in the city since 1997 and count true legends of US Soccer like Brian McBride among their alumni. And as much as NASL would prefer it not to be so, the Fire also play in a higher level league; a situation that will not be altered barring a cataclysmic change in the sanctioning of US Soccer and the economics of soccer in this nation. The Fire aren't going anywhere and antagonizing them has dubious benefits. What isn't of any doubt is that regional rivalries are extraordinary machines for soccer hype. The recent East River Derby which pitted the New York Cosmos against NYCFC hammered this point home. The teams played in a sold out stadium and soccer fans from around the nation tuned in to see the David vs. Goliath struggle.
The people at the Fire front office are practical business people and the metro area is large enough to comfortably support two geographically separated teams. The Fire will be amenable to a relationship that benefits them in the long run. The NASL front office should negotiate yearly friendlies with the Fire. Play one game in the city and another at Toyota Park. The Fire get the opportunity to market themselves to city folks while the NASL squad gets to play on a larger stage. Given the historically strong attendance at derby game, both teams will enjoy good revenue. The two teams can also work together on soccer clinics, outreach programs and volunteer opportunities. Again the teams could use the rivalry to boost fan attendance at these events (eg. A contest to see which team's supporters have donated more blood).
Service and Diversity
It's impossible to think of Chicago without its reality as a strongly segregated city both in terms of economics and race. The South Side has many economically depressed neighborhoods and several of its areas like Woodlawn also have reputations for crime. Many south side neighborhoods are also home to majority African American populations (upto 99% in some areas). Stereotypes about the South Side abound and North Siders are, at the very least, vary when venturing south of the Loop. Any organization that represents itself as one with the city must confront these issues. In doing so it our team might even diversify its fanbase and stand a chance at having a more representative audience in the stands.
Our NASL team should make it's mark on the city by working to provide more young people on the south side access to soccer. Community outreach can involve soccer clinics, scholarships for south side kids who show talent to attend soccer academies and the organization of youth soccer leagues in neighborhoods with large densities of at risk youth. At least one study has found that after school soccer programs helped produce beneficial academic outcomes for its participants. Making such an impact can only further ingratiate our NASL team into the Chicago landscape and simply put: It's the right thing to do.
Bringing it all together
It might surprise some of you to hear that the NASL already owns the Sting trademark. Rumors of a Chicago expansion go as far back as October 2013 and there have been several more recent rumblings as well. To me that's strong evidence that somewhere in the next 5 years I'll be able to attend a game where the 11 men in Sting jerseys step onto the pitch backed by Wiz Kalifa's 'Black and Yellow.' I can't wait.