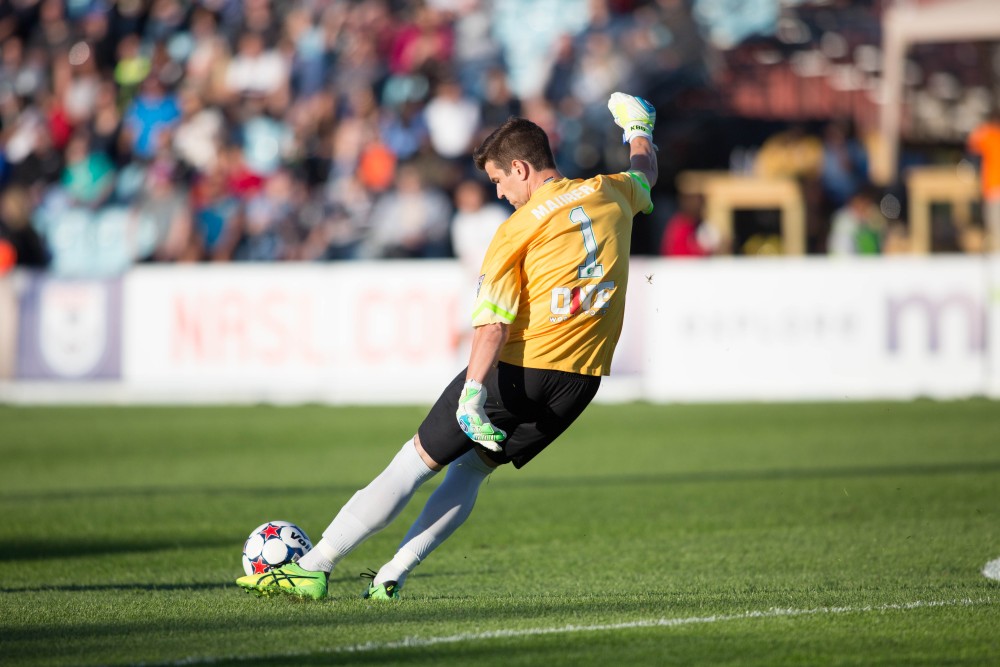 NASL Goalkeepers by the Numbers
The 2015 NASL Spring Season was an eventful one for the league's goalkeepers. I dove into the NASL's stats tables to make some sense of what we've seen over the past 55 matches.
Lies, Damned Lies and NASL Statistics
The NASL who provided us with the following base stats:
GP/S – Games Played/Starts
GA – Goals Against
SV – Saves
Y/R – Yellow Cards/Red Cards
Min – Minutes Played
GAA – Goals Against Average (Average Goals Per Games Played)
The proper spelling of 'Čontofalský'.
I added the following fields:
ATT/GA – Attacks per goal conceded. Divide the sum of GA and SV by GA. Controls for leaky defenses.
GA/Min – Goals conceded per minuted played.
USOC Matches – (Not used in this article) Keepers who played USOC games received a duplicate entry with those stats added in.
What's missing:
Clean Sheets – An obnoxious omission by the NASL stats gurus and one I don't have a reliable enough secondary source of statistics to get around. A more committed statistician might comb through the season's games to manually tally the numbers.
To ensure a decent sample size I did not consider keepers who had played only 1 game. Unless otherwise stated, any stats I mention here only take into account keepers who have played at least one game. (You're welcome David Sierra!)
So what stories did the stats table have to tell?
The Good
NYCFC shouldn't have waived Akira Fitzgerald (CAR) – Yes, he's only played 3 games but in that time he's topped every single measure of goalie quality available (ATT/GA, GA/Min and GAA). He's faced 14 attacks which is more than those weathered by (among others) Kamil Čontofalský (TBR) who conceded 5 goals to Akira's 1 goal conceded. At a 0.33 GAA Fitzgerald is also a full 0.30 goals per game less than Matt Pickens (TBR – 0.62).
Matt Pickens (TBR) is worth his high wages – While he's third behind Lionel Brown (FTL) on ATT/GA, Pickens played 4 more games giving us a larger sample to judge from. He's also 2nd in GAA. Let's put it this way, if Kamil Čontofalský had stayed fit, Tampa would have conceded 13 more goals than they did.
Jimmy Maurer (NYC) and Romuald Desire Peiser (OTT) are consistently good – Both were the only keepers to play every minute of every game of the Spring Season. Even more impressively they were the only keepers besides Pickens and Fitzgerald to keep a GAA below 1. As Stuart MacTaggart wrote in his profile of the Canadian, Peiser is currently on a NASL record 526 minutes without conceding a goal.
The Bad…Or Simply Interesting
Sammy N'djock is MNU's best keeper but that isn't saying much – Cameroon's 3rd choice at the 2014 World Cup has a respectable GAA of 1 but he is 14th among the 20 keepers in the league when it comes to ATT/GA. With 8 games played he has no excuse to explain why he has such a low ratio of Goals to Saves. Sammy is still much better than MNU's 2nd stringer (more on that in the next section) but the stats might explain why Minnesota coach Manny Lagos rotated Mitch Hildebrandt in for the final game of the season.
Lionel Brown (FTL) is the best 3rd stringer you could ask for – With David Meves in and out with minor injuries and Joe Nasco breaking his foot after only 12 minutes, you would be forgiven worrying about the Strikers. But in his three games played Brown sits a respectable 8th in GAA with a 1.05 and more incredibly was bested by only Akira Fitzgerald on ATT/GA. He has let in only 3 goals while making 15 saves. His agent is probably sending the MNUvFTL game tape to anyone taking his e-mails.
CJ Cochran (ATL) is the best NASL rookie – The 23 year old played 3 games at the start of the season while Steward Ceus recovered from an injury suffered in international play. While doing so he managed to outdo all his fellow rookies in GAA and ATT/GA. He even managed to equal Kristian Nicht (IND) on both statistics.
The Rob Green
You don't get off that easy, David Sierra (JAX) – Sierra played one game this spring and just happened to come up against a resurgent Minnesota United. His penance? 3 goals conceded.
Jon Kempin (SAS) might be a bit overrated – Kempin's elevation to wunderkind occurred when der Klinnsy (ja) called him up for the USMNT January camp. Kempin was promptly loaned out by Sporting KC and put in as a starter for two games over 2012 NASL Golden Glove, Darryl Sattler. He let in 5 goals (F-I-V-E) and made only 2 saves. Ouch. San Antonio prudently benched him for the next 5 games before he was ignominiously yanked back to Kansas City.
Minnesota's 2014 keepers are having a terrible year – Mitch Hildebrandt (MNU) and Matt VanOekel (FCE) are probably furiously at work on a time machine. They are the only two keepers (after Kempin and Sierra) with a GAA above 2. Kamil Čontofalský's ATT/GA is worse than VanOekel's but the latter played 3 more games and had more blunders. Hildebrandt on the other hand ties Kempin for the worst league play GAA.
John Smits (FCE) has probably melted down the 2014 Golden Glove – The injury: After a stunningly good first year as FCE's starter, John Smits is benched in favor of the newly acquired Matt VanOekel. The Insult: Smits had to watch for 6 games while Van Oekel conceded 15 goals including several early game howlers. The Salt in the Wound: Finally given the starting spot back, Smits lasted only 2 and a half games before a mistake earned him a substitution at half-time of the season finale.
Predictions for the Fall
Carolina will sign Akira Fitzgerald – With Hunter Gilstrap helping Charlotte Independence defeat New England while on loan and the Philadelphia Union looking to make Brian Sylvestre's loan permanent, Carolina have exactly zero goalkeepers at the moment. Fitzgerald's loan from NYCFC was until the end of the Spring Season and it would be shocking if Carolina didn't resign their 2013 and 2014 starter.
Matt VanOekel and/or John Smits will do better – Coach Colin Miller will have looked long and hard to see what is spiking the goalie's bottle at Clarke Stadium. Expect an improvement from the two most highly regarded keepers of 2014.
Miguel Gallardo (JAX) will fall down the stats table – Jacksonville is 2nd to last in terms of goals conceded in the Spring. Only their attacking strategy has allowed them to limp away with a -3 goal differential. Gallardo looked shaky in the Spring and with no defensive reinforcements on the horizon, expect him to concede more goals.
Want to pour over the raw data? Enjoy!