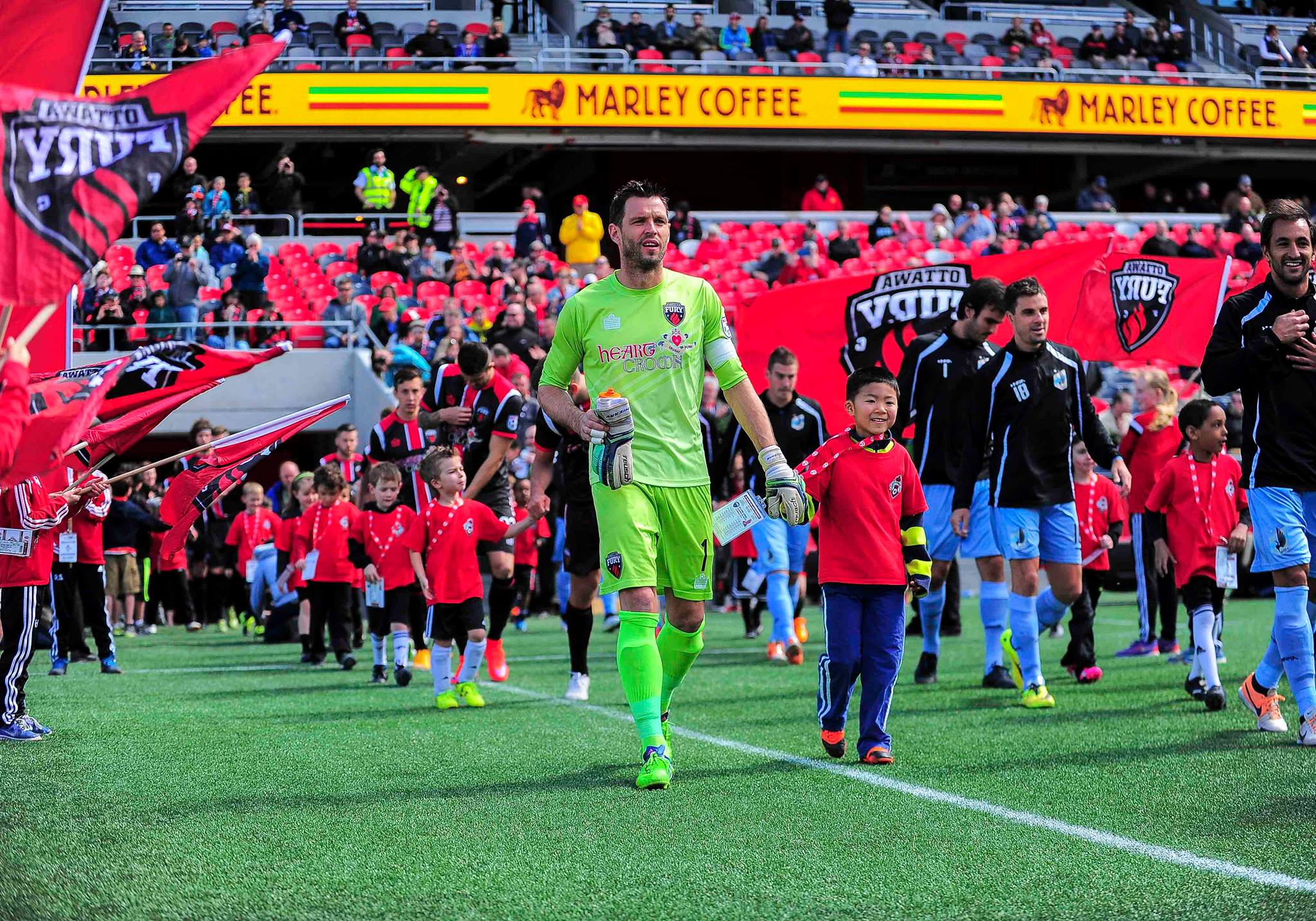 Peiser Paves Path Towards Golden Glove
Fury gaffer Marc Dos Santos has made it known that he has focused on building his squad from the back, starting with a strong keeper and defensive four, and Ottawa's end to the Spring Season with a run of 1-4-0 and 5 clean sheets has proven he has done just that.   Dos Santos has described his first move for the 2015 season as the signing of French goalkeeper Romuald Peiser, which occurred during the summer of 2014.
In their inaugural Spring Season last year, Fury supporters quickly made keeper Devala Gorrick a fan favourite, with the American stopper making several important saves; however his time as number one wouldn't last long as Dos Santos would bring in Romuald Peiser prior to the start of the Fall campaign. The move was somewhat controversial at the time, partially due to the fact that it would mean Gorrick would be pushed to number two keeper (giving Fury four keepers in total), but also due to the fact that the arrival of the Frenchman meant that Fury needed to release someone to clear up an international roster spot.   Young African starlet Hamza Elias, who never properly adapted to life away from his family, or to life in Ottawa and Lansdowne Park, was released from his contact in order to make room for Peiser.
Peiser quickly became the number one keeper during the 2014 Fall Season, and it was clear to most fans that Gorrick would likely not play another game in the Fury's red black and white.  Dos Santos has always said he would not make any changes to the roster unless he thought it would improve the club, and as time ticked on, and certainly more so over the course of the 2015 Spring Season, the move to sign Peiser would prove to be a vital one, especially for a club that is not known for scoring goals.
Beyond what he brings in terms of stopping shots, Peiser is a great leader on and off the pitch, and can always be heard speaking positively about the squad and can be seen praising the home support after matches at Lansdowne Park.  Under the coaching of Liverpool legend Bruce Gorbbelaar, Peiser has also offered a mentoring presence to young Canadian keepers such as Chad Bush, Waleed Cassis and Marcel De Bellis during training sessions.  Unfortunately for Fury's number two keeper De Bellis, Peiser's undeniable skill in goal means the young Oakville, Ontario native will struggle to see much time this year, especially as the Frenchman looks to extend his 526 minute run of allowing no goals.
This past month Peiser was named North American Soccer League's Player of the Month, and is well on his way to making himself a front runner for the 2015 NASL Golden Glove award.   Pesier is not one to shy away from making dangerous challenges or big saves, and with the strong central defending pair of Rafael Alvez and Colin Falvey, he will look to extend his NASL record of 526 minutes without a goal against.  With the lack of attacking prowess Fury has provided, there is no doubt that Peiser has been a shining star during the 2015 Spring Season and one of, if not the most important signing so far during Dos Santos' tenure.