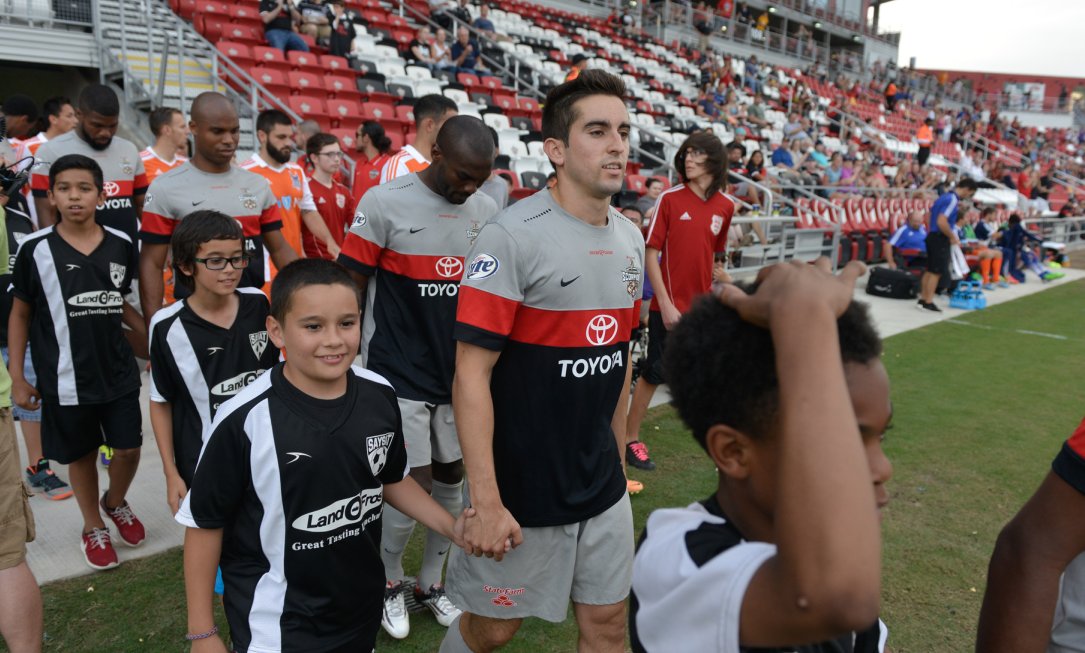 Looking Forward: San Antonio Scorpions
Success has not been elusive for the San Antonio Scorpion organization, rather, it's been inconsistent; there are only peaks and valley for Scorpions supporters. Regular season champions in its first year 2012 (though failing to become league champions), bottom of the table in 2013, and then bouncing back to the top in 2014. This season the team is experiencing the growing pains of being middling. Shaking off the mid-table bug, avoiding the also-ran label, is San Antonio's goal for the Fall.
It must be an odd sensation, to have the league's top goal scorer (Omar Cummings with five goals over the Spring) but be sitting firmly mid-table. But outside of Cummings, San Antonio doesn't have another productive attacking threat. While the team's attack isn't as anemic as Ottawa or Atlanta, it has been scattershot. Only three teams have taken more shots than the Scorpions: fellow mid-table dwellers Jacksonville Armada, league leaders New York Cosmos, and, oddly enough, Ottawa. Combine this tendency to shoot off target with the fact the team is among the leaders in fouls, and the picture we get is of a lackadaisical squad.
San Antonio's midfielders aren't bruisers but certainly aren't finesse minded. Joseph Nane, Martin Chavez, and Rafael Castillo dominate a midfield that when on is tenacious and when off indolent. Nane is underrated. The central midfielder is better at winning the ball and holding up play than he gets credit. Yet when you're flanked by two other central midfielders unafraid to come out of a tackle without the ball, things can get sloppy.
It's Cumming's individual skill that has given San Antonio the slim success it has had, rather than any creative play or well-honed service. Scorpions have tried far too many formations this Spring but inevitably seem to settle into a tame 4-5-1. Cesar Elizondo has been uninspiring as a partner with Cummings as well as the counterpart to Billy Forbes out wide. Forbes being tasked with creating service from the the flanks (usually from the left) has been productive. His talents are more suited to play on the wing than as a striker. Elizondo's lacklustre play has lead to Chavez being pushed out wide right (when he should really stay more central). It's not so much an imbalance as a confusion of roles. A team can't play with just one winger. To augment its attack, San Antonio need a proper right winger or a true strike partner for Cummings.
Towards this end, the Scorpions recently announce a couple of player additions: forwards Giuseppe Gentile and Monbo Bokar. Gentile is no stranger to San Antonio. He returns on loan from the Swiss side FC Chiasso, where he went after spending last season with the Scorpions. Gentile has only ever managed a handful of starts at the pro level and in most of those he's been uninspiring. At 22, Gentile is a project player, someone who should be given minutes and patience in the hopes of blooming. He's not the answer at forward and sits well down the depth chart. But in all honesty, there's no criticism that could be lobbed at Gentile that couldn't have also been said of Christian Ramirez before his breakout year last season. Picking up Bokar, who played with Gentile at UNC-Charlotte along with current Scorpion Tyler Gibson, is a good club building move. This is a good trio of young talent familiar with each other and poised to grow into their own as they look to carve a place for themselves in the San Antonio starting XI. Again, neither of these moves will address the needs of the Fall.
But the attacking and middle thirds are not the glaring issue in San Antonio. The defense is the real concern. Everyone should demand more from Adrian Cann, Nana Attakora, and Julius James. Only James at centerback and leftback Stephen DeRoux have been granted a consist position. Cann and Attakora have been shuffled between centerback and rightback all Spring making consistency an issue. Factor in the failure to find a suitable position for Gibson or Zourab Tsiskaridze (both have been dropped into central midfield, centerback, and fullback), an over-reliance on the mediocrity of Josue Soto, and the failure to hold Sporting Kansas City loanee Saad Abdul-Salaam, it's clear the defensive strategy of the team is less adept than one would expect. Slipshod, you could say.
Perhaps the best news for San Antonio is that it will be facing Edmonton twice in July (7/5 and 7/15). Why is this good news? Because Edmonton will still be without its best player Lance Laing, who now that Miguel Ibarra has transferred to Club Leon is the most dangerous left side player in the league. Laing will still be with Jamaica for the Gold Cup. If the Scorpions were able to capitalize on Laing's absence to pick up full points against Edmonton, then that could be the spark to invigorate the team.
Fall Prediction: Fifth.
The San Antonio Scorpions are a good team but they are underachieving. Massively. Attitudes need to change. If that happens, then I could see them shaking off the doldrums over the Fall perhaps, earn a spot in the playoffs. Big if though.