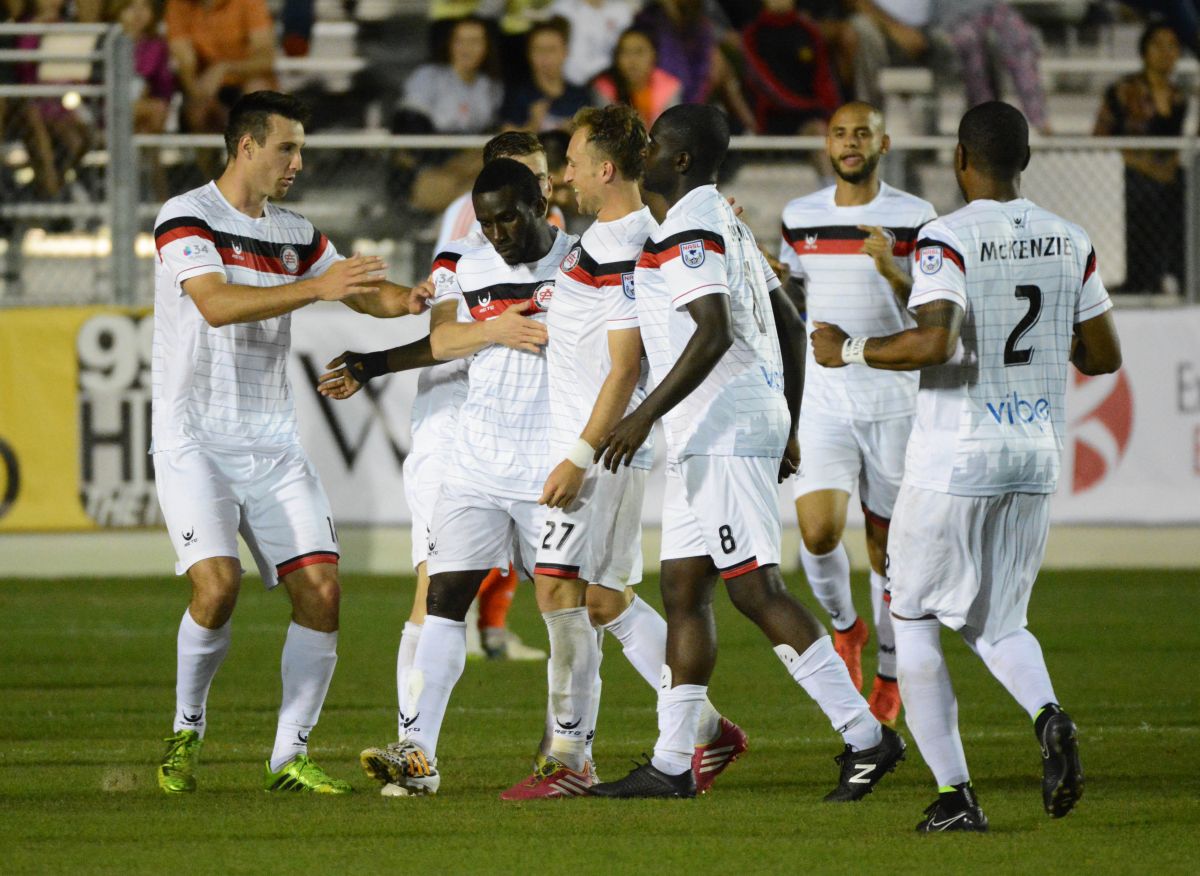 Looking Forward: The Atlanta Silverbacks
The Atlanta Silverbacks don't score goals. It wasn't always the case. Last season, forward Jaime Chavez briefly lit up the league and ended 2014 with nine goals, that's two more goals than the entire team has managed this season. However, that was an Eric Wynalda led Atlanta, and it feels like a distant memory. League-owned and in the crosshair of MLS expansion (Atlanta United FC will be officially revealed July 7th) that will most certainly dissolve the Silverbacks as an entity, Atlanta is a defensive team. If Atlanta doesn't find a way to go on the offensive, then it will continue to fade away and that would be a gross disservice to its fans and players.
Only the Ottawa Fury have scored fewer goals than Atlanta, yet only the league's best teams  such as New York Cosmos, Tampa Bay Rowdies, and Carolina Railhawks have allowed fewer goals. Anchoring the defense are centerbacks Simon Mensing and Rauwshan McKenzie, who have developed an excellent partnership. Yet you can only do so much in the defensive third. Neither scoring nor allowing goals has meant the Silverbacks style of play has been epically dull. Atlanta's play embodies the cliché kind of soccer rotund mouth-breathing, knuckle-dragging gridiron fans believe is the norm. It's disheartening, and it is so because the Silverbacks are a better team than it lets on.
Atlanta's forwards (Chavez, Shaka Bangura, Hans Denissen, and Matt Horth) can score goals, but only when they get proper service and can resist the central midfield vacuum. The cause of Atlanta's anemic attack is a lackluster midfield or, rather, one that's too defensively minded, too tepid. Although Michael Reed and Dominic Oppong are stalwart and capable, they are not suited to operate in the attacking third. In Atlanta's system, too often a hole open ups between the center of the midfield and the forwards. It is a gap that far too often is expected to be filled by the forwards. Out wide there is an imbalance. Jonathan Okafor is more adept at policing the left rather than generating from it (but his pace and boldness suggests he could turn that around quite soon). The right side of the pitch is the team's only real source of service. Yet, if midfielder Kyle Porter or fullback Kyle Miller (both playing well this season) have a bad day at the office or are closed down by the opposition, then there is no threat. The Silverbacks have only really looked dangerous when Denissen has been on the field. His placement in the line-up changes the Atlanta from a rather static 4-4-2 to a slightly more dynamic formation that moves between a 4-2-3-1 and 4-4-1-1.
There have been moments of brilliance: Porter's goal against Ottawa to salvage a point, Okafor's set piece goal against Carolina to secure the first win of the season, and the heroics of goalkeeper Steward Ceus against the New York Cosmos and Ft. Lauderdale Strikers to guarantee back-to-back scoreless draws. Yet, draws barely keep a team afloat and any goodwill built up is wiped away when the inevitable collapse occurs (4-2 against FC Edmonton and 3-0 against the Tampa Bay Rowdies). If Atlanta hopes to survive and thrive in a manner similar to what Minnesota did when it was league-owned, then it must find a way to score.
Will Atlanta look for a trade or a new signing to inject some life into their limp attack? From within the league, acquiring a player like Ft. Lauderdale winger Evans Frimpong or Minnesota forward Geison would certainly bolster the attack as would plucking someone from the USL like Louisville City forward Matt Fondy, Pittsburgh's midfielder Rob Vincent, or Real Monarch's forward Max Rauhofer (all of these players are having exceptional seasons at the third tier). It's possible that a new signing, trade, transfer, or loan might happen, but it's more likely Atlanta's budget won't allow it. This means someone must step-up and be the goal scorer, and until someone does, Atlanta will not get out of the cellar.
Fall Prediction: Sixth.
Atlanta is only a bit of luck away from climbing the table. I can't see them winning the Fall, but I can see them putting enough pressure on to vie for fourth place, the last playoff spot.