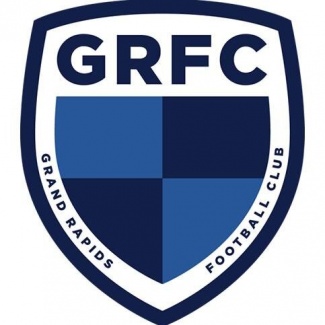 Grand Rapids Football Club NPSL 2019 Season Preview
Grand Rapids Football Club are preparing for the 2019 NPSL season, and have announced a wide array of international talent in the hopes of improving on last season.
The west Michigan club is looking to improve on last season's disappointment and have many reasons to look forward. After bowing out of the NPSL Midwest playoffs in the first round on penalties to Duluth, GRFC fans will feel hard done by—but that won't stop them from hoping for silverware at the end of the 2019 season.
With several fan favorites returning from last season and several international acquisitions, the Grand Army, GRFC's official fanbase, will feel that their squad can achieve a higher finish than last season in the league as well as a longer playoff run.
A large Irish contingent makes up a percentage of the returning roster, with Jack McCarren and Davenport University student athletes Matthew Whelan and Daire O'Riordan all returning to play the 2019 season. A dream debut season for Whelan last season saw the Irishman notch eight goals in twelve appearances.
Caleb Postlewait returns for his third season where his defensive leadership will be on display again, keeping eleven clean sheets in twenty one appearances.
Greg Timmer and Jake Vanderlaan are both returning for their fourth seasons after hamstring and ACL injuries respectively kept them both out for the 2018 season. All time leading goalscorer Scott Doney also returns for his fourth season, looking to add to his ever-growing tally.
Youngsters and locals Jalen Rodriguez and Eric Conerty both return for the 2019 season as well. Rodriguez will look to improve on his three-goal-season last season, where injuries limited his gametime. Occupying a wing or wing back role, Rodriguez will enter his third season with the boys in blue. Eric Conerty, a Grand Rapids native, joined the club midway through the 2018 season, making just five appearances and scoring one goal. Conerty is a Forest Hills central alum, and currently is enrolled at Western Michigan University.
The club have also announced several new signings. With a well-travelled veteran in George Jermy, GRFC stated their intent for the season by signing the thirty-year-old who has had stints at clubs like Norwich City FC, Villarreal CF, and Bournemouth, to name a few. The Englishman has his experience in the NPSL as well, having joined FC Arizona midway through their unbeaten regular season campaign in 2017. Jermy, often used in a variety of midfield positions, has played over 250 games through his ten-year career and has most recently taken up a player/manager role at the amateur Spanish club he founded, CD Almunecar City.
Goalkeeper Brandon Gomez is another off-season acquisition for the 2019 NPSL season. Another current Almunecar roster member, Gomez has played at the collegiate level with Vanguard University and was named to the United Soccer Coaches All-Southwest Region team. The California native played the last three seasons with Orange County FC before signing with Almunecar for the current European season. During the 2018 NPSL season, Gomez was named the NPSL Best XI Goalkeeper after leading Orange County FC to the West Region final.
Continuing with the international theme that the club have been guiding their scouts with, the news of another New Zealander wasn't a surprise to the GRFC supporters. Daniel Mulholland, another former Almunecar player, has international experience and plenty of club-level experience for his ripe twenty-two years of age. The kiwi led Team Wellington to an Oceanic Champions League title and a place in the most recent FIFA Club World Cup. Utilized most often on the wing, Mulholland has a proven track record of producing in the final third.  
Despite this international agenda, GRFC have also looked locally for talent, and they found some in the shape of goalkeeper, Joe White. The Englishman played a season with Stevenage FC before heading stateside where he attended university at Warner Pacific University and then Hastings College, where he there won a national championship in the NAIA and was named national tournament MVP. White has played in both the PDL and NPSL, most recently with Lansing United in the 2018 campaign where they won the Milk Cup.
The most recent signing, Wladimir Babaew, has experience in the NPSL with FC Columbus, but also has international experience in the Russia U16 squad. The 22 year old played two seasons at NCAA D1 level with Northern Kentucky but transferred to Saginaw Valley State this past fall. The German-born defender missed only seven minutes in the whole of the 2018 NPSL season with FC Columbus.
The club have sadly had to say goodbye to local legend Noah Fazekas, who has announced that he has played his last season with GRFC. The goalkeeper was known for his tremendous team spirit and energy and his ability to lead, something that is not easy to replace.
With the mixture of international zest combining with a solid base from the previous season, Grand Rapids Football Club have many reasons to dream of a championship. Houseman Field will be the home of the blues for yet another season, a place the club have been able to call home since their founding.
The club currently have fifteen players announced, with more surely to be on the way.
Grand Rapids FC begin their campaign with a home fixture under the lights against Toledo Villa FC on May 18th.