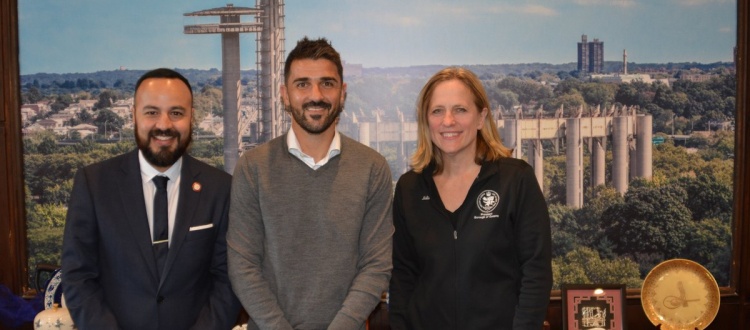 David Villa-Backed Queens USL Project Targets 2020 Start
The David Villa-backed USL Queens project is looking at getting off the ground in 2020, according to  sources with knowledge of the group's plans. The project, spearheaded by David Villa's DV7 Academy, is focused on getting a soccer specific stadium built in Queens.
In late September, Villa met with Queens Borough President Melinda Katz and Queens-based New York City Councilman Francisco Moya to discuss the plans.  Queens Borough President Melinda Katz tweeted, "A pleasure to welcome soccer legend @Guaje7Villa to #Queens Borough Hall today alongside @franciscomoyany to discuss the future of The Beautiful Game in The World's Borough."
While the stadium is the centerpiece of the project, it is understood that the group is prepared to kick off in a temporary venue in 2020 prior to the full stadium project being completed.
As I reported on my Twitter account back in late September, a DV7 Academy representative I spoke with on the phone confirmed the project was real earlier that month, but he said it was inactive.  The meeting with Katz and Moya demonstrated that it was making progress.
Following that, local Queens reporter David Brand discovered some additional details about the project, including info from the Borough President's office that the discussion with Villa included a "proposal to build a 10,000- to 25,000-seat soccer stadium in the Willets Point redevelopment area that would serve as home for the Queensboro Football Club, a proposed new team that would play in the United Soccer League, a second division professional league."
This echoed comments from Katz in January 2017 at a State of the Borough event where she reportedly told the crowd, "Let's consider a soccer stadium at Willets Point."
Online resources estimate Villa's net worth at $50M, which would put him well over the $20M threshold to be the primary owner of a USL Championship team.  However, given the costs associated with operating a Division II soccer team in the New York area – the Cosmos reportedly lost around $10M per year between 2013 and 2017 – Villa's group would be well served to seek additional investor backing to realize their complete vision including constructing a stadium. 
Now that Villa has left NYCFC for Japan, it may clear the way for him to come out in the open about this project which is not believed to be affiliated with his former club and could in fact be competing with it in some ways.  Some have speculated the project could be announced in the near future, and the 2020 start date targeted according to our sources supports that.
A USL Queens team building a stadium at Willets Point could been seen as a black eye for Major League Soccer.  It could also be a point where the interests of USL and MLS are at odds. One prominent US soccer figure told Midfield Press that MLS officials have not been supportive of this effort.  MLS commissioner Don Garber recently downplayed a similarly ambitious Chicago USL bid, which features a Lincoln Yards stadium project that would put the Division II club downtown while the MLS franchise languishes in the suburbs.  The Queens USL effort seems to have strong political support in the form of Borough President Katz, as well as City Councilman Moya, a noted Barcelona fan who was an avid backer of the original effort to bring MLS to Queens.
Villa is not the only figure linked to the USL Queens project.  Following up on Brand's reporting of the potential club name, I took a screenshot at the time of the QueensboroFC.com domain record whois listing, which is now masked by the DomainsByProxy service. As of early October, the QueensboroFC.com domain name was registered to Bizzy Signals Entertainment, a company owned by a former Soccer United Marketing executive named Michael Cohen (no, not Trump's personal lawyer, it is a common name).  The Bizzy Signals website describes Cohen as "one of the founding executives of Soccer United Marketing he played a key role in building the company…" and also lists the United Soccer League among the organizations he has worked with.  However, we were unable to confirm Cohen's involvement as calls to Bizzy Signals by both myself and Brand went unreturned.
If successful, the USL will have pulled off a remarkable feat in building a soccer specific stadium in New York City where New York City FC has struggled to make significant headway and the New York Cosmos ran into political obstacles that derailed the RFP issued for land they intended to use for a world class 25,000 seat stadium at Belmont Park. While the Queens USL project appears to be making strong progress, New York soccer fans know well by now how stadium projects can go off the rails in a variety of ways, so an extra serving of caution in cautious optimism may be warranted for any fans looking forward to the prospect.
A Queens-based USL team would enter a pro soccer landscape where it is competing with MLS teams in the Bronx and New Jersey, as well as the "NPSL Pro" based New York Cosmos whose first team last played in Brooklyn at MCU Park and will relaunch in August 2019 in the NPSL Founders Cup in an as yet to be determined location.  While the market may sound crowded by American standards, it is important to remember the New York is a metropolitan area has 20 million residents and cities across the world of that size support numerous professional soccer teams at various division levels, albeit with lesser competition from other popular sports.
Queens has long been eyed as an ideal location for a high-level professional soccer team. The New York Mets ownership was linked on and off with pursuing a Major League Soccer franchise since at least 2007 and up until MLS got into bed with their crosstown MLB rival the Yankees in 2013. Willets Point is thought to be an good location to draw crowds from Queens, an ethnically diverse borough which is home to many soccer fans.  In 2013, Empire of Soccer analyzed possible stadium locations in New York City for MLS and rated Willets Point among the top two realistic options.  
A soccer specific stadium and a front facing investor with the high profile of Villa would provide this potential team with far more credibility than the last time USL entered the Queens market, with one (USL) season and done FC New York playing out of Belson Stadium back in 2011. However, for the project to fully realize its ambition, it may need additional investor backing akin to what the Chicago USL project got with the owners of the Chicago Cubs.