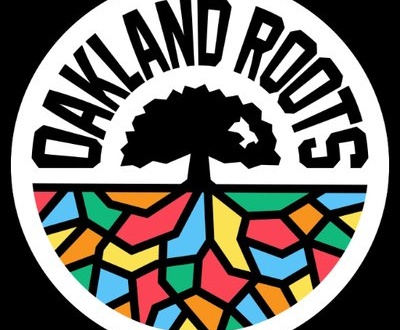 Oakland Roots Join NPSL To Bring Community-Based Pro Caliber Soccer To The Town
A year ago, the Oakland Roots were just a dream.  Two Oakland natives, Benno Nagel and Edreece Arghandiwal, nurtured the concept of a soccer club that would make community service the centerpiece of its vision.  A year later, that dream has a widely acclaimed logo and is moving closer and closer to reality.
The Oakland Roots have joined the National Premier Soccer League (NPSL).  They will be founding members of a new division of the NPSL, often referred to as "NPSL Pro" by fans (the official name of the league is yet to be announced). The Roots will play in the freshly announced NPSL Founders Cup starting in August 2019, which will include at least 11 teams. Esteemed soccer clubs such as New York Cosmos, Miami FC, Detroit City FC and Chattanooga FC will come in from the East, along with leading NPSL sides Miami United FC and Milwaukee Torrent, while Oakland's western rivals will include California United Strikers FC, Cal FC, FC Arizona and ASC San Diego. The first full season play of "NPSL Pro" play will kickoff in Spring 2020, with yet more teams joining at that time.
Benno, Edreece, and their team of Oakland soccer diehards (including Midfield Press writer Tommy Hodul who has taken a communications role with the Roots) have put in hours upon hours laying a foundation in the community.  In addition to this, the group spent time identifying like-minded investors who could help provide the financial backing to allow the Roots to operate at a professional standard while staying true to their mission.
The Oakland Roots found their man in Bay Area investor Steven P. Aldrich.  Aldrich currently serves as the Chief Product Officer for GoDaddy, and sits on the boards of tech company Blucora and local nonprofit the Bay Area Glass Institute.  Aldrich walked onto the soccer team during his time at the University of North Carolina, though he ultimately found that he was a more competitive athlete in the sport of fencing, which he ended up focusing on at school despite being a goalkeeper at heart.  Steven played soccer in grad school and currently tends the goal in an adult league. Prior to joining GoDaddy, Aldrich served as CEO for several tech startups including Outright, Posit Science, and Interactive Insurance Services. In between he served as VP of Strategy & Innovation for Intuit.  He holds an MBA from Stanford University and spent time as an associate with McKinsey. In addition to Aldrich, the Roots have the backing of other Bay Area investors who are silent partners at this time.
Joining up with the Roots allows Aldrich to re-connect more deeply with his love for soccer, while tapping into his passions for startup projects as well as giving back to the Bay Area community through the Roots' soccer for social good vision.  Midfield Press was able to speak with Steven P. Aldrich about what inspired him to become the lead investor in the Oakland Roots.
1. Why is Oakland a special place for you?
I live in the Bay Area.  Oakland as a community is very passionate about all things Oakland.  There are a lot of people who love both Oakland and soccer. There is an opportunity there.  There is also the timing aspect. The Warriors are moving to San Francisco. The Raiders are moving to Vegas.  The teams you grew up rooting for are no longer going to be local. We can offer the local fan base something to root for.  
2. Can you provide an overview on your business and investing background?
I've got a lot of different pieces and parts that come together that make this a really exciting opportunity personally.  I played soccer growing up. I have a lot of team orientation in my life. I was on the fencing team in North Carolina. My approach to business is very team oriented.  My father and I used to go to every sporting event we could whenI was growing up in Ithaca, NY and Chapel Hill, NC. I walked on as a soccer player at North Carolina but never played.  I viewed myself as a soccer player and goalkeeper, but fencing was an opportunity where I could compete. My son plays soccer today, and I do as well to help keep in shape.
On the professional side, I am an entrepreneur.  For most of my life I have been an entrepreneur or been at a business that helps entrepreneurs.  I love the energy that comes with starting things and then growing them to be sustainable. I have spent my time and my money for many years on sustainable efforts in the Bay Area that involve great people.  For example, I have been on the Board of the Bay Area Glass Institute for 15 years and it gives me huge pride that there are tens of thousands of people who come and experience the art and artists who work with glass art there.
Joining up with the Roots taps into my passion for  teams, community, and my deep rooted belief in the ability of sports to connect people.  It also appeals to my entrepreneurial background and desire to invest my time and energy in local grassroots efforts.
3. What inspired you to become one of the lead investors in the Oakland Roots?
Benno and his team are amazing.  As an investor, our job is to be both a cheerleader and also to be asking questions of the team that help lead them to long term success.  When I think of my job, as well as that of other investors on the board, it is to make sure we have great governance and great leadership. I was blown away by Benno and his passion.  He has been putting in the difficult hours to build a community connection for the last few years. They have a set of people with the passion and skills and energy to make this happen.
4. Was the community oriented vision outlined by Benno and Edreece a factor?
Benno and Edreece realized that we need the community's voice.  They got a Community Advisory Board started early on so that they got feedback early and often from the community.  We asked, what community values do you want to see reflected in the team? This informs our decisions around our brand.  The community voice in building the club is important.
As we are setting up the club, one of the goals is to create revenue streams that can support community impact.  How do we take what we are doing, and bring investment back into the community? The goal is to take a piece of the revenue stream and reinvest it back into the Oakland community with input from our Community Advisory Board.
The other thing we are seeing in Oakland is that we have a diverse set of stakeholders in community activists, soccer enthusiasts, and the city government.  Benno has done a good job of connecting with each of these groups.
5. How do you think soccer can help fill the void that the NFL and NBA will leave in Oakland?
One of the local residents said that the team needs to be a hub for the community.  Not just a place where players play. It need to provide opportunities to enrich the lives of people in the community.
That speaks to the idea of a reinforcing relationship between community and club.  That means making ticket prices affordable. Making sure the youth squads have access to the professional players.  
The goal is to be very clear that we are here for the local community, we want their involvement, and we want to provide a model of behavior that gives them hope and excitement for their city.
6. What attracts you to the model NPSL is pursuing with "NPSL Pro" versus the traditional franchise sports model?
We want to create a great soccer experience for the community.  There really are not that many choices when you look at the current landscape of soccer in the US.  We want to create a competitive team that has a good set of teams to play against. The mentality of the league has been let's try to leave as much money in the clubs as we can so they can spend it on the fan experience and on the product on the field.  The mindset which allows local teams to have character and freedom is very attractive.
7. What kind of caliber of roster can we expect to see from the Oakland Roots next year?
The amazing thing that Benno has brought with him is this deep connection to the Bay Area soccer scene.  The team we signed for the US Open Cup had some high profile players. We had Matt Fondy, the USL MVP from 2016, as well as several other former pros.  We will announce our spring roster in the early part of 2019. We will definitely put a quality product on the field like that. When we played the Stompers in the Open Cup, we played beautiful soccer.
8. The Bay Area recently saw the San Francisco Deltas come in for one season, win a championship, and fold.  How will you as an investor in the Roots work to prevent this type of fate?
I'm glad the Deltas took a shot at bringing another Pro soccer team to the Bay Area, and I was sad that they only played one season. We have worked hard to understand what it means to have a community supported team.  We have engaged the community from well before the team is up and running. We have engaged the community to create a bottoms up effort. We want to be about civic pride. Additionally, we want to build it to be sustainable.  We need to spend in ways that we can support. It may take time to create revenues. We are going to be thoughtful about building a model that is sustainable that gives us time to build a fanbase and create revenue streams from tickets, sponsorships, and merchandise.  Perhaps we can develop some players who we can get transfer fees for down the road.
9. What would you like to see the Oakland Roots become long term?
We want to create a great soccer experience.  We want the community of Oakland to be deeply proud and deeply involved in the club.  We want to be a force for social good. We want to help the city do things it could not have done before in the youth area or in bringing diverse groups of people together.  We want the community to be so excited that they are working with us to help grow the club. I want people to say, I loved going to that game, and because of what I experienced there I went back.  I want folks to be saying the same things about the Roots in 10 years that they say about the Warriors now in terms of the pride they take in the team.
10. What else would you like to share about this project that we have not discussed?
In summary, the leadership  team is made up of incredibly passionate entrepreneurs.  They are passionate about Oakland, and they are passionate about soccer.  When you get those things together it bodes well for the success of an entrepreneurial endeavor.  I am grateful Benno came to me. We are at the beginning of a journey. We care deeply about what we are doing.  We are here to get the best community engagement and the best product on the field. We want to hear from the community on how we are doing as we roll this out.