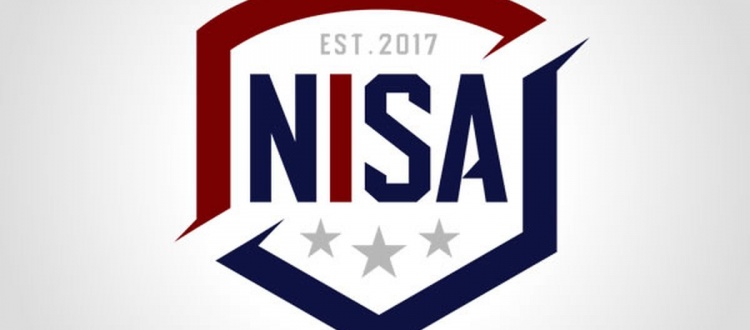 NISA Submits Application For Division III Pro League Sanctioning
The National Independent Soccer Association (NISA) has submitted an application to be sanctioned as a Division III league in accordance with the US Soccer Pro League Standards, the league announced today. The league aims to start play in August 2019.
"NISA's application meets or exceeds all Federation standards. There are currently no sanctioned Division III League in American soccer," the NISA release states.
The USSF's Pro League Standards (PLS) for Division III are as follows per the 2014 document:
VI. Division III Men's Outdoor League:
a. Composition; Play
i. League must have a minimum of 8 teams to apply.
ii. U.S.‐based teams must participate in the U.S. Open Cup.
b. Stadia
i. All league stadiums must have a minimum seating capacity 1,000.
c. Financial Viability
i. League must demonstrate adequate financial viability to ensure continued operation on a season‐by‐season basis either in the form of a performance bond or similar instrument for each team in the amount of two hundred and fifty thousand US dollars (US $250,000), or readily‐available league funds representing such amounts. The funds will be used to cover the costs of the teams' operations (including, without limitation, player and staff salaries and wages, stadium lease commitments and third party vendor obligations in addition to commitments by each team to the league) for a season, should that become necessary. Any team whose performance bond is used during the season will be required to replenish it at least 120 days prior to the next season.
ii. Each team ownership group must demonstrate the financial capacity to operate the team for three years. As part of the process of demonstrating financial capacity, each ownership group must provide detailed financial history (if applicable) and projections (including a detailed budget) for the team to the Federation in a form satisfactory to the Federation. In addition, each team must have and its governing legal documents must designate one principal owner with a controlling interest who owns at least 35% of the team and has authority to bind the team. Such principal owner must have an individual net worth of at least ten million US dollars (US $10,000,000) exclusive of the value of his/her ownership in the league or team and his/her primary personal residence. Federation shall have the right to require an independent audit to establish that the principal owner's net worth meets this requirement; the cost of such audit shall be the responsibility of the team or league. The Federation will take reasonable steps to protect from disclosure and limit access to financial information provided under this section.
NISA has been in the works for over a year.  The league was originally envisioned as a potential partner to the then second division North American Soccer League (NASL), but the NASL's de-sanctioning among other issues created an environment of uncertainty around independent pro soccer that delayed many plans.
NISA did not announce which markets were included in the league's sanctioning application.  Among the groups rumored to be involved with NISA are the former NASL applicants in Atlanta and San Diego (1904), as well as original NISA applicants in Connecticut/New England.  It is expected that NISA will officially announce which markets are involved at a later date.
Per USSF board member John Paul Motta, the next USSF board meeting is October 18, 2018 in conjunction with the National Soccer Hall of Fame inauguration, which will take place in Frisco, Texas.  It is unclear if both NISA and USL D3 will receive a decision at this meeting or prior to it, but it sets a general timeframe in which we can expect to hear back on sanctioning of these two Division III applicants.
—
The text of the press release:
NISA SUBMITS APPLICATION TO ESTABLISH NEW AMERICAN PROFESSIONAL SOCCER LEAGUE
 CHICAGO, IL – September 4, 2018 – On Friday, August 31 the National Independent Soccer Association ("NISA") formally petitioned the United States Soccer Federation for admission as a Men's Division III Professional Soccer League.  By submitting this paperwork, NISA has asked the U.S. Soccer Federation to approve the league for play in 2019.
The U.S. Soccer Federation has strict requirements for professional soccer leagues seeking to play in the United States.  These Professional League Standards require that American leagues meet certain requirements relating to financial stability, stadium size, geographic distribution and number of teams.
NISA's application meets or exceeds all Federation standards. There are currently no sanctioned Division III League in American soccer. 
NISA expects to begin play in August 2019, with professional teams throughout the country bringing an exciting new brand of soccer to the American landscape.
ABOUT NISA:
NISA is an American professional soccer league.  Owned by its member clubs, NISA seeks to establish an affordable and sustainable lower division league.
Unlike other domestic soccer leagues, NISA has no entry fees.  This allows NISA clubs to invest more heavily in players, youth development academies and infrastructure while remaining fiscally sound. 
NISA will play on the international fall-to-spring calendar.  This integrates NISA clubs into the worldwide game by facilitating seamless scheduling with clubs throughout the world and allowing full participation in the international transfer market.
NISA is headquartered in Chicago, Illinois.