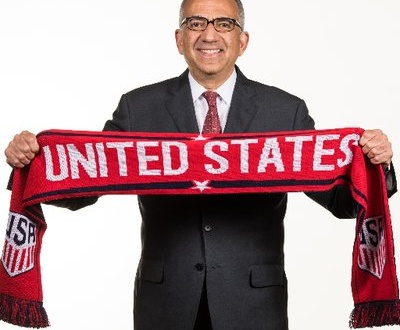 USSF Should Turn The US Open Cup Into An Engine That Drives Grassroots Growth
Most of the public attention on the United States Soccer Federation (USSF) presidential election earlier this year was focused on the reform candidates who injected new ideas to the debate on how US Soccer should be run. However, after the first round it became clear that the majority of those with votes were choosing between the perceived status quo candidates, then-current Soccer United Marketing (SUM) President Kathy Carter and USSF Vice President Carlos Cordeiro.
Rather than a status-quo candidate, it may have been more accurate to view Carter as a different kind of "change" candidate than Wynalda or Martino. Her changes would likely have just been in a different direction, but the consequences may have been significant. Seeing that a reform message was resonating with some voters, Cordeiro positioned himself as a modest reformer. Carter's ties to SUM were a double edged sword.  On the one hand, it delivered her the majority of the Pro Council votes that owners in SUM, yet on the other hand the conflating of interests between the marketing company and USSF under Sunil Gulati troubled some voters. After all, the ascension of SUM's president to USSF president could have signaled a mandate for the total subordination of all US soccer interests to those of SUM.  
Ultimately, when MLS and those following their lead saw that Carter would not win, they settled for the status quo guy, or modest reformer in the eyes of some.  Perhaps lost in the disappointment among many fans thirsting for significant change that Wynalda, Martino or another reform candidate did not win was that instead of a mandate for the further conflating of SUM and USSF, the voters made a statement that there is an identity for the US Soccer that is broader than just MLS interests, by rejecting Carter and electing Cordeiro.
Cordeiro devoted the months following his election almost exclusively to winning the 2026 World Cup, and securing the future financial windfall it represents for USSF.  The 2026 World Cup will be a cornerstone of his legacy. However, the new USSF president, a former Goldman Sachs exec, has yet to show he is about much other than money. He has yet to fulfill promises of reforms beyond creating General Manager positions for the national teams, which some view as simply creating a new job role with unclear responsibilities. If he wants more than a one-dimensional legacy, Cordeiro should look at ways to establish an identity for USSF apart from the national teams and SUM's MLS.
Another legacy opportunity exists for Cordeiro and like-minded USSF board members in the form of the US Open Cup.  The Open Cup is US Soccer's longest continuously running competition, but the governing body treats it as an afterthought instead of a crown jewel.  In terms of prestige independent from MLS, right now all of the Federation's eggs lay in the basket of the national teams. While the USWNT seemingly always delivers, the USMNT showed how fragile that can be.  Elevating the US Open Cup to a flagship annual event would give the USSF an additional symbol that inspires hope and possibility into every soccer-loving corner of the country.
Pro soccer and adult amateur soccer have been growing at a fast pace over the last five years, but the highest rewards are reserved for 23 going on 28 MLS franchises, three of which are not even based in the USA.   One of the reasons why the early rounds of the Open Cup tend to be more popular than the later rounds is that the Cup offers the only opportunity in a closed system for meaningful games across divisions. Those matches typically take place up until about the Fifth Round.  Last year, Miami FC and FC Cincinnati kept the Cup interesting longer than usual. Last night, Louisville City FC was the final non-MLS team to get bounced from the 2018 US Open Cup, exiting in the quarterfinals.
The US Open Cup can be a vehicle through which the USSF rewards aspirational clubs based on sporting merit, rather than "business metrics."  A strong US Open Cup, which offers significant prize money, even at a loss to USSF, would be an investment into the pro and adult amateur game across the country beyond MLS. This change would not replace the empowerment to clubs across the nation that an open system with promotion and relegation would bring about, but making the Open Cup a higher profile and more lucrative would help in the interim.
Here are 7 changes USSF could enact to make the Open Cup an annual event that generates enthusiasm appropriate to its rich legacy:
Change 1:  Create a Women's Open Cup
While our women's national team consistently win trophies today, there is some concern that other nations are closing the gap on the USWNT.  John Lenard over at SocTakes wrote an article recently emploring the USSF to add a women's version of the competition. Having a Open Cup that delivers meaningful cash prizes for women's teams makes just as much sense as it does for the men's teams. In additional to the NWSL teams, such a tournament would likely clubs from the WPSL, UWS and an Open Qualifying phase.  This may be one of the best things USSF could do for the future along with the expansion of NWSL and creating and nurturing a professional women's second division.
From here out, the article will focus on the men's Open Cup, but many of the ideas would be adaptable for either competition.
Change 2:  Prioritize the Cup – Prize Money, Broadcast, Sponsorship & Scheduling
The USSF, via SUM, bundles the media rights for the USMNT and USWNT with those of MLS, in a deal that many observers feel unfairly shifts money in MLS's direction.  Adding the Open Cup to the bundle and giving it some priority would have help shift the balance back into the right direction of the Federation's properties, and grow the game across various levels in the country. Going forward, US Soccer should bundle the Open Cup into their TV rights negotiations and use their influence to have a national cable network pick up at least one featured match per round to increase the Cup's exposure.  
Increasing prize money is one of the obvious ways to spice up the competition.  I mean not only a big pot of gold at the end of the rainbow for the winning team.  Nor do I mean limiting prize money only to the furthest advancing team from each sanction level.  Rewards should be given to all teams that advance to each subsequent round.
Broadcast for the Open Cup has seemed to be an afterthought.  Many matches have been available on USsoccer.com for free the past few years, which on one hand is a nice gesture.  However, the stream is available only on their site and provides a lower quality user experience, in my opinion. USSF should make sure the online streams are easy to consume on various platforms, such as putting the matches on services like YouTube, which can be streamed via devices such as AppleTVs that allow fans to watch the games on their TVs for a higher quality experience.  
Additionally, Open Cup matches should be scheduled on the weekend more frequently, ideally Saturday, rather than midweek.  Midweek matches tend to be lightly attended, and constantly scheduling Cup games for the middle of the week is part of what brushes the competition under the rug.
Attracting sponsorship also needs to be a priority. The US Open Cup is formally known as the Lamar Hunt US Open Cup.  Not to detract from Hunt's historic role in US Soccer than spanned decades across both the original NASL and MLS, but the naming rights for the tournament should be for sale just as England's venerated FA Cup is called the Emirates FA Cup.  Bringing sponsor dollars into the competition and including it in the broadcast deal will help generate revenue to offset some of the prize money being awarded.
In terms of actual dollar amounts, it is hard to say but I would suggest a total prize money package of at least $10M, but not much more than $1M in total for the winner. All participating clubs should be rewarded, and those that advance rewarded more and more along the way.  USSF should make sure the costs of participating do not outweigh the benefits to fledging clubs in the lower divisions. A relatively small amount of money per team in the early rounds, something like $20,000, can make a big difference to the open division teams.  Open Cup participation should be positively impactful for the annual operating budgets of the smaller clubs involved, not be an existence-threatening glory hunt.
Change 3:  Move Qualifying to Late March-April the Year of the Cup, Instead of the Fall the Year Before
In addition to issues like prize money, the way the competition is structured today makes it more difficult for the underdogs.  Eligibility drama surrounding four clubs this year highlighted some of the quirks of the current setup. The three North American Soccer League clubs, the New York Cosmos, Miami FC and Jacksonville Armada, who found themselves without a pro league to play in this year after the NASL was de-sanctioned by USSF, were ultimately permitted to enter teams into the Open Cup through an appeals process. But there was no justice for El Farolito of San Francisco, who lifted the Cup as champions in 1993. If Open Qualifying took place in the weeks before the main tournament, these four clubs could have entered through that process, without all of the controversy.
As described more thoroughly by Tommy Hodul in his piece for Midfield Press, "Is The US Open Cup Really Open?", El Farolito actually earned their way into the tournament via the Open Qualifying process that ran from September to November of last year.  Yet because they switched leagues, from the historic regional San Francisco Soccer Football League to the National Premier Soccer League, they were disqualified.  
This is a rule that for practical purposes only impacts amateur clubs who earn their way into the tournament via Open Qualifying, since that process takes place in the Fall the year before the main competition and most league changes happen during the offseason.  Since Open Qualifying had started, El Farolito's league switch is considered to have taken place mid-tournament, whereas professional clubs like Indy Eleven and North Carolina FC, who moved from NASL to the United Soccer League, are permitted to continue due to the automatic berths granted to pro teams that enable them to start in the tournament proper in May.
This isn't El Farolito's problem alone, Minneapolis City SC was disqualified for the same reason the year before.  Rather than change the rule, it probably makes more sense to change when Open Qualifying takes place. There is not to my knowledge a good reason why qualifying takes place six months before the start of the actual tournament.  For example, weather challenges in October-November are fairly similar to those in March-April in much of the country.
In addition to the league-switching gotcha, the burden this places on smaller clubs in terms of roster continuity is unreasonable. The practical matter of having players cup-tied for the tournament also hamstrings adult amateur teams.  For example, several FC Arizona players turned out last September for the UPSL's Sporting AZ FC in their Open Qualifying matches. FC Arizona's NPSL season was done, and they had already qualified via league play for the Open Cup. These players needed to earn a living, and some signed up with Sporting to help them, unclear that they would be Cup-tied when the tournament proper started next year. Instead they were unavailable for FC Arizona during its first round match, which happened to be against – you guessed it – Sporting AZ.  While players moving between teams and being cup-tied happens across the world, the main player movement window in the US is between December and February, which means, again, the adult amateur teams are more adversely affected by the current system than the pros. This situation is neither club's fault, but instead another unfortunate quirk of the current format of the tournament.
Impact on which teams can participate in an Open Qualifying period that starts in March versus September should be minimal in terms of a delta of who it works well for and who it does not.  Teams from the Premier Development League, which almost exclusively uses college players, typically don't participate in Open Qualifying due to the timing of it now, and that issue would be a neutral change in a move to a late March start.  Most of the clubs in Open Qualifying play in either the United Premier Soccer League or in regional USASA leagues, such as the Cosmopolitan League in New York, the United Soccer League of Pennsylvania in the Philadelphia metro area and the SFSFL, where El Farolito came from.
From a storyline perspective, a late March start for qualifiers would also maintain the momentum of a Cinderella Cup run from qualifying right into the main tournament.  If NPSL and PDL teams that did not get an automatic bid be able to assemble a squad a few months earlier than usual to play meaningful matches that could lead to revenue opportunities due to increased prize money (see above), it might also encourage some of them to enter the Open Qualifying phase assuming we get rid of the silly rule standing in the way of that which causes some adult amateur teams in national leagues to enter Open Qualifying under different team names.  
Change 4: Main Cup competition gets 128 spots, and ALL teams start in the First Round
The most popular tournament in US sports is the NCAA's March Madness. David and Goliath storylines are the lifeblood of tournaments like this, exemplified this year by Loyola Chicago and University of Maryland Baltimore County in the men's NCAA tournament.  Yet the Open Cup format currently minimizes the potential for these attractive underdog storylines by placing MLS teams directly into the round of 32, with only 12 non-MLS clubs left in the tournament by that time. While Spain also does this in the Copa Del Rey, in England and Germany the top level teams start in the round of 64.  However, given the size of this country and the fact that our first two divisions contain many more teams than in England, Germany or Spain, a Round of 128 start would provide a tournament format that is appropriately inclusive to both professional and adult amateur clubs across the USA. Plus, more chances for upsets equals more fun and opportunity to generate interest.  Regional bracketing that is more strictly adhered to than in March Madness would work better due to travel costs.  The idea of cramming the tournament into one month, while potentially thrilling, is probably a bridge too far for the participants to consider.
This year 97 teams have participated in the main Open Cup tournament, not including qualifiers:
20 US-based Major League Soccer franchises

22 US-based United Soccer League teams that are not MLS-2 teams (23 were eligible, Rio Grande Valley opted out)

3 Continental US-based, former North American Soccer League teams

20 teams from the USL's Premier Development League

19 teams from the National Premier Soccer League

13 teams from Open Qualifying
2019 may be a banner year for professional soccer expansion. Another 6 independent pro teams are set to join USL D2 in Memphis, Hartford, Birmingham, El Paso, New Mexico and Austin. First, with USL D3 looking likely to start in 2019, we can expect roughly 6-8 more independent pro teams from there.  South Georgia Tormenta, FC Tucson, Madison, WI and Greenville SC teams are already confirmed for USL D3 and it seems likely they will get at least two more independents to go along with MLS2 teams dropping down. The Rochester Rhinos could return at either the D2 or D3 level. NISA might kick off with 8-10 new pro teams as well.  So right there, you are talking about potentially 20-24 pro teams. Let's go with 20, since there is usually churn of several teams per year, and assume we're up to 117 teams already.
108 teams competed for the 13 Open Qualifying spots this year, so having more Open Qualifying spots available would be a great thing. As it stands, one Open Qualifying spot is going away and being given to the winner of the US Amateur Cup, the USASA's annual tournament for amateur teams.  As pro soccer grows, it may be necessary to expand the tournament beyond 128 teams, possibly with a play-in round for more Open Qualifying teams, but for now that number should work.   The tournament should not have less than 20 spots made up by clubs who earned their way in via the Open Qualifying process. These adult amateur clubs add a unique flavor to the competition and their success inspires people to to create new clubs in communities across the country, which is good for the growth of the sport.
With Open Qualifying starting only a few weeks before the main tournament in this model, I would prioritize additional Open Qualifying spots over automatic places for NPSL and PDL.  Right now those leagues are given 19 berths in the case of PDL and 18 in the case of NPSL. For context, 19 berths means 25% of PDL's 74 teams made the Cup in 2018. The number is absurdly high when you consider that PDL clubs and many NPSL clubs (the ones that use college players) are not even setup to be able to play past early August, as Beau Dure pointed out in his Open Cup reform piece.  What would happen if one of them made it to a semi-final? Would they bring in a whole new roster?
Reducing those numbers to only NPSL/PDL conference/division winners (13 of 98 teams for NPSL and 11 of 74 for PDL) to make room for more Open Qualifying spots would make sense.  Any NPSL/PDL teams who do not automatically qualify due to reduced spots and wanted to field a team of non-college players could still join the new Open Qualifying process starting in late March, after all.  Consideration should be given to automatic berths for top finishers in the fast-growing UPSL as well.
One consequence of MLS franchises starting earlier in the tournament is that they will have to play two more matches, which is not a lot to ask in terms of the top division giving back to the lower leagues. MLS squads tend to be much deeper in quality than those in every other league in the USA, with a number of them having second squads in USL they could tap into in early rounds.
Change 5: Lower Level Club Gets Right of First Refusal to Host, or Subsidized Travel & 50% Share of Gate
Part of the spirit of revising the Open Cup to be a celebration of soccer communities across the country is to put investment into the lower leagues of pro soccer and into adult amateur soccer.  Unfortunately, the current model can end up costing clubs more than they earn to participate. Christos FC famously had to front $10,000 a few years ago, which created cash-flow problems for the club until they were repaid  many months later by USSF.  USSF should take the sensitivity of these issues for the Cup's smaller clubs into account when awarding prize money.
By giving the lower league clubs the opportunity to have right of first refusal to host a larger club, the USSF would be offering them an incredible marketing opportunity in their community.  If, for whatever reason, a club could not take advantage of this opportunity, an alternative would be to subsidize their travel to the larger club and split gate receipts evenly. In England, an away Cup match at a big club can be an enriching experience for a lower division club since the gates and TV money are split evenly.  While US Soccer does not yet have a team that generates revenue on the scale of Manchester United for a lower division club to get a taste of, we certainly can do a lot better than nothing.  Participation in the US Open Cup should grow a lower league club's fan base and finances, not stretch them to the brink.
Change 6:  Improved Regional Brackets
The staggered way teams at each sanctioning level are introduced into the tournament means that while the competition is hyper-regional in the very first round, by the Second Round, the travel distance can get pretty big, pretty fast.  For example, Indy Eleven started the tournament off in Clinton, Mississippi to play the Brilla. That is no one's idea of regional match up. By introducing 128 teams at once, USSF should be able to craft brackets that make travel sense within Northeast, Mid-Atlantic, South Atlantic, Gulf Coast, Midwest, Heartland, Northwest and Southwest regions until doing unseeded, national draws for the Quarterfinals and beyond.  Even if one region is a bit stronger than the others due to increased presence of higher level clubs, more regional matches will make the competition more relevant in local communities for longer in the Cup.
Change 7:  One Team Per Identity Rule / The Bethlehem Clause
Right now MLS2 teams are kept out of the US Open Cup, and generally this is a good policy.  However, MLS U-23 teams are allowed, since there are different rules for pro and amateur teams.  I would revise the rules governing this so that there is only one team per brand identity. You should not be able to have New York Red Bulls and New York Red Bulls U-23 for two shots at the Cup for one organization.  Same goes for New York Cosmos and New York Cosmos B. Pick one.
However, I would make an exception, with certain conditions, for reserve teams with unique identities representing geographically distinct communities. A distance radius from the parent team of 25 miles might make sense as a cutoff point. This rule would impact Bethlehem Steel FC, a name with a special history in the competition.  In the near future, it would also help FC Tucson as the USL D3-bound outfit are owned by USL's Phoenix Rising, Loudoun United when they debut as DC United's 2 team in USL and perhaps Seattle 2 when they are formally moved to Tacoma, assuming they take a "Tacoma" brand name.  It would not benefit Swope Park Rangers or Real Monarchs, who play nearby their parent franchises and are not representing a distinct geographic community.
The restriction I would apply to qualifying uniquely branded reserve teams is that these teams would not automatically qualify, but may instead start off in Open Qualifying. Their Open Cup rosters should only include players signed directly to that team. All of those players would clearly also be Cup-tied to the out-of-market reserve team and unavailable for the parent for that year's Cup tournament, even if they don't make it out of Open Qualifying to the main Cup.  
The spirit of this exception would be that the re-imagined Open Cup structure is about celebrating soccer in communities across the country, and it would be a shame to punish fans in those communities because the MLS in a city 25 miles plus away decided to take up the oxygen for a independent pro team in their market by planting a reserve team there.  In Bethlehem's example, the burden would shift from the USSF locking them out of the Cup, onto the Philadelphia Union to decide if they will invest enough in Bethlehem's roster to get them in.
A Celebration of Soccer Communities Across The Country
While the US Open Cup is the longest continuously running soccer competition in the country, it has evolved many times over the years.  In the 1920s and 1930s, back when it was called the National Challenge Cup, the competitors were mostly East of the Mississippi and many were clubs associated with companies, like the original Bethlehem Steel or the Fall River Marksmen.  The classic NASL did not participate in the Open Cup during the late 1960s through early 1980s, and it was a competition featuring mostly amateur teams. In 1996, this all changed with professional MLS teams joining.  
It is time again for the Open Cup to adapt its model to suit the next generation of needs in this soccer nation.  It is also time for Carlos Cordeiro to demonstrate to the US Soccer community that the interests of Soccer United Marketing do not supercede those of all of the sport's other stakeholders, as seemed to be the case under Sunil Gulati.  What better way for Cordeiro to step out from Gulati's shadow than to make a bold move that he would never make, and increase the chances for glory for any town across the country.
This new mission for the US Open Cup, with format restructuring and prioritization in USSF broadcast contracts, could turn the tournament from an afterthought after the last non-MLS team is eliminated into an engine that helps drive the growth of the game in many communities across the USA.