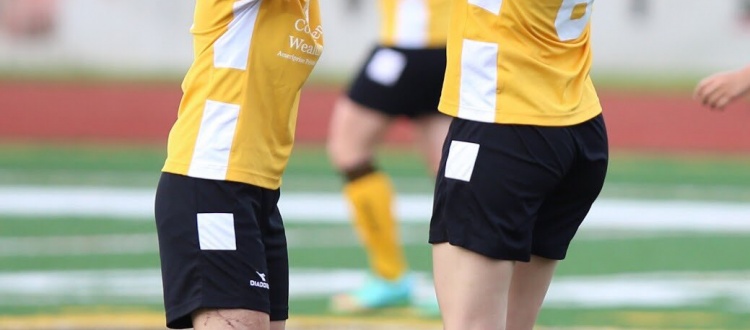 WPSL Columbus Eagles Flying on Early Success
The month of May saw WPSL side Columbus Eagles FC kick off an impressive start with wins against both the AAFC Lumberjills and Cincinnati Sirens FC as well as a draw against table-topping rival Cleveland Ambassadors in stunning fashion.
The campaign started on a warm day on the home pitch of Memorial Field (located on the beautiful Otterbein University campus). The Eagles enjoyed a rather dominating match against the Michigan side, enjoying 53% possession (unofficially) and outshooting an incredible 27 total (14 on target) compared to the Lumberjills 6 total, 3 on frame. That being said, the 12 save performance is hardly a bad day at the office for the AAFC backline. As the match progressed, in the 59' Eagles midfielder Larissa Najjar went down on a hard tackle. On came a more attacking-minded player in forward Rian Read as she hoped to make a difference in the 0-0 match. Just three minutes later, Read found some space and scored the opening goal of the Eagles campaign. As play restarted, the Lumberjills lost possession and the Eagles were on the assault. In the 65', Lisa Nouanesengsy found room and drove a well-placed shot low past outstretched gloves and into the far post side netting. As the match progressed, Columbus only grew in comfort. The Eagles ended the match with a 2-0 victory, looking forward to a road trip to Cincinnati.
Move forward one week. Columbus Eagles arrive in Cincinnati to face (Cincinnati) Sirens FC, one of the more physical sides in the division. The match began as expected, then things took a turn for the weird in the 12'. After a hard tackle and a suffered knock, it was determined that Cincinnati Sirens FC did not have a medical trainer on the grounds. Now, if you are wondering why this matters, in the second division of US Women's Soccer, the visiting team is not required to bring a trainer. However, the home side must provide one. Given that Cincinnati had not provided one, after some moments of delay, the officials declared the match a forfeit for Cincinnati Sirens FC, resulting in a 5-0 victory for the Eagles. After approximately two and a half hours of driving for the Columbus women and twelve minutes of play, it was time to head home. Soon would be the biggest test of their season. Early table-topping rivals Cleveland Ambassadors…in Cleveland.
Going into the match, Columbus sat first on the table with a 2-0-0 record accompanied by a +7 goal differential. Sitting directly behind were perennial challengers Cleveland Ambassadors with a 1-0-0 record and a +2 goal differential. Coach Daniel Seiffert and Captain Amber Kern appeared calm with their first major test, but things did not go to plan. In the first ten minutes, both sides showcased well paced and wide-based attacks. In the 13', Anna Rico found a breakthrough by driving down the left flank, cutting in, and getting past goalkeeper Hannah Sargent. Just one minute later, Emily Ogle took a shot from range that found its way into the back of the Columbus net to make a shocking 2-0 scoreline just 14' into the match. Columbus looked overwhelmed and shocked, struggling to win possession or form a threatening attack. As the heat started getting to both sides, the match slowed, but in the dying moments of the first half, Kayla Fischer demonstrated her best Michelle Akers impression by weaving through the talented Eagles backline, and finding herself unmarked she slotted it past a stranded Hannah Sargent to make it 3-0 with mere seconds remaining in the first half.
Coach Daniel Seiffert took his squad aside and did his best to rally the team during halftime. As the next half kicked off, Columbus appeared energized. There is a saying that goes "Don't poke the bear," well Columbus Eagles were the bear, and they had been poked. In the 50', the Eagles won a free kick. Stepping up to take it was Micaela Powers. With heat on the shot, the ball sailed above a stretching goalkeeper's gloves…but under the crossbar. Columbus were on the board and had forty minutes to score two more. Columbus kept up the pressure, feeling rejuvenated at the chance of a comeback. In the 62', Ashley Gogolin was on the ball. She calmly brought her head up and found Amber Kern making a run. With a perfected weighted ball, Kern sprinted beyond the backline and one-on-one with the Cleveland goalkeeper. With a bit of confidence and a dash of brilliance, Kern dribbled through and tucked a neat shot into the back of the net. 3-2. Just under half an hour left. Columbus felt confident, Cleveland looked nervous. In the 76', a long ball came flying in. Sloppy defending led to a fallen ball in the box. Who came to the end of it? None other than Erin Brockway. The Columbus touchline erupted. In just 31 minutes, Columbus overcame a 3-0 deficit. Hannah Sargent managed numerous brilliant saves to keep the comeback possible. Adison Preston also stood out with perfectly-timed challenges that could dispossess even the most brilliant of dribblers. Powers, Kern, and Brockway were on the scoresheet, but at the end of the match, every Columbus Eagle represented not just her club with excellence, but also her city.
After the match, I spoke to Coach Daniel Seiffert to not just review the match but also the month. To begin, we discussed coming up to Cleveland; "Cleveland is traditionally a really strong team. We knew we were going to have to come and put together a really strong game plan and execute really well. It was not a good first half at all, just our composure and energy was sucked out of us after the first goal. I cannot stand critical moment goals and we gave up one in the final minute. The coaching staff, we just asked for energy and the desire to compete. Credit to these women and the amount of energy and effort they gave in the second half. We had cramps, we had injuries, but the amount of effort these women gave, the drive they gave, we could not be more proud of the bounce-back we made. Credit to the women for saying we have more pride than this. It was a really good second half." I asked Seiffert if he feels this comeback can result in a momentum push for next week's match; "I'm a strong believer in learning from your mistakes and that first half was a mistake. It really should have cost us points, but we still got one. We learned we are not good enough to just show up. We can't just show up. This league is too talented. This conference is too talented, we have to go for a full 90 minutes of our best effort…it is a good bounce into next week, we are excited to be back home on our home turf after being away for two weeks." To conclude, we reflected the month's action of two wins and one draw in three matches; "We take it one day at a time, one game at a time, one practice at a time. It's a process, it allows us to see where we are each day, to see where we were two weeks ago against the Lumberjills to where we are now. It was a really good eye opener for us to realize how important that energy and effort is, how important that preparation is. We are in a good situation, we have put ourselves in a good situation but it's not over yet. We still have a lot of work ahead of us, a lot of season left ahead of us. We just take it one game at a time. Motor City is a terrific team so we are really going to have to be ready to play next weekend."
As the month of May draws to a close, June brings three home matches and one away match for Columbus Eagles FC:
June 3rd (7:00 PM EST): Motor City FC

June 10th (4:00 PM EST): @ FC Pride

June 16th (4:00 PM EST): Empire United

June 30th (2:00 PM EST): Indy Saints FC
On one final note, image credits goes to Ralph Schudel (@schudel_ralph on Twitter) and Columbus Eagles FC (@ColumbusEagles on Twitter). For all of the latest team news, make sure you follow the Columbus Eagles and for all of the latest in Columbus Sports, follow Ralph Schudel.