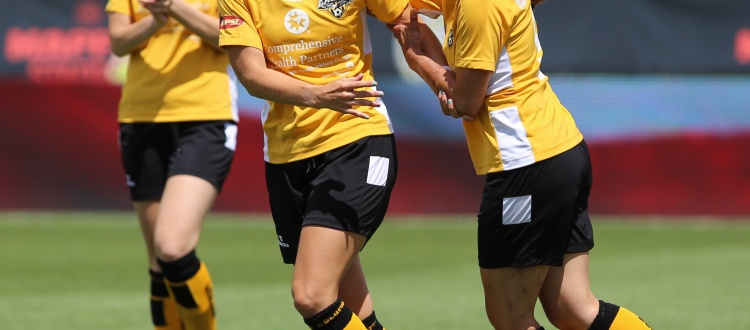 Soaring into 2018 with Columbus Eagles FC of WPSL
The WPSL, also known as the world's largest soccer league, sits in the second division of US soccer and features a team rallying with a community to develop the beautiful game. The Columbus Eagles, located in Columbus, Ohio, are gaining support rapidly as partners with the #SaveTheCrew movement. As Midfield Press expands into covering the Women's Premier Soccer League, I had the opportunity to attend some early practices, dive into the family atmosphere the club presents, and discuss all things Columbus soccer with members of the team.
I can tell you all about how the side has already set a season membership sales record, trains at a tempo that rivals those of world-class sides in Europe, or will be looking to be champions of the new 'Valley' division while defending their home at Otterbein University, but hearing from the club representatives themselves is more impacting.
I started off my interviews by catching all-star defender Amber Kern after practice at the SuperKick facility in Lewis Center, Ohio.  The strong-tackler discussed her excitement for this season, saying "…I guess as an individual I've really prepared myself. I think last year I was probably not in as great of shape as I am now so I've been making sure to get that ready. A small group of us have been training with a former Crew SC player these past weeks so I'm just ready for this season to start and I think I've done everything I can leading up to training now." Curious about how the Eagles were shaping up this season compared to last, Kern mentioned "…The team environment just feels a lot more competitive and just a really good environment that is bringing out the competitive nature in us…we are really close on and off the field as of recent. I think it is still just building relationships on and off the field which we can always work on." For those who are unfamiliar with the league, Amber Kern compared it to her college days at Akron University; "It's similar, but also different. In college, we were playing every single day for three hours every day at least with training and lifting. There was more familiarity with the girls. Here, we only get together three times a week so it is important to take care of business on your own. Most of the team is out of college so we have a good understanding of what we need to do as individuals as far as getting our touches and fitness in. It's different, but it is still very competitive so I think you get used to playing a certain style going into college. Here, there are so many different styles of play so we are incredibly dynamic on the field."
To close out the interview with Amber Kern, we looked towards the future with her message for all of the future Eagles (and maybe other clubs) out there. "I would just say don't let anyone tell you what you are capable of because you are able to do way more than what anyone says you can or can't do. I would just say that it is important to just follow your dreams and passion. No matter what level you are, you can always push to get better. I'm post-college and I love playing still and I always come out here to try and get better. Do everything you can to get better every time you step out onto the field."
After a great conversation with Amber Kern, I sat down on the pitch with team CEO Mark Wise to delve into the conversation of team growth. Starting with the origin, I asked the founder why he decided to place a women's team in Columbus. "Love of the Women's game. Inspiration from Mia Hamm and the Fab Five in the 1999 World Cup and having the professional leagues pass over Columbus three times. I live in Columbus, I want to be able and go watch professional women's soccer in Columbus then I'm going to go and try to see what I can do to make it happen." Leading into the question on Columbus soccer fans minds', I asked what the club's biggest selling point was. Wise responded with an answer I can verify from what I got to see as true; "It is good soccer. I mean if you are a soccer fan, this is good soccer. Sometimes the Men's game gets to be about power. The Women's game is just beautiful. We've got some of the best women's players in the area and if you enjoy soccer you will enjoy this." As for those of you wanting to see good soccer but can't locally, the Eagles CEO discussed the club streaming all matches, an asset not many second division teams across the world can offer. Wise believes this is the big breakout year for the Eagles. With a record for season member sales already, he stated "It appears to be anticipating. That anticipation is there, like going to the Crew on opening day. I don't know what is going to be there on opening day". As we were being told we had to leave for the facility to close for the night, I managed to ask Mark Wise for one word to describe the Columbus Eagles. Without hesitation, "Inspiration" is the word I heard.
To close out the interviews, I sat down and had a terrific phone call with head coach Daniel Seiffert discussing the tactics and outlook of the team, along with getting his opinion on a couple of talking points discussed with Amber Kern and Mark Wise. Coach Seiffert is looking to bring in "soccer to be played in a beautiful way…high energy, high octane offenses that are just a joy to watch…" along with dynamic buildups. Seiffert said with confidence that his team is more prepared this season than in previous years, citing the SuperKick facility as a massive boost for training. However, a concern that I'm sure every coach will relate to is the question of team chemistry, but it is a minor concern at the end of the day.
Going into the questions that Kern and Wise had faced earlier, I asked Coach Seiffert to use one word to describe Columbus Eagles FC. One word was not enough for the charismatic coach, citing "Family. Committed. Passionate." as his three words of choice. Coach Seiffert closed out the interview with a message to future players near and far; "Just keep loving the game. Keep playing for the love of the game. We get into this habit of overthinking and getting burnt out on the game. Just enjoy it and just have fun. We want to compete, we want to win, but continue to make it fun."
Columbus Eagles FC is a team bursting with a family feel on and off the pitch. With character near and far assisting the seemingly endless talent, this season is sure to be a success. For those of you in the area, gather your friends and family and go to Otterbein University to catch a match. For those outside the area, head over to http://www.columbuseaglesfc.com/wp/ for the latest news and video. Sit back and enjoy 2018 as Midfield Press looks to bring you the best WPSL coverage.
All Images acquired from Columbus Eagles FC