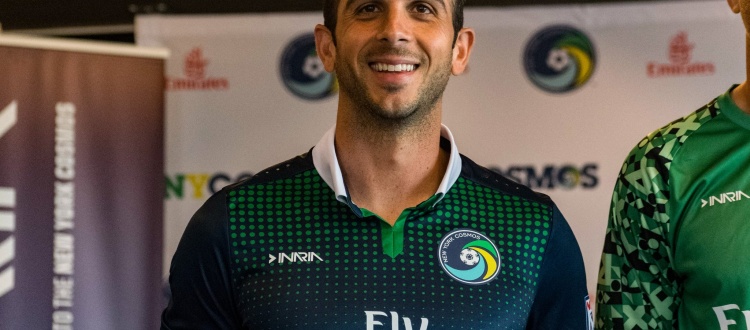 From Captain to Coach: Carlos Mendes Eager To Do The Cosmos Name Proud
Photo by Steve Hamlin
Carlos Mendes was the perfect first signing in the New York Cosmos reboot era. Mendes was a respected veteran leader, who played for the New York Red Bulls of MLS as well as the Rochester Rhinos and Long Island Rough Riders in USL. Just as important, he is also a Long Island native, specifically from Mineola, very near Hofstra University's Shuart Stadium, where the club would call home for the first 3.5 seasons of the new era.  Mendes brought the right mix of local roots, and professional credibility to the table. He would go on to serve as a cornerstone of Giovanni Savarese's Cosmos, who won three NASL Championships in five seasons.
As red, white and black confetti rained down on Kezar Stadium last November, 9000+ San Franciscans rushed the field to celebrate a team most of them never had seen before, and likely would never see again.  The Cosmos had been denied a fourth NASL title by the upstart, cinderella Deltas. The players, staff and a handful of fans who had traveled for the final gathered after the match Cioppino's, a nice Italian restaurant near Fisherman's Wharf. That private room near the San Francisco Bay, with dinner and drinks provided courtesy of the club's still relatively new owner Rocco Commisso, would be the scene of the end of the Savarese era.  The NASL would cancel the 2018 season. Many of those Cosmos players and staff would move on to other teams. Mendes and a few other players would hang up their boots.
The New York Cosmos had become a tight knit community during the years since the reboot match against the Fort Lauderdale Strikers in August 2013.  There was a tremendous amount of continuity of players and staff meant that the bonds forged with the fans grew deep. A shared sense of a purpose to return the historic New York Cosmos to greatness, and the battles with MLS/US Soccer that resulted, forged a strong identity among those around the club.
The Cosmos of old were a club that defined the status quo, while these new Cosmos defied it.  The new Cosmos dared to sign big players outside of MLS, bringing in Marcos Senna, Juan Arango, Niko Kranjcar and Raul, paving the way for lower division teams to follow.  They strived to play attractive soccer, and won trophies doing so. They beat New York MLS teams three times in the Open Cup, including two wins against the Manchester City-owned franchise that had tried to co-opt their legacy, including Pele in one of their hype videos without referencing the Cosmos name. New York Cosmos supporters unfurled a banner that would make them the among the first in a wave to call for "Sunil Out", the resignation of longtime USSF president Sunil Gulati, with his deep ties to Major League Soccer.
As they say, every ending is the beginning of something else new.  As this new era starts, with Cosmos B playing in NPSL this year in lieu of a pro league the club can call home for 2018, Cosmos fans hope that Carlos Mendes will prove as brilliant a signing a manager as he did a player.   One thing that is clear from a conversation with Mendes is that the Cosmos name means a lot to him, and that he cares a great deal about the attractive style of play and championship mentality the Cosmos were known for during the Savarese era.  While it is likely that only the hardest of hardcore fans will make their way out to the NPSL matches regularly this year, those that do can take comfort in the fact that the team will be led by Mendes from the sideline, and captain Danny Szetela on the field, two individuals who care as much about the club as any of those most committed supporters do.
1. Congratulations on being named manager of Cosmos B.  What does it mean to you to go from captaining the Cosmos, to taking the reins as manager?
For me, it is exciting. I am very proud. The Cosmos mean a lot to me. To now have the opportunity to start the next chapter with the club, and have the opportunity to be a part of this club on the other side, is something I am looking forward to and am grateful for.
2. You've made some encouraging signings so far.  Danny Szetela, Bljedi Bardic and Alexis Velela returning to the club are particularly encouraging to a fan base that valued the continuity of the Gio era.  Can we expect any more familiar faces from Cosmos past?
We don't know what the future holds.  We've reached out and we'd love to get as many guys who've been involved in the past.  But we're happy with Danny, Bardic and Alexis. Most of the other guys have found jobs somewhere else.  We are looking to add one or two difference makers we have to supplement what we have.
3. Other than the familiar faces, how will you be sourcing players for the team?  Did the tryouts go well?
We had the tryouts.  There were a few players who have stood out and have been with us in training.  We are fortunate. We have had a lot of players contacting us. There are a lot of guys looking for opportunities and places to play.  It's been a good mix.
4. Will there be an opportunity for young players from the youth programs or generally from the New York area to use this time to get a foot in the door with the Cosmos?
Absolutely.  For me, that is important. We have already signed a few guys who played for Cosmos B before.  We have also signed a guy like Joey Sanchez, who played at Adelphi and I know well. We want to have guys that have played locally.
5. It was great news for the Cosmos that the club was permitted to play in the Open Cup, but with that is the potential for 3 matches between Sunday May 6th and Wednesday May 9th.  How do you plan on handling the fixture congestion, especially given what the Open Cup means and how hard the club fought, off the field, to get into it?
We will have to see.  We realize it will be a busy start to the season.  For me, right now, the focus is to get the best group we can get and a good balance.  We're going to have to use everybody. We will need everyone to chip in, it won't just be 11-12 guys.
6. You had a long and decorated career as a player beyond your time with the Cosmos.  What experiences and mentors will you draw from in your new role?
I will drawn on my experience on every level.  I was very fortunate to play with great players.  I've played for some of the biggest coaches. Coach Gio and his staff, of course.  Luis, who I am lucky enough to still have with me. You take a little bit from everybody.  I played for Bruce Arena, Juan Carlos Osorio and Bob Bradley. You pick up on different styles, different drills, different ways of looking at the game.  I've been lucky enough to be around some of the best.
7. The fans got used to a particular style of play under Gio.  Possession based, building from the back, overlapping runs. Can we expect to see a similar style from manager Carlos Mendes, or will you take a different approach?
For me, I like to play attractive soccer.  I realize with the Cosmos, that's how we played.  I would love to continue to be a team that tries to play and open up the field.  To be dynamic, when guys get forward give them the room to be themselves. You have to see the players you have, and what fits you best, but we're definitely looking to play attractive soccer.
8. This is obviously a unique season given the circumstances with the NASL.  What can fans expect from the Cosmos this year?
You will get a team that will go out and compete.  We want to be fun to watch. The team has to be a difficult team to play against.  I want us to give 100% on both sides on the ball. We want to make the fans proud. We have the history of the New York Cosmos to live up to.  The name carries a lot of weight, it doesn't matter what league you are in.
9. What are you and the players hoping to see from the fans?
Hopefully we will still see support.  It is a different situation. We realize it is a different league.  I hope that we still have fans behind us that still come out and enjoy the games.  I hope we will make them proud.
10. Looking at the bright side, one of the positives of playing in the NPSL versus the NASL is the local matches – and in the Cup that first week could pit the Cosmos against historic New York clubs like the Brooklyn Italians and (if successful there) the Lansdowne Bhoys.  One thing I think you can expect from the fans is some traveling support because of local matches, perhaps similar to what you saw in Reading last year. It will certainly be a different mix of opponents than recent years. Have you gotten to know much about some of the clubs the Cosmos will be facing in the coming months?
Luckily, we have staff around me with folks who have been involved in Cosmos B and know the NPSL.  I am able to rely on some people who have been there and done that. I think the most exciting thing is that we will be playing teams that will be close together. That always adds a competitiveness and rivalry.  It will be fun, and I'm excited for it.
11. What are your goals for the season, in terms of on the field success?
You have to focus on being successful in the league. From there, getting in the playoffs, and to play for a Championship in July and August.  I've always taken pride in the Open Cup as well. Hopefully we can make some noise there.
12. Miami FC and Jacksonville are playing in the NPSL Sunshine Conference.  Can we expect to see any friendlies between the old rivals this year?
We are in conversations with a lot of different people and clubs about possible friendlies.  We also have to be realistic and look at the time frame we have. We have to take it all into consideration.  We will see which opportunities make sense.
13. If all goes well, would you be interested in the Cosmos "A" manager role assuming the opportunity arises?
Of course.  For me, it is one step at a time.  My focus is doing well with Cosmos B in the NPSL.  This club means a lot to me. Our owner is very committed.  It has been a privilege to play for him and work for him. It is something I would definitely consider.
14. Is there anything else you would like to communicate to Cosmos fans?
Very excited, and grateful for this opportunity.  I am hoping to put out a team you guys can be proud, that will play attractive soccer.  Come August, hopefully we can be playing for a Championship.