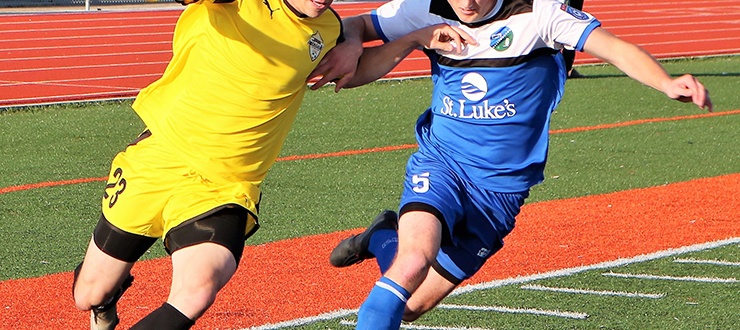 2018 NPSL Conference Preview: NPSL North
The NPSL North is a relatively new conference, having just started in the league last season.  But not all of the teams are relatively new to NPSL, in fact the Minnesota TwinStars are one of the founding members of the league.  Aris has also been part of the NPSL for about a decade, having started out in Eau Claire, Wisconsin and moved to nearby La Crosse. Prior to 2017, the two clubs travelled quite far for their NPSL matches.  
When the regional American Premier League joined with NPSL after the 2016 season, this new conference formed around those two long time NPSL clubs, along with many of the American Premier League teams and Minneapolis City SC of the Premier League of America. The merger also saw the NPSL grow in Minnesota with Duluth FC and Rochester Med City as well as Viejos Son Los Trapos in St. Paul to pair with Minneapolis City, while adding clubs in each of the Dakotas, Sioux Falls Thunder and Fargo-based Dakota Fusion.
Duluth FC finished atop the division in 2017, edging the Dakota Fusion by a point, but flaunting a goal differential +14 better than the next closest team, suggesting their first place position was well earned. Dakota and Duluth both fell to Detroit City FC in the NPSL playoffs, in the first and second rounds respectively.  Minneapolis City SC had fun with a fate that many would say is unjust, celebrating being tossed from the Open Cup for switching leagues as an amateur team as an "undefeated" run (Pro teams can do switch leagues without Open Cup repercussions, but amateur teams cannot).
The inaugural season of the NPSL was a success for the clubs in the conference. A rarity in lower league soccer, all of the 2017 NPSL North teams will return for 2018.  "The North Conference is quite well established. No new teams and more importantly, no departures. Everyone is coming back stronger and better organized. We could've added more teams but the limited time for the regular season schedule made it impossible," said Tim Sas of Duluth FC.
Team Profiles:
Dakota Fusion
Location: Fargo, North Dakota
Stadium: Jim Gotta Stadium at Moorhead High School
Owners: Amanda and Sajid Ghauri
General Manager: Rollie Bulock
Head Coach: Nick Becker
Team Story So Far: "Dakota Fusion FC is a locally owned semi-professional soccer club.  Based in Fargo, DFFC was launched by Amanda & Sajid Ghauri on February 13th 2016.  Sajid Ghauri, CEO of Dakota Fusion Futbol Club, has been playing or coaching soccer for the last 40 years.  Sajid and his wife, Amanda Ghauri with their four Kids are very active soccer players themselves.
"Previous to DFFC, Sajid Ghauri and his company, NTSI, were providing opportunities for young adult players, nineteen and over, by sending them to different tournaments and funding their expenses.
"The goal of Dakota Fusion is to provide a professional, safe and positive soccer environment while developing talented local and regional players.  We will strive to develop players capable of competing at the highest levels of competition. We will also strive to increase an awareness and appreciation for the game of soccer and increase the opportunities for young people in our area." — Rollie Bulock
Community Impact:  "After a successful first season the local soccer community recognizes that there is an opportunity to play at a higher level beyond high school and college." – Bulock
Point of Pride: "Part of the DFFC mission is to provide opportunities for our players to get recognized and possibly play at the next level.  We had several players get contacted by foreign and US clubs as well as sending one player to the NPSL Players Showcase." – Bulock
2017 Season: 9-5-0, +10 GD, 2nd Place, Midwest Playoffs, 1st Round
Standout Players: Jade Johnson, Zuheer Al-Abase
Duluth FC
Location: Duluth, Minnesota
Stadium: Public Schools Stadium
General Manager/Owner: Tim Sas
Head Coach: Joel Person
Team Story So Far:  "I gathered in a number of friends who were all older men who played competitive soccer, and we started playing in the local competitive men's league, the Duluth Amateur Soccer League.  The team itself got started almost as a joke; I had been busy with work and had gotten out of shape and was not playing in the league any more. I met with my friend Jake at a coffee shop and asked a friend if I could get back in.  He joked that I should start a team, and said he would join my team.
"Then a couple of other friends said, 'I heard from Jake you are starting a team, where do I sign up?'  Then I sent an email and we got together to play for fun. As we had a good enough group, I asked whether we should really do it – we had the skill but not a lot of youth.  So I emailed the commissioner of the local league. The local league administrator added us to his league as 'Tim's team' because we didn't have a name or anything, it was just guys playing.  This is very early 2015. I asked the guys what name we should have team, we were kicking around names, and we decided to be purists and just go with Duluth FC. That's how we got started.
"We played in the Duluth amateur league in 2015, and there are a lot of local college players and immigrants from South America in the league so it is pretty good quality.  We quickly realized having 15 of 24 guys over 35 years of age on the roster was not going to work, no matter how good we once were. Within 2 weeks, 12 of the 24 on the roster were out for the season with injuries.  So the league administrator was nice enough to let me get some new players, which I got from the local high schools. So I just ended up coaching and managing because I was hurt. We ended up having a really good season, so much so that we started getting noticed.  
"At that point, I was contacted by a regional league called the American Premier League.  The regional league covered the same area the NPSL North Conference does.  I was pressured by my friend, Youssef Darbaki of the TwinStars, into joining this league, which the TwinStars had a second team in.  I was not sure about it because I had a team made up half of old farts and half of young kids.  We had a good season as a league and got some national attention from Midfield Press and GoalNation, among others.  The American Premier League began conversations about a merger with the old Premier League of America, but in the meantime Youssef and I began talking to the NPSL.  We found a good fit there where the old APL became part of the NPSL North, and Minneapolis City SC joined us from the PLA." – Tim Sas
Community Impact: "1) Our club tithes our income from our home matches.
2) Kids get in with food donation which we collect for the local food shelves.
3) Our players volunteer with young kids in our local community." – Sas
Point of Pride:  "Easy to turn to the NPSL North Conference Championship in our inaugural season in the NPSL 2017.  More importantly, the fact that our club has become part of the fabric of the city of Duluth, is something I feel very thankful for." – Sas
2017 Season: 8-, +24 GD, 1st Place, Midwest Playoffs, Semi-Finals
Where The Players Come From: "Slightly more than half are local players, the rest are recruited from throughout the country and by open tryouts." – Tim Sas
Standout Players: Tom Greensall (GK), Gonnie Ben-Tal (D), Sean Morgan and Joe Morgan (M), Kyle Farrar (F)
La Crosse Aris FC
Location: La Crosse, Wisconsin
Stadium: Viterbo Athletic Complex
Owner/Head Coach: Greg Saliaras
Team Story So Far: "In 2008 the team was established in Eau Claire WI. There was a need for a higher level soccer team for kids ages 17-19 to get them prepared for college play, get them noticed and develop them as better players.
"Every year the team has been consistent in including local youth talent in its ranks and surrounding those kids with college players from around the area. Our youth is not there just for 'decoration' they play significant minutes in every League game and it is a joy to see the level of progression from beginning to end of season. Our record might not show it but we have been very successful placing all our youth players to colleges around the Midwest which makes us very proud.
"Last year was our first full year in La Crosse WI and we are looking to build a rich tradition within the community. This is our 10th year of existence and we are looking for many more. The name of the team was inspired from my personal favorite Greek team Aris of Salonica which I supported all my life." – Greg Saliaras
Community Impact:  "Our biggest impact is the development of the youth soccer player and offering a chance to showcase them at a bigger stage. Also we have several international college players that after coming and spending a summer in La Crosse have made this community their home and they stay, study and work here now." – Saliaras
Point of Pride: "We are one of the smallest if not the smallest market in the country. We have one of the worst records in the history of the NPSL but yet every year we are part of a great organization, we put a team on the field that competes for 90 minutes and we have stuck to our mission of developing youth talent." – Saliaras
2017 Season: 0-13-1, -60 GD, 8th Place
Where The Players Come From:  "Traditionally half of our players have been local youth players and the other half college players from around the Midwest. This year we are working on mixing it up a little more." -Saliaras
Standout Players:  Christian Fernandez, Evan Espellian, Addison Freybler, Adhemar Lino and Yoshi Kogiso.
Med City FC
Location: Rochester, Minnesota
Stadium: Rochester Regional Sports Center
General Manager:  Frank Spaeth
Head Coach: Neil Cassidy
Team Story So Far: "I was approached in late-November 2016 by two friends with the idea of starting an NPSL team in Rochester. I thought it was a great idea and we went for it. We were officially announced as a team on December 21, 2016. Over the next few months we put the team together and built a volunteer staff to make it all go.

"Our goal was to build a team that our entire soccer community could be proud to support. We built strong connections with several youth clubs in the area and worked with them to promote the team.

"In year two, our goal is to do the same kinds of things we did in year one, only do more of it and do it better! We believe we're on the way to doing that!" – Frank Spaeth
Community Impact:  "Our club has had a big impact on our community in many ways. First, about a third of our team was made up of players who live or have a local connection to the area. We're providing a platform for those players to represent their community and play at a higher level right here in their own home town. Second, we've connected with the youth soccer clubs and our goal is to create an environment and opportunity where our local kids can dream of one day being part of the team. Third, we've brought some high-value, low-cost sports entertainment to the community." – Spaeth
Point of Pride: "I'm proud of all that we were able to do in such a short time and the success we had doing it. I'm proud that we were able to bring soccer together in our community, which has several youth clubs and other soccer-related organizations, and become the city's team. I'm proud that so many of our great sponsors are returning for year two as we look to grow." – Spaeth
2017 Season: 7-3-4, +7 GB, 4th Place
Where The Players Come From: "Last year, we had 8 guys with local ties on the team, and we had another 17 guys who go to colleges all over the country and represent 11 different countries throughout Europe, North America and South America." – Spaeth
Standout Players:  Matias Pazos, Ignacio "Nacho" Garrido, Ignacio "Iggy" Milla, Nate Levy, Midhat Mujic, Tiernan Talbot, Jared Wolt
Minneapolis City SC
Location: Minneapolis, Minnesota
Stadium: TBD, Edor Nelson Field under renovation this year
General Manager: Dan Hoedeman
Head Coach: Adam Pribyl
The Story So Far:  "Back in the day the Minnesota Thunder was a place for top Minnesota talent to play and it was a personal, homey, ramshackle experience. We wanted to bring that back.

"We added a twist: we gave supporters a clear and permanent voice in running the club. We called it DIY Soccer, and we aimed to use people power instead of a billionaire to create the club we wanted. We have been as surprised as anybody that it's worked like it has." – Dan Hoedeman
Community Impact: "Community has been a cornerstone of what we are doing since the beginning, and we are proud of how we have used soccer to do good.

"We don't recruit players from other states and countries like so many others do. We're here to help the players in our community, and we're proud of having done that. We're help first team players financially and professionally. With our former development player program and now U23s, we look for emerging talent and have a focus on identifying and supporting players from outside the typical USSF DA system. We run free camps and clinics. We work with local YMCAs to run their camps. We're involved with Big Brothers Big Sisters, The Minneapolis Foundation and other groups to make sure that we're active in our community and getting kids out playing soccer in a healthy, positive environment.

"Sport can make a difference in people's lives at all levels. So we're making sure that the community has access to it at all levels, and have since the beginning." – Hoedeman
Point of Pride:  "While it's pretty cool that a bunch of average people outside the Minnesota soccer old boys network were able to pull this off, I am most proud of the community work we have done.

"I can remember a little kid who was at a few of the New Hope YMCA clinics showing up to our game, seeing Martin Browne out on the field, getting giddy with excitement and telling his Mom that he saw his coach, wasn't it awesome and that he wanted to play soccer forever.

"That memory sticks with me because I can remember being a kid and watching indoor soccer–it was a long time ago–and getting so excited when I met those players, how it inspired me to keep playing soccer, and in doing so I met one of the founders of Mpls City and so many other things. It was surprisingly seminal in my life. Maybe it will be for that kid, too. That would be cool.

"I have other memories from senior players, development players and camp attendees about their experience with the club and it's pretty overwhelming. We spend a lot of time sending out Grumpy Cat memes, so it's really powerful when you hear that the other, more serious efforts had an impact."  – Hoedeman
2017 Season: 8-5-1, +15 GD, 3rd Place
Where The Players Come From:  "Minnesota. We have a rule that players must be Minnesotan, which, in practice, means simply that players must be in Minnesota for reasons unrelated to playing soccer for Minneapolis City.

"Because of that, we have great relationships with local clubs like MTA, Shattuck-St Mary's, Minneapolis United, St Croix, etc and look to them as the 'talent conveyor belt' for our NPSL team."   – Hoedeman
Standout Players:  Martin Browne (MF)
Minnesota TwinStars FC
Location: Maple Grove, Minnesota
Stadium: TwinStars Stadium
General Manager: Youssef Darbaki
The Story So Far:  "The Minnesota TwinStars has its origins in the Hmong population in St. Paul.  The Hmong community in Minnesota is one of the largest in the world. Hence the two dragons as part of their badge.  
"At some point Youssef Darbaki became the head man there. With him becoming the head coach at first, and then the director, who took the TwinStars club to a new level.  Essentially they are a youth development club. They do very well producing excellent players. I believe they have about 30 teams at this point. They play a very focused and disciplined game every single time.  They were the first Minnesota team to win the Dallas Cup in more than 20 years.
"Last year they had 14 or 15 players who signed with Division I college programs. Now, one of the things about Youssef is that he is a master of the game, a fantastic player and coach.  He is originally from Morocco. He played in Ligue 1 in France as well as for the Moroccan national team. In his retirement, he came to the US and played for the Chicago Power in arena soccer for a couple of years. He continued to play locally in the Twin Cities. Then he switched to coaching."  – Tim Sas, Duluth FC
Community Impact:  "Professional style youth clubs in the US can cost an arm and a leg – $5000, $6000, $7000 a year.  Youssef insists on making their program, which is year round, one of the least expensive in the country.  He always takes in players who are not able to pay. It is actually quite amazing. We have two or three players who played for them, because they went to college here.  Every single one of them speaks of Youssef as a second father. He cares for the kids in a way that is incredible. He pays very close attention to giving opportunities to children of immigrant families, who might not be able to figure out the system here to have their kids play organized sports here." – Sas
2017 Season: 5-7-2, 0 GD, 6th Place
Sioux Falls Thunder FC
Location: Sioux Falls, South Dakota
Stadium: Bob Young Field at USF
Owner:  Amadu Myers
Team Story So Far: The Sioux Falls Thunder FC is an ambition-turned-reality conceived by Amadu Myers of Sioux Falls, SD. After playing for 2 years at a semi-pro team in Fargo, ND, he decided it was time to bring a team back to Sioux Falls. The void left by the dissolution of The Sioux Falls Spitfire FC in 2007 needed to be filled, and within the year of 2016, the Thunder FC had planted its roots, and began to grow.
Community Impact: "Even though we are in the early stages as a franchise, we wasted no time in getting close to the people of Sioux Falls. We have been making a concerted effort to participate at multiple charitable events in the city. We believe in the city of Sioux Falls and in its potential, specifically, the youth. Our head coach, and some of our players are already actively involved in the development of youth soccer in Sioux Falls by coaching youth teams. We hope to offer youth soccer camps during the off season." – Amadu Myers
Point of Pride: "It is amazing, the support we got from the community of Sioux Falls. We had a great first year and that's huge for a first year team. We can't wait to see what the future holds for the club" – Myers
2017 Season: 3-7-4, -9 GD, 7th Place
Standout Players: Brice Holiday, Archie Maoh, Tyler Limmer, Mikey Haight and Tyler Grilley
Viejos Son Los Trapos FC
Location: Saint Paul, Minnesota
Stadium: Central High School Stadium, Saint Paul
Owner: Juan Fiz
Head Coach: Angel Gracia
Story So Far:  "Particularly this team was a group of friends playing for many years together, many years means, all guys across our 30's.. that's the meaning of 'Viejos'. Having a great result as a team in the [Minnesota Amateur Soccer League], we been invited to step up to the elite semi-pro NPSL." – Juan Fiz
Community Impact:  "Our first year, based with a Latino Community was hard as soccer lover, sometime the passion doesn't let you enjoy a process and people want results, but this year they are more excited and believing in us." – Fiz
Point of Pride: "Being the only owner, with all expenses this competition brings, in the 2nd year [we will] bring even more professionalism to the table, in different aspects, coach staff, practices and more, creating a unique membership plan." – Fiz
2017 Season: 7-5-2, +13 GD, 5th Place
Where The Players Come From:  "We get our base last year in tryouts, recommendations. Some guys are in colleges but not the majority." – Fiz
Returning Standout Players:  Matias Diaz, Ayuk Tambe, Elder Barrientos, Jose Andriano, Mauricio Mendoza, Carlos Boquin & Kapow Htoo.
Open Cup Spotlight
Duluth FC and the Dakota Fusion will represent the NPSL North in Open Cup play this year through the NPSL's automatic berths.  Minneapolis City SC participated in the open qualifying rounds as Stegman's Soccer Club, but were eliminated in the third qualifying round against the Rochester (NY) River Dogz aka Rochester Lancers of NPSL after beating the Tartan Devils Oak Avalon of Pittsburgh, who made the Open Cup last year, and UPSL's Aurora Borealis SC.
2018 Conference Prediction (Coaches/Owners Poll):
Rochester Med City FC

Duluth FC

Minneapolis City SC

Viejos Son Los Trapos FC

Dakota Fusion FC

Minnesota TwinStars FC

Sioux Falls Thunder FC

LaCrosse Aris
* Dakota Fusion and Minnesota TwinStars did not participate in the poll but the other six teams did