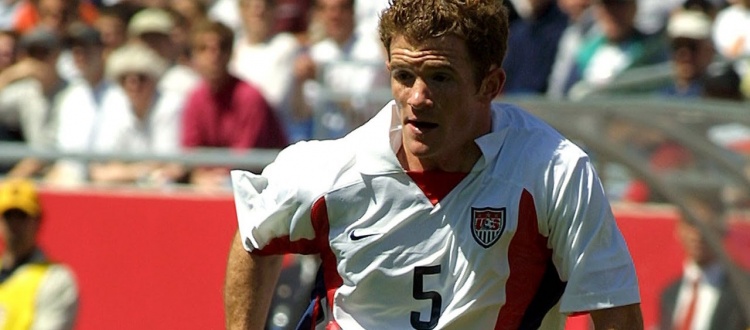 John O'Brien: A Conversation With Athletes Council Member and 2002 USMNT World Cup Goal Scorer
The interest in the game of soccer has grown and changed in many ways since John O'Brien scored the USA's first goal in the 2002 World Cup against Portugal just minutes into the USMNT historic run to the quarter finals in South Korea and Japan. The defensive midfielder, who was one of the eleven players out on the field when the US beat Mexico for the most famous of its Dos a Cero wins, John O'Brien is currently one of the 20 members of the US Soccer Athletes Council.
I first met John in person a few months back at a soft launch event for Oakland Pro Soccer. He was one of a few panelists there that night. I ended up speaking to him after the event for some time about all sorts of different things. We talked for quite awhile, especially about his role as one of the 20 members of the Athletes Council. I reached out to him to see if he would do an interview with me about his post retirement career, and his role as a member of the Athletes Council and as a former player in the development and the future of the game. He kindly agreed to chat about his thoughts on some of the things going on in US Soccer at the moment, including the upcoming presidential election.
Note: This interview occurred on January 14, 2018. 
MP: You seem to have been actively involved in the game of soccer since your retirement from playing. Can you start by telling the readers a little about your involvement in the game since retiring 10 years ago?
JO: I couldn't get away from the game. I couldn't leave it. I just love it too much and I'm just so connected to it. I started by getting involved with Soccer Without Borders because I wanted to do some grassroots soccer stuff and to get away from the professional side and reconnect with just the joy of playing. So I started working with Soccer Without Borders, which is a great organization and in that time I've become a board member of the organization. Soccer Without Borders is doing great now and just recently won a FIFA award for inclusion, for working with refugee and immigrant youth. With soccer being such a captivating and international sport, it just brings people together. We just use soccer as a tool to help young immigrant kids get in new social environments. That was kind of the first thing I started doing when I retired from playing soccer.
Then I looked into coaching and tried that at a couple of different places but figured that wasn't for me. Then I started getting into sports psychology when I was doing some coaching. When I started talking to players individually a little, I really enjoyed hearing the struggles and what they were doing and how they want to participate in the game and I guess the ways people would hold themselves back. That was fascinating to me. That led me to decide to go back and get my doctorate in psychology, which I'm doing right now, as well as doing the internship currently for psychotherapy in San Rafael (California). Then on the side, I've been doing some stuff for the Cal (UC Berkeley) men's soccer team, doing some presentations on psychology topics, as well as working with some kids individually.
Then the third thing I've been doing is being part of the Athletes Council. That is within US Soccer. There has to be a certain percentage athlete representation, so if you are a former player or a current player, you can be elected to this Athletes Council. That is a volunteer position that you just come together every so often and vote for different things and make decisions on things such as the upcoming presidential election. I've been involved with that for about 8 years. I time out pretty soon. Our term is 10 years after our last professional game. So, 2006 was my last National Team game at the World Cup. Next year will be my last year as part of the Athlete's Council.
MP: As a member of the Athletes Council can you talk about how you became a part of it. Is it something that you chose to run for or do other athletes nominate you?
JO: That's a good question, and I'm not entirely sure. I got an email about the Athletes Council. Then I put together a bio and then people voted on it. I'm not sure if it's everyone who has ever played on the National Team, or who exactly voted on that. So, that would be nice to clarify. I can ask a couple of people because it's not just the athletes who vote. I don't think it's nomination either. So yeah, I was interested and wrote up a bio and every few years or so there is a reelection, but people on the Council usually stay on the Council. Some people time out and that's when others come in. I don't know all the exact specifics, but that has been my process.
MP: There are certain requirements to being on the Athletes Council, for example, being required to have a National Team Cap. Do you think it's fair to have requirements like that to be on the Council?
JO: I wonder what it would be like if it was just opened up. The idea is that it's athletes and that it somehow represents the players. The question then would be what would qualify someone as a player? Would having played in youth soccer for a little bit [be sufficient] or is it having played professional? Are you thinking that if you play professionally and have been paid in some way that should qualify you? I think that is an interesting discussion.
I think we have to have National Team Caps. This is for the men, the women, the para Olympics, beach soccer, and so it's not just the men's and women's teams. Other teams are represented. It is mostly people who have had successful soccer careers at the very top levels. I feel we try and take in all experiences. We have our experiences, which will effect how we vote and think about things. We try and see ourselves thinking about what is best for all the athletes. That is how we are always trying to think about it. It involves everyone from youth players to pros. We try and represent that spirit of it. I think that is an interesting point and I would be interested in entertaining some ideas about how to try and maybe restructure that.
I think the act that created the Athletes Council and made it necessary for NGO's to have athlete representation might be informative. The United States Olympic Committee has a similar rule. And athletes who strive to be in the Olympics but do not make it are not represented on their Athletes Council. US Soccer is in theory separate from the professional leagues so it would make more sense for an athlete who did not make the National Team to be represented on the Athletes Council, not necessarily one from each league. We don't have athletes who represent MLS, for example. If you do some research and think it through – having others represent the Athletes Council who are not capped, I would be interested in seeing, and bringing it to the Athletes Council. As well all athletes should have a voice within their league of course.
MP: What do you believe is the role of the Athletes Council in supporting the development of the game in your opinion?
JO: First and foremost it's to bring our perspectives and experiences to the table in an environment where it might not be at present. A lot of people who get into this are kind of more administrators and think about things in a certain way. Then some other people come from the business side. So I think there is a lot of richness in our experiences to kind of help guide the organization to better serve the athletes and the people we are supposed to. That's one part. Then there is trying to think through how would this policy affect the athletes. Would it give us more opportunity to improve the environment they are working in? It's questions like that. We are trying to take that perspective and go from there.
MP: How often do the members of the Athletes Council get together for meetings and discussion on the future of the game? And how often do you speak with the other members?
JO: We always get together once a year at the AGM and we always try and get together at least one other time. The second one usually varies. We try and schedule it around another big soccer event. In between that, it depends on if there are issues coming up. Usually, what will happen is that the three members of the Athletes Council who are on the board will be informed of something coming up, and they will kind of take a pulse on how the athletes are feeling. So that can be by email or by setting up a conference call, a kind of sharing what they have heard, whether it needs a vote or something taken back to the board. One example of that is the anthem policy, which I believe we've talked about before when we first met. What happened was the three athlete members on the board had heard that the rest of the board wanted to adopt a policy. Those three members wanted to have a conference call and get a pulse for how we all felt and we had a few discussions around it and then it was voted on at the AGM later. So, they advised the board a little and got them to slow down taking steps.
MP: And how will that vote take place? One block vote? Or each individually?
JO: That is still up for discussion. There is no rule that we have to vote as a block. I think it comes down to politics, because there is some power in voting in a block. If we all stick together, it is known that we might do that on other issues. But that is still up for discussion within the Council.
MP: Have you or will you personally speak with all eight of the candidates? What are you looking for in a candidate in order to gain your support?
JO: It's been challenging trying to figure out what candidate to endorse. It has been reflected when thinking about the national election, it's somewhat simpler because there is a general camp that you fall into and this doesn't have that. It's a lot more loosely organized with so many different candidates running. I've been in touch with four of the candidates. They have talked to me, met with me to talk about issues. I think for me there are certain issues that are pretty prevalent. You can see all of those in the questionnaire that the Athletes Council developed and put online. Some of those issues are about transparency, youth development, Soccer United Marketing, equal pay, just to name a few. So, those are some of the issues. But it is also about how the candidate is personally. I think a big part of the president's job is building a consensus and working with people collaboratively. It's important that they are able to do that well and is definitely something I look at.
MP: Are we ahead or behind of where you thought we'd be 15 years on from when you scored the opening goal for the US in the 2002 World Cup?
JO: I'm not sure if I even thought about it back then. I didn't think too far into the future. But I guess I would have imagined a National Team that could be considered a little bit more of a player. But in 15 years you know, I think you can't develop really good players. It is going to take a lot of time. That would be my initial impulse. 15 years on you know there were kids who were watching me score at the World Cup. They were still dealing with an infrastructure that wasn't equal to what they have in other countries. I think it will kind of take a longer time than that. I think the MLS growth since 2002 has been pretty impressive. I didn't exactly expect that.
MP: What aspect of the game or of its development is most crucial right now for the future of the game?
JO: I think that is just so broad. I think that is the presidential role, to break all these things down and what the development of the game really needs and in what areas.
I think more development in all areas would be important. I'd say as a former player living in the States. I didn't have the opportunity to really step up and improve my game here. I had to move to Holland for that. So I'm partial to how we can build up that part of the game. Kids who are talented and who have never seen a good training session is something I would like to see continue to grow.
MP: There has been a lot of recent discussion about scouting and talent recognition. How important is our scouting network to the future of the US National Team?
JO: It's one of those things that, there is no reason scouting should not be good. Some of the candidates talk about that within all the development. It is important that we have a culture of soccer in the United States. So if we had a deeper culture for soccer, there would be people who are scouts who see the game in a very nuanced way. But you also have people who are participating in the game a lot more in a deeper way. You have fans who are participating in new ways. That's one kind of tag line that has come out. It tries to encompass quite a few things. So I'm not sure that there is one quality that could help lead to development or if it's a matter of just focusing on one thing, like scouting for example and putting more money into it.
MP: It there anything else you'd like to tell the readers about either yourself, the Athletes Council or the game in general in the US?
JO: Along with probably the readers, and probably the US Soccer public, I think through this US Soccer presidential election, people have learned a lot more about US Soccer and have been thinking about it a lot more and I think that's great. I think that also mirrors the Athletes Council situation. As a Council member, I'm not meeting with youth committees and adult committees and being tuned into everything in US Soccer. I have a certain personal experience, and certain people I'm connected with, but I don't know everything that's going on. So I think that is where the Athletes Council is at, really trying to gain a lot of information on some of these difficult topics. I think all of us want the game to grow, to be fair. And trying to figure out how to do that best is going to be an ongoing process.
Editor's Note:  Some content has been corrected for spelling post-publication.