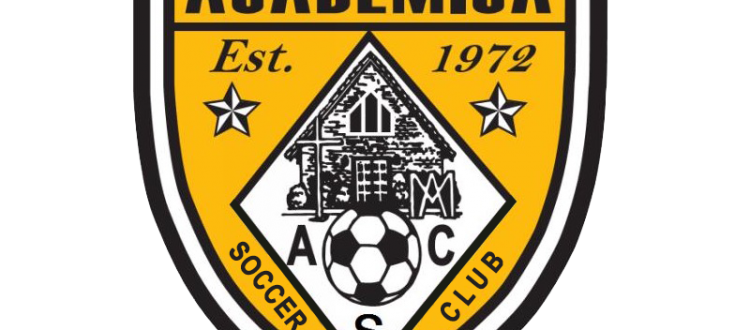 Welcome to NPSL: Academica SC
Academica Soccer Club has been a staple of California's Central Valley soccer community for more than 40 years. Academica is based in the city of Turlock, California, between the cities of Merced and Modesto just off of CA 99. California's Central Valley is home to a growing and thriving soccer community that currently has two USL franchises, one in Sacramento 90 miles north of Turlock, and one starting in Fresno, some 80 plus miles south. Turlock is also home to MASL franchise, the Turlock Express.
Midfield Press sat down with one of Academica's owners and board member, President Simon Bettencourt, ahead of the Club's NPSL Expansion announcement to talk about the history of the Club and their move up to the NPSL.
MP: How, when, and why was Academica Club founded? I see from the crest it was started in 1972?
SB: Yeah, so Academica started as kind of a youth group of our Lady of Assumption Church in Turlock [and] was created in 1970 by a bunch of Portuguese immigrants from the area [who] got together and created this Church. The team was started as mainly something for the youth to do as a cultural thing to keep the Portuguese traditions going. So Academica was started here in Turlock and a lot of the first players were actually like my dad and his four brothers and a lot of the other Portuguese people around the area. Since then it has just kind of taken on a life of its own. We are still affiliated with the Church, they built their own field, they put up lights, they built a locker room and stadium, snack bar venues. It has just constantly been growing for 40 years. The hope is to shift it from kind of maintaining Portuguese culture, to developing and producing the best quality soccer players in the area. We have always been happy to see guys who have played for us go onto play college and further than that. So that's really what the main focus is now, compared to what it has been.
MP: Can you talk a little about your home venue and having your own field?
SB: Yeah, It's a rarity in amateur sports right? I mean everywhere you go you are playing at high schools, parks and places like that. At Academica, we've always had land that the Church owns, that we've developed into two soccer fields that we maintain ourselves. We mow the field, line it, and take care of it. So it's really a special thing and I think it's something that is a rarity in Northern California at least, and it's something we are really proud of. I mean it's natural grass so its probably one of the best pitches from Stockton down to Merced. It's tough to find anywhere that's got a better quality field than that, and that's what we strive for. Just to give a good stage for our players to play on. We really take pride in having the best field in the area and people know that.
MP: You currently play in the Liga Norcal. What brought on the move up to the NPSL and will you still be fielding a team in the Liga Norcal?
SB: So that's always been up for discussion. In the past years, we've always kind of talked about taking the Club to the next level, maybe for the past decade. But in the last 10 months we've really made a focus on what steps we need to take to get to that next level and what is that next level, because once you are outside of the USSF D1 through D3 its kind of a crapshoot. We recognized that the NPSL and the PDL were both 4th divisions unofficially I guess, and that's where we wanted to head next. The NPSL just made more sense just because of the teams around us. There were more NPSL teams and we've had some experience with [the] Sacramento Gold, we've had a couple of players play for them and some of our board have been watching in with them a little, so we just kind of felt it was the next right step for our Club financially and going forward.
MP: What makes the Turlock soccer community special? I know there is a MASL side there.
SB: That's tough to say. It has a lot to do with the agriculture around the area. It brings a lot of minorities and immigrants and that culture; the Latinos, the Portuguese, there are a lot of Swedes in the area that farm, and it kind of comes over from that. They bring it in here to Turlock where there is not a lot of other teams. There's no baseball team, there's only high school sports teams around. So I think soccer can be the first one to actually make that jump to something else or something more, and it's just really grown from that. Plus being in the vicinity of all these other medium size towns like Merced and Modesto,  you're able to pull all this talent to one hub and I think the people of Turlock are just so motivated and inspired by Turlock, that all the talent just gets sucked in there and that's where it flourishes like the [MASL] Express and other stuff like that.
MP: When I saw you play in the Open Cup in San Francisco last month it was awesome to see the number of traveling fans, friends and family members you had in attendance. What does your attendance look like at a typical match and where will you pull your supporters from?
SB: Our supporters are really like you said, family members or old players or family members of players who don't even play any more. It has just kind of grown over the 40 years of history. A lot of people are interested in the Club. We are probably averaging 100-150. But we've had years back in the day when we would have 300-400 at a match. It was all very concentrated in the Portuguese community. So, we are looking to build, and I think the NPSL is really going to help boost that and we can boast that. We are the only NPSL [team] in the area. So, I think it's like you said, history and being around and trying to be involved in the community as much as possible to draw the supporters out.
MP: Now that you've been around for more than 40 years and are joining the NPSL, what are the long-term vision and plans for the Club to continue pushing the Club forward?
SB: We didn't even think this was possible 5 years ago, and now we are here. I think in the next 5 years we are looking to just grow the brand and the Club itself, and who knows if we are able to do it. We have no reason to hold the Club back at all. If the Club can grow and maintain what it's doing, and reach the next level, we are all for growing it. I think right now we are just trying to be competitive, show what [we can do in] the league and show what the Central Valley has in terms of soccer talent. And if it becomes something else, something bigger and better, we are all for it.
MP: Who will be your head coach and where does your player pool come from? I know there is a Cal State and a UC in the area.
SB: So, Sergio Sousa is our head coach. He's been part of the Club, he's an ex-player, his dad played for us and coached the team for years. So, he actually began coaching for us last January, and is coming around on his first full year and we've come leaps and strides because of him and his knowledge. He is the assistant coach at UC Merced and he has his C national level license. So he's really put in the time and effort and really takes it seriously even through we are at this level. A lot of our player pool does come from the Valley. They come from Merced up to Manteca/Stockton area. Talking a 40 minute drive to practice for our players; that is probably the longest. A lot do come who are ex [Cal State] Stanislaus players or ex UC Merced players, a lot of junior college Modesto JC players. We have a lot of pull and connection to the local schools around here. That's where we like to pull a lot of our guys.
MP: What does the current investor group look like and who makes up the ownership group and front office?
SB: So we have a board of directors. There are 10 of us right now. It's a pretty even split between 5 older guys who have been around the Club for 10-20 years and this year we brought in 5 younger guys around my age who are mid-20's who have been around the Club, but want to help take that step turning it into something bigger. So we have our set up like that. The owners group right now is split between 2 of the elder board members and 2 of the younger ones, myself included.
MP: Is there anything else you would like the readers of Midfield Press to know?
SB: I don't think so. You got most of it covered. Like I said, we are just excited to start this journey and see where it goes from here. We think this is going to be a take off point for the Club, and this is the biggest jump we've made in our history since we've started. It's the biggest change we've made going forward into something that is professional, and that's organized and a national level league, so we are excited to see where it goes from here.