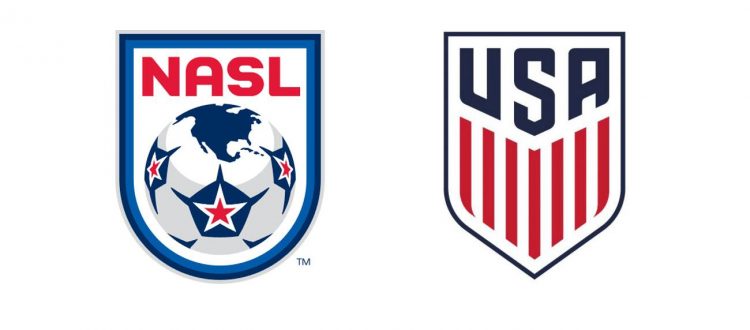 NASL vs USSF October 31, 2017 Hearing Notes
First, a note about the notes:  This is not a transcript, but a narrative of the proceedings based on notes taken during the hearing.  It does not include every word that was uttered in the courtroom. I am not a stenographer. These are my notes on what I felt were the main important points of interest to Midfield Press readers.  If you want the transcript, by all means go get that when it comes out. I am providing my notes because many people have asked if specific issues were brought up in the hearing.  They also provide greater context for some of the snippets that have been out there on Twitter.  I have attempted to refrain from putting any commentary or analysis into these notes, and will do a separate article on that.  Hopefully that restraint will make the notes useful regardless of the reader's personal leanings on the issues in NASL vs USSF.
****
Judge Margo Brodie presided over a hearing for an injunction requested by the North American Soccer League (NASL) that will allow it to move forward with its plans to compete in 2018 as a Division II league.  Jeffrey Kessler spoke on behalf of the NASL's legal team, while Russel Sauer and Chris Yates spoke on behalf of United States Soccer Federation (USSF).
Anyone reading these notes should understand that Judge Brodie is not an expert on soccer, but has familiarized herself with the pertinent issues.  She demonstrated a strong understanding of the necessary issues, and kept lawyers on both sides on point, while giving them plenty of time to making their cases.  She projected an image of being thoughtful, respectful and fair.
****
Judge Brodie starts off by saying that the court has determined the request is a mandatory injunction.  This is a higher bar than the preliminary injunction that NASL sought.  She then goes on to explain where she is with her thinking, inviting counsel on both sides to change her mind with their arguments.
The Judge states that she feels the NASL has made a showing that it will suffer irreparable harm if it is not granted the injunction.  Judge Brodie also states she felt the balance of hardship tilted in the NASL's favor.
She agrees with the NASL that the relevant market in question is top tier and second tier pro soccer leagues.  She believes that USSF has market power in that area.
She believes the USSF has shown sufficient pro-competitive reasons for the Professional League Standards (PLS).  She questioned if NASL could have used "less restrictive means to achieve its goals."  She says she needs to understand why there is a conspiracy, but acknowledged that there is "definitely some smoke there."  
Kessler states that the NASL has letters of intent from six additional teams that will only join if Division II status is maintained.  Kessler says that the United Soccer League's (USL) survival at D3 is not relevant to NASL due to USL's support from Major League Soccer (MLS) and MLS cash infusions into certain USL teams.
Judge Brodie asks why they don't apply for Division II status with the new teams.
Kessler addresses irreparable harm by saying is extreme.  NASL will be put out of business without the injunction.  On the balance of hardships, Kessler argues that USSF had NASL as a D2 league for seven years.  NASL is asking that it maintain the status quo.  USSF have not shown this would cause them any harm.  USSF's position is they want to be the rule-making body.
Judge Brodie takes issue with Kessler's characterization of the balance of hardships being by far in NASL's favor.  She says it barely tips in NASL's favor, and says that the status quo is that NASL is not Division II for 2018.  She points out that USSF has authority from FIFA and that the NASL has been complying with USSF's rules.  She states that she does not think it is her position to say they cannot regulate soccer.
Kessler counters that he does not think USSF has the right.  He points out that their standards must comply with antitrust laws.  He suggests that no other FIFA affiliated federation in the world has standards like USSF's PLS.  
Judge Brodie suggests that is because soccer in those other countries is the number one sport, which is not the case here in the United States.
Kessler calls the PLS an unreasonable restraint on trade.  He claims that USSF is trying to prevent a free rider effect on MLS because competition is scary.  He says USSF is a private group making that decision.
Judge Brodie asked if Kessler is suggesting that the USSF cannot implement standards.
Kessler responds that these particular standards restrict entry into markets and that USSF are not offering a legitimate pro-competitive justification.  Their argument, according to Kessler, does not work.  USSF's PLS usurp the will of the marketplace.  Kessler suggests it is up to consumers to decide what a viable league looks like.  USSF also increases the standards in an unfair way.
Kessler points out that the SUM Agreement, which is under seal, shows in order for USSF to make more money, MLS must make more money.
Judge Brodie questions what makes the conflicts of interest between MLS/SUM/USSF illegal.  She asks why is it not good enough that board members with an interest recuse themselves when making league standard decisions.
Kessler argues that USSF is broadly tied to MLS's interest due to the SUM Agreement.  The only way certain financial targets of USSF can be hit is if MLS achieves certain financial targets per the SUM Agreement.
Kessler quoted Sunil Gulati saying that both USSF and MLS make more money when they are jointed tied together on a deal than they do separately. Kessler suggested that whether or not you think Gulati has good motives is irrelevant.  They are financially tied together, and you have to look at USSF's actions through the lens of their financial interests.
Kessler argues that the PLS are arbitrary.  At one point 8 teams was good enough for MLS to have Division I status. Time zones are another example of an arbitrary PLS rule.
Kessler recaps his positions:
The Professional League Standards constitute an agreement in the context of antitrust

They are anti-competitive on their face as they block entry

USSF violates trade association standards through their financial relationship with MLS. The SUM/MLS deal is a major source of USSF's revenue, which impacts the interests of all board members.  Mr. Garber and Mr. Gulati can influence the other board members even if they recuse themselves from voting. The organizations are very tied together

USSF has not met the burden of showing the PLS are pro-competitive. They cannot justify specific rules.  Kessler uses the time zone example, and says that one of the new NASL teams is in Detroit, which is in the Midwest region.  Why does it matter if it is in the Central Time Zone or not?

The biggest less restrictive alternative is to let the marketplace decide.  Kessler points out that there are other countries in which soccer is not the number one sport, where rules like the PLS have not have promulgated.  He gives South Africa as an example.  Kessler feels the place of USSF is to make rules around issues like doping.  He argues that what makes competition are new entrants.  The PLS rig these barriers to entry in the way they apply and modify these rules
Russel Sauer now takes the microphone for USSF.
Kessler had made an example of a story of a 9 year old girl from San Francisco who became a Deltas fan and didn't want to lose her team because of NASL's sanctioning issues.  Sauer asked if they had shared with her that the San Francisco team was folding and not playing next year based on Rishi Sehgal's statements in a meeting with USSF in September.
Sauer makes the point that self-inflicted harm is not irreparable harm.  He points out that NASL agreed to comply with US Soccer's standards.  He further adds that NASL's own operating agreement section 2.08 outlines their intent to operate as a Division II league.
Sauer rattles off years in which NASL did not comply with standards.  2014 is the only year I caught in which they were compliant.  Sauer asserts that the PLS have not changed on the issues that NASL did not comply with.  In its opportunity to comment on the 2014 standards, NASL did not complain about the number of teams or the time zone issue.
Judge Brodie challenges Sauer to ask why she should not rely on NASL owner affidavits that they league would suffer irreparable harm.
Sauer suggests that Rocco Commisso has no basis upon which to say Division III teams make less revenue.
Judge Brodie asks if Sauer is suggesting that a league operate without USSF's sanctioning without consequence.  Sauer acknowledges there would be consequences to operating without sanctioning.
Sauer takes issue with the new teams that are said to be joining NASL, indicating it is the same old story from the NASL each year about new teams.  Sauer says, "The North Carolina team indicated it was leaving" and suggests that the new proposed teams cannot survive on their own.
Sauer introduces some data on USL and NASL revenues and costs.  He claims that USL Division III generated more ticket revenue on average.  There is an indication he is using information from only the independent USL teams, not the MLS2 teams.  Sauer claims that revenues are comparable between NASL in D2 and USL in D3, while costs are less and margins are better.
Judge Brodie asks for clarification that Sauer's position is that because NASL could choose to operate as D3, their harm is self-inflicted.
Judge Brodie says a league that started as Division III moving up to Division II, and a league that started as Division II moving down to Division III are totally different situations.
The issue of waivers comes up and Sauer points out that USL has not been given any waivers for 2018 yet as it has not been sanctioned yet as Division II for 2018.  Sauer points out that all of USL's waiver requests are team waivers, and that it has not asked for any league waivers.
Judge Brodie asks why it matters if it is a team waiver or a league waiver.  Sauer explains the difference from USSF's point of view and Judge Brodie is satisfied she understands the nuance.
Sauer says that he can't tell what the US soccer board will decide related to USL, but that USL demonstrated significant progress whereas NASL did not.
The issue of the Stevens Act comes up, and Sauer suggests that the Stevens Act does not limit USSF to regulating only amateur soccer.
Judge Brodie asks for clarification on whether Sauer is taking the position that Congress has given USSF the authority to regulate professional soccer.  Sauer clarifies that the Stevens Act does not limit their authority.  Sauer traces the USSF's authority from the Olympic charter, from which FIFA draws its authority.  USSF is recognized by FIFA.  "Bottom line" is that USSF believes it has the authority to govern pro soccer and the Stevens Act does not limit it.
Sauer suggests that USSF will suffer a greater balance of hardship than the NASL because a ruling in favor of the injunction would delegitimize USSF's ability to regulate soccer.  Therefore any league that does not like a decision will challenge it in court, according to Sauer.  He suggests that granting the injunction tells anyone they can fight a sanctioning decision in court.
At this point a 15 minute break is called.  
****
Some frustration is overheard from the NASL leadership observing that Stephen Malik, the owner of North Carolina FC who sat on the US soccer board, betrayed the NASL is his efforts to strengthen his position to land an MLS franchise.  It is also clear from the comments that certain NASL leaders such as Rocco Commisso are committed to seeing this legal action to the end regardless of whether the injunction ruling is in their favor.
****
After the break, Chris Yates from the USSF's legal team takes the microphone.
Yates states that he believes they have debunked the NASL's claim of conspiracy in their reply.  He states that any USSF conflicts of interest should be measured by the standards of New York corporate law, since USSF is a New York corporation.
Yates cites a case about the American Quarter Horse Association which deals with the need to establish conflict of interest beyond the financial interests of a few members.
Judge Brodie points out that the NASL is suggesting that non-voting board members can influence voting members, and alleges that MLS/SUM/USSF being tied together has given away USSF's impartiality.
Yates claims that revenue from SUM is less than 20% of US Soccer's overall revenue.  He suggests that USSF has completely proper governance consistent with US non-profit law.  It is pointed out that Sunil Gualti, Carlos Bocanega, Don Garber, Collins, and Steven Malik and recused themselves from voting on the NASL's Division II sanctioning.  The vote was 9-1 against NASL, with John Paul Motta as the lone vote in favor of NASL.  Yates calls the NASL's claim "dead on arrival."
Yates suggests that "US soccer has been achieving its mission" of growing the game.  He points out that "the original NASL failed disastrously", which is why the PLS are necessary and were implemented.  He suggests that the USSF is not alone in having standards, and the English FA regulates stadia size and the financials of owners "because they don't want leagues to fail."
Yates suggests that objective standards have been there for a long time, and that NASL not liking those standards does not mean it is a violation of the Sherman Act.
Kessler is on the microphone again.
Kessler cites the Allied Tube antitrust case as a precedent and says that USSF has not stated non-partisan as a regulating body.  Kessler suggests that the USSF is the only soccer governing body that has tied themselves financially to a competitor they intend to regulate.  He suggests that USSF forfeited their impartiality when they did this.
Judge Brodie asks why the PLS are not pro-competitive.
Kessler points out that the burden for USSF is to go beyond "because I say so."  He suggests a line item justification.  He suggests the reason for the PLS is because competition is seen as risky, which is fundamentally not a pro-competitive stance.
Kessler points out that FIBA (basketball governing body) does not regulate professional basketball.  He uses the example of the ABA, which ultimately merged with the NBA in a free market environment.
Kessler takes issue with the USSF's assertion that they have the balance of hardship because they will not get antitrust lawsuits from amateur leagues because the Stevens Act protects them on the issue of amateur soccer.
Kessler reminds Judge Brodie that all NASL seeks today is an injunction so they can continue with their plans for 2018 and with the lawsuit.
Kessler points out the curiosity that USSF has yet to make a decision on USL's Division II sanctioning despite the 30 day extension for USL having passed by.  Kessler suggests this is intentional, aimed at improving the optics of this situation to the court.  
Kessler points out that the NASL is OK with USSF making rules about issues like doping, or how to handle concussions but not rules that restrict competition.
Kessler asserts that USL's expenses are lower because they are paying players less and providing lower quality soccer.  He points out that there are two international players in the courtroom (David Ochieng and Lucky Mkosana) who would not join a team in a Division III league.  Kessler suggests that NASL has higher losses than USL because they are paying to provide a higher quality soccer product to eventually compete with MLS.
Kessler suggests that when NASL was denied Division I sanctioning when it applied in 2015, the basis was time zones and team waivers.  The result of this denial was that NASL lost teams to MLS and USL.  He points out that Malik of NCFC is joining USL because he wants to be in a Division II league.
Kessler suggests that this is not like the drug industry or a safety issue that USSF is regulating with the PLS.   He points out that USSF's economic ties with MLS make them conflicted.
Kessler recaps his positions:
The PLS are an agreement/contract in the context of the antitrust issue, and NASL was forced to comply with them because without a FIFA sanction you cannot run a credible league

The situation is anti-competitive because USSF is favoring one party more.  They are not acting as an unbiased regulator.  NASL believes the effect USSF claims of the PLS is not pro-competitive.  They could have rules without requirements on numbers of markets and on time zones
Next steps:  The USSF will submit more documents tonight or tomorrow morning functioning as a response to the documents NASL submitted in its reply to USSF prior. NASL got a slap on the wrist from Judge Brodie at the beginning for that, and USSF similar pushed the envelope by referencing items they will introduce in the next document dump in their presentation. Kessler will have the opportunity to write the court a letter that the court will consider pointing out any inaccuracies in USSF's submissions.
Judge Brodie stated that she will aim to make a decision on the injunction this week.